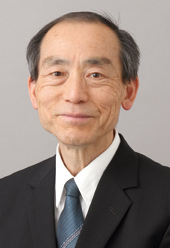 Profile
Doctor of Engineering, Kyoto University Graduate School (Department of Mathematical Engineering)
Former Associate Professor at Kyoto University, Former Professor at Fukui University, Former Professor at Nara Institute of Science and Technology
Fellow, Information Processing Society of Japan
Responsible Subject
Overview of Web Technology
Web service construction technique
Master Project
Field of Specialization
Software System
System software: This is the basic software for computer systems, and refers to language processors (compiler) and operating systems (OS). It supports the development and execution of individual application programs. It includes software for database and network systems.
Active software: it is the software program which has the function to self-activate by sensing the state of execution and knowing the situation of calculation. It includes the ability to change itself and expand its function to move to other sites in order to continue calculations.
Hardware/software cooperative design: This is a method to proceed with the design and implementation of a computer system by considering hardware and software integrally. It actualizes optimum implementations suitable for applications. For this purpose, it is necessary to have a variable parts in the hardware.
Business Performance
Katsumasa Watanabe, Akihiro Inoue, Kei Kurakawa, Masaki Nakanishi, Shigeru Yamashita, Methods for Design Analysis of Active Software Suitable for Expansion, The Japan Society of Software Science's 22 National Convention (September 2005)  1C -3
N. Nakai, M. Nakanishi, S. Yamashita, K. Watanabe, Reconfigurable 1-Bit Processor Array with Reduced Wirng Area, Proc. International Conference on Engineering of Reconfigurable Systems and Algorithms (ERSA 2005) , pp.225-231, Jun. 2005
Katsumasa Watanabe, Akihiro Inoue, Mitsuru Banno, Kei Kurakawa, Masaki Nakanishi, Shigeru Yamashita, Assertion Verification Design with Active Functions, Computer Software, Vol. 22, No. 3, p. 76 -91, July 2005
Y. Murakami/ M. Nakanishi/ S. Yamashita/ K. Watanabe, Quantum versus Classical Pushdown Automata in Exact Computation, Journal of IPSJ, Vol.45, No.10, pp.2471-2480, Oct. 2005
M. Tomono, M. Nakanishi, S. Yamashita, and K. Watanabe, Event-Oriented Computing with Reconfigurable Platform, In Proc. of the 10th Asia and South Pacific Design Automation Conference (ASP-DAC 2005) , pp.1248-1251, Jan. 2005
S. Yamashita, M. Nakanishi, and K. Watanabe, Toward a Practical Environment for Quantum Programming,  Proc. of Asia-Pacific Conference on Quantum Information Science 2004,  Dec. 2004
Akihiro Inoue, Kei Kurakawa, Masaki Nakanishi, Katsumasa Watanabe, Application Framework for Component-based Development, Information Science and Technology Letters 2004 Vol. 3, pp. 9 -11, August 2004
Eichi Kuwagawa, Katsumasa Watanabe: Utilization of Design Assets in Supporting the Preparation of Plan ― For Building Plan ― The Information Processing Society of Japan 2005 Informatics Symposium, Summary of Lectures, pp. 47 -52, January 2005
Katsumasa Watanabe, "From Active Software to Active Web", NAIS Journal Vol. 2, March 2007
Katsumasa Watanabe, Takao Nishikawa, "Gathering information to guess the official name of an abbreviation", NAIS Journal Vol. 4, March 2009
Katsumasa Watanabe, "Data collection by traversing objects", NAIS Journal Vol. 6, March 2011
Atsuya Okazaki, Shigeru Yamashita, Masaki Nakanishi, Katsumasa Watanabe, microprocessor, node terminal, computer system, and program execution certification method, Japanese Patent Application No. 2005 013190