President's speech
President's speech (Summary)
I am Wataru Hasegawa, President of Kyoto Computer Gakuin and The Kyoto College of Graduate Studies for Informatics. I am pleased to be able to celebrate with you the 10th anniversary of the foundation of The Kyoto College of Graduate Studies for Informatics . I am proud of the graduates who are a part of our 10 year history, graduated from Kyoto Graduate School of Informatics, as well as those who are currently studying, and the faculty members who are supporting you.
Recently, on June 1, at the Kyoto International Conference Center in Takaragaike, we held a ceremony to commemorate the 50 year anniversary of the establishment of the Kyoto Computer Gakuin and a ceremony to commemorate the 10 year anniversary of the establishment of the Kyoto Graduate School of Informatics. More than 2000 people attended, including ambassadors, the mayor of Kyoto City and other government officials, educational officials such as the president of Kyoto University and representatives from overseas universities, and students.
Today, November 1, is the anniversary of the foundation of The Kyoto Graduate School of Informatics. 10 years ago, on the occasion of the 40 anniversary celebration of Kyoto Computer Gakuin held at the Kyoto International Conference Center in Takaragaike, the same location as the 50 anniversary celebration, We announced the opening of Japan's first and only professional graduate school in the field of IT, "The Kyoto College of Graduate Studies in Informatics". It was also on November 1. In April of the same year, 2003, the professional graduate school system was put into effect. In response to this, preparations for the establishment of The Kyoto College of Graduate Studies for Informatics were started. On November 1, the school declared its opening, and in January 2004, the following year, the school was approved by the Ministry of Education, Culture, Sports, Science and Technology. In April, the Kyoto College of Graduate Studies for Informatics officially opened. The anniversary of the foundation of The Kyoto College of Graduate Studies for Informatics is set on November 1.
On June 1 this year, we held a commemorative ceremony and celebration, in which I talked about the 50 years of history of Kyoto Computer Gakuin University and the 10 years of history of The Kyoto Graduate School of Informatics and the many major projects that the KCG Group is currently involved. It was about Geographical Name Top-Level Domain ". Kyoto" (Dot Kyoto).
As you all know, The Kyoto College of Graduate Studies for Informatics has applied to ICANN of the USA, which manages domain names in an integrated manner throughout the world. We are the only organization recognized by Kyoto Prefecture as an operator of the ". Kyoto" (Dot Kyoto) (registry). The management and operation of ".kyoto" will start next year. ".kyoto" is a brand of "Kyoto" on the Internet, and it is expected to revitalize various fields such as Kyoto's commerce and industry, tourism, and promotion of each region, as well as to develop services unique to ".kyoto".In addition, it is expected to build a clean domain that eliminates illegal and harmful information such as phishing scams and adult sites, which are problems on the Internet. We believe that becoming a registry of ". Kyoto" and researching future domains will be practical and useful to our IT education.
Today, I would like to talk about the vision of the Kyoto College of Graduate Studies for Informatics, which is based on ". Kyoto" and looks into the future, as well as its 20-year anniversary and future vision for 2023.
Recently, it has been decided that the 2020 Olympic and Paralympic Games will be held in Tokyo. The hosting of the Olympic and Paralympic Games will raise the interest of the general public and citizens in sports, and will lead to the promotion of sports, international goodwill, and the revitalization of local communities. Thus, the opportunities for people to play an active role will expand even further. There are seven years to go before the Tokyo Olympics and three years to go before the 20-year anniversary of the foundation of Kyoto University of Information Studies. It is clear from a review of the past 10 years that the field of IT and information is evolving and changing day by day, and 10 years is not too long a time to achieve major changes.
Along with IT and information, we are focusing on Japanese culture. Nowadays, Japan's unique culture is receiving a great deal of recognition overseas.You've probably heard the term "Cool Japan" before.This includes modern Japanese culture, pop culture such as games, manga and anime, IT, automobiles, motorcycles, electrical equipment, traditional Japanese crafts, food culture, fashion, modern art, architecture, bushido, Japanese cuisine, tea ceremony, flower arrangement, etc., and all Japanese culture and events.The word "cool" does not mean "cold" in the general sense, but rather "sophisticated," "pleasant," and "attractive".In order to promote these products overseas, the government has established a department in charge of Cool Japan in the Ministry of Economy, Trade and Industry, and has been attempting various planning and business development. I have witnessed firsthand the huge wave of "Cool Japan" when I participated in Japan Expo, held in Paris, France, in July and in San Francisco, USA, in August of this year. We must not forget that this great surge is due to the spread of the Internet, and that it is spreading across borders, across peoples and religions.
As you know, The Kyoto College of Graduate Studies for Informatics is proceeding with various initiatives in anticipation of such a move. The Kyoto College of Graduate Studies for Informatics has established a content business course, and students are studying business models to establish web businesses as well as aiming to develop animation, smartphone contents, and electronic book contents.
We have also invited Yasuhiro Takeda, director of Gainax, Inc., who is known for his work on "Grenragan" and others, and Hiroyuki Ito, president of Crypton Future Media, Inc., the founder of "Hatsune Miku" as professors in charge of the content business. In addition, the KCG Group co-sponsored the "Kyoto International Manga Anime Fair (Kyomafu) 2013" held on September 7 and 8 at the Kyoto International Exhibition Hall (Miyako Messe) sponsored by Kyoto City and other organizations. At this event, the KCG Group announced the establishment of the "Kyoto Manga Anime Society".Its main objective is to build a network of international manga and anime personnel, and it can be said that it is an attempt to lead the "Cool Japan" initiative. We are calling for participation from a wide range of people, including industry, writers, creators, researchers, teachers, students, and high school students.As a related event of "Kyomafu", we held a forum to commemorate the establishment of the society, which was attended by a large number of people from a wide range of backgrounds.In April 2014, Kyoto Computer Gakuin, one of our group schools, decided to newly establish the "IT voice actor course" in the Information Processing Department of Computer Science, and to open a manga and anime seminar in the Arts and Design Department.
In this way, what can be learned at The Kyoto College of Graduate Studies for Informatics and the KCG Group is the "Cool Japan" itself.
Of course, it goes without saying that we will strive to improve the research of information technology to distribute such contents. Over the past 10 years, the advent of smartphones and tablets has changed the way people enjoy games, movies, music, manga, and books. Over the next 10 years, the technology that provides content will continue to change, and content will inevitably change according to that technology.
International competition has been intensifying in recent years as the economy has become more globalized. The same is true for the education industry.
Since its establishment, The Kyoto College of Graduate Studies for Informatics has been striving to develop human resources capable of becoming top leaders in the field of IT applications. We have increased the number of admissions this year, which has doubled from the beginning. Last year, on October 27, 2012, Toyo Keizai magazine special edition released an article with the title "A really strong university: financial ranking of private universities." The Kyoto College of Graduate Studies for Informatics (KCGI) was one of the top 619 private universities in Japan in the area of "degree of growth". It is a proof that the education of KCGI, Japan's first graduate school of IT professionals, based on the Kyoto Computer Gakuin (KCG), which is based on 50 years of tradition and achievements, is highly evaluated.In addition, we opened satellite campuses in Sapporo in April and in Tokyo in October of last year to distribute e-learning classes from Kyoto.
As I mentioned earlier, Cool Japan has spread throughout the world, and with it The Kyoto Graduate School of Informatics will spread throughout Japan and the world. Students who have completed the Kyoto College of Graduate Studies for Informatics spread their wings across Asia as CIOs (Chief Information Officers).In 10 years, satellite campuses will appear in many countries including Asia and the United States. 10 years from now, our desire is to become Asia's number one IT professional graduate school and its name will be widely known in Asia.
Let's make the most of ". Kyoto" and transmit information from Kyoto to the world. This also includes the transmission of anime, manga, and other content. The 2020 Tokyo Olympics will serve as an opportunity to further accelerate the dissemination of information from Japan and Kyoto. The KCG Group has more than 40,000 graduates. Working together with faculty members, we will ride the tide for the next 10 years, and create the momentum that will lead to the 50-year anniversary of The Kyoto Graduate School of Informatics and the 100 year anniversary of the Kyoto Computer Gakuin.
November 1, 2013
Kyoto Computer Gakuin
The Kyoto College of Graduate Studies for Informatics
President Wataru Hasegawa
---
Dean's speech

This is the 10th anniversary of the foundation of The Kyoto College for Graduate Studies for Informatics.
Earlier, President Hasegawa spoke about the road that this college is going to take, so I would like to change the subject a bit and give my personal view on what the future of IT and ICT, including telecommunications, will be like. I hope it will be useful as an image of the future where an active society will be going.
Everyone must know Doraemon, and he is supposed to be born on September 3, 2112. In other words, 100 years from now, every odd gadget Doraemon pulls out from his pocket derives from the authors' prediction of the time. I do not have the ability to foresee 100 years into the future, so today I would like to focus on the near future, which is five to 10 years ahead at the most. For that much of the future, I assume that there is no big mistake in extending the current state of technology into the prediction.
First, how will computers and hardware advance? Moore's Law is famous for predicting this trend. This is, more or less, doubling ability every 1.5 years. Performance is evaluated by the degree of integration of a semiconductor chip, that is, the number of transistors that can be packed per unit area, or the number of clocks that represent the operating speed of a CPU. However, the number of years 1.5 varies depending on the target. In any case, this is an exponential change, so if 1.5 is repeated 10 times, that is, 15 years, instead of being 2 x 10 times 20. It means you're increasing your power by a factor of 2 to the power of 10, about 1000 times. Historic computers are displayed throughout our school, and you may see them on a daily basis. These computers are about 30 to 40 years old. They are huge, in size, but they're actually much smaller in power than the phone you're holding on your palm. You can see how exponential progress is like. There are various opinions as to whether or not Moore's Law will hold true in the future. It is said that it will eventually hit a wall, such as the extent to which advances in semiconductor microfabrication technology are possible, and what will happen if we reach the limit of processing one atom at a time. I am optimistic here, and let's assume that we will be fine for another 10 years.
Computers are getting smaller, faster, and cheaper. As a result, your computer will be in your pocket, everywhere, and everywhere. I said everything, but it applies to almost everything, including cars, electronic devices, IC cards, all the books in bookstores, and small items such as groceries and daily necessities in supermarkets. A computer attached to an object can record not only the ID number of the object, but also a variety of information such as production, sales, usage history, and owner. These are extensions of the embedded systems and RFID chips that already exist, so they are technically possible.
In addition to computers, we cannot forget networks as the infrastructure of the information society. The Internet you use every day is an example.. In principle, you can not only access all the world's information instantly from your PC or smartphone, but also send out your own information to the world. In addition, as I mentioned earlier, when computers are placed in all kinds of things, it is possible to do many more things by connecting them with the Internet. I call it the Internet of Things (Internet of Things). As a result, our society will shift to a so-called ubiquitous society in which "anytime, anywhere, anything, anyone" are connected to networks. This will become a place where everyone will be active in the future. For example, when combined with the Top-Level Domain ". Kyoto" (Dot Kyoto), which is a geographical name that The Kyoto College of Graduate Studies for Informatics is working on, there are various possibilities such as branding all Kyoto products on the Internet, or linking Kyoto's historic sites with related buildings, works of art, materials, and events.
By the way, in order to achieve communication between all objects connected to the Internet, each object must have its own address. It is the so-called IP address. Currently, the addresses of sites that are connected to the Internet are allocated by IPv4, but the number of addresses is insufficient for the huge demands.. For this reason, IPv6, which enables more addresses, has been proposed and put into practical use. In order to realize a ubiquitous society, IPv6 is indispensable, and its use is expected to expand rapidly in the future.
How will advances in computers and networks affect our lives? As a result of the world being united by networks, we have experienced a big wave of globalization, in which society and the economy move on a global scale across national and regional boundaries. This has changed the way we think about countries, companies and businesses, and it will now continue to affect our daily lives.
Let's take a look at some of the more specific topics about the changes computers and networks will bring in the near future. As an example of what has become possible due to faster and larger computers, numerical weather forecasts can now be calculated faster than actual weather changes. It is now possible to recognize human speech faster than speech speed, and services based on it are being realized. By combining this technology with foreign language translation technology, you will soon be able to communicate with foreign speakers via a computer. By combining a network of road information with GPS location information, it is predicted that autonomous driving will become widespread around 2020. Research on smart homes is also progressing. Various types of devices at home are incorporated into the network, and they can be fully controlled from outside the house. Power saving is achieved by automatically adjusting the use of these devices. Power will be supplied not only through conventional power plants but also through smart grids, which are power networks combining various types of renewable energy. Many other possibilities have been in discussion as well, and I imagine you can also think of many interesting applications.
Now, what processes are needed to realize these new possibilities arising from advances in computers and networks? First of all, we need to find out what kind of things will help us improve our lives. Next, we have to think about a technically doable mechanism to realize it, and finally, we have to actually develop it through work including programming. These tasks require creativity to create new things and technology to realize them. I believe that this is where you all come in. At this university, you are studying and researching various applications such as business, web, database, manga and animation, as well as acquiring ICT-related technology.From these application fields, new possibilities for the next generation will be created one after another, and you can be active creators.
It has been said that there is always a shortage of human resources related to ICT ever since the practical application of computers started several decades ago. But the kinds of human talents on demand are changing. For example, from the 1980s to the 1990s, when the Japanese economy experienced a bubble economy, it was said that there was a shortage of tens of thousands of software human resources. At that time, it was the programmers which were on demand. Programming at that time was labor-intense, but thanks to the development of programming languages, especially application-specific languages, the amount of programming work has been greatly reduced. Nowadays, no one writes web homepages in assembly language or C. It is relatively easy to build using languages suitable for this purpose, such as JAVA, JAVASCRIPT, RUBY, and PYTHON. Cloud computing, a new form of application that has recently become a hot topic, can also greatly reduce the amount of programming effort.
In other words, the future human resources in ICT are not just programmers, but people who must be able to discover what applications are needed and realize them based on their broad knowledge of networks and computers. The report on IT human resource development by the Ministry of Economy, Trade and Industry, which was published last year, emphasizes the need for human resources who can combine ICT with other fields and create new business models, rather than ICT technologies themselves.
As I mentioned earlier, the students who study ICT at our school are exactly meant to be such human resources with this new meaning in mind. I hope you will have a lot of confidence in yourself and be fully active in various fields in the future.
This concludes my speech.
November 1, 2013
The Kyoto College of Graduate Studies for Informatics
Dean Toshihide Ibaraki
---
Congratulatory Message from the Deputy Ambassador of the Republic of Malawi to Japan

It is a great honor for me to be here on the 10-year anniversary of the prestigious Kyoto College for Graduate Studies for Informatics, Japan's first professional graduate school.
The Embassy of Malawi is pleased to attend this ceremony.In June 2013, when Kyoto Computer Gakuin celebrated its 50-year anniversary, the ambassador or a deputy could not attend the ceremony because of the Tokyo International Conference on African Development (TICAD) held in Yokohama. However, we believe that the ceremony was colorful and unforgettable.
For those of you who are surprised why Malawi is attending here today, I would like to inform you that Malawi and Kyoto Computer Gakuin have a long and fruitful relationship.In 1998, Malawi first was donated 222 desktop and laptop computers from Kyoto Computer Gakuin, Doshisha International Junior High School and Doshisha International High School.
In July 2009, we donated 15 used desktop computers to Luchenza High School in Malawi.These computers have helped about 480 students access useful information and see exactly what is happening in the world today.
Regarding the relationship between Malawi and Kyoto Computer Gakuin, in 2012, former Malawi Minister of Education, Science and Technology Unis Gazenbe, First Secretary Lonely Magreta (deceased), and Counselor Grace Karonga visited Kyoto Computer Gakuin. Sometimes it got stronger.During that stay, Kyoto Computer Gakuin promised to donate a desktop computer to Malawi.
I am pleased to be here today and to be a witness to the donation ceremony of 50 desktop computers to Malawi.I would like to ensure that the donations made to the students in Malawi will make a big difference in their lives.We look forward to continuing our cooperation with you in the future.
Finally, I wish you all the best for the 10-year anniversary of the prestigious The Kyoto College of Graduate Studies for Informatics and continued success in becoming a leader in IT in Japan.
Thank you.
November 1, 2013
Deputy Ambassador of the Republic of Malawi to Japan
---
Congratulatory Telegram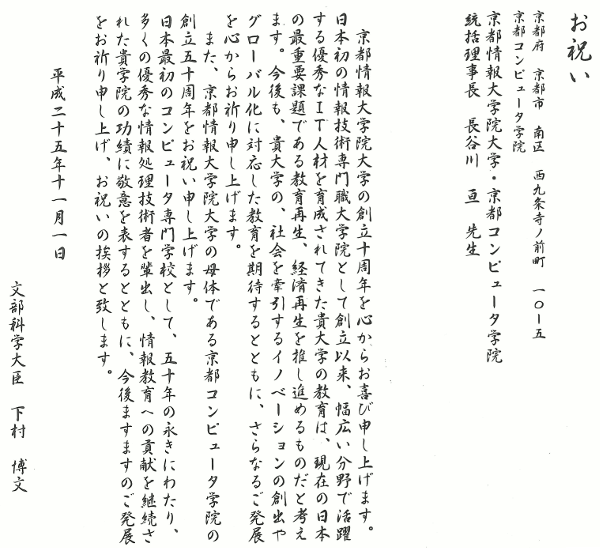 Mr. Hirofumi Shimomura, Member of the House of Representatives, Minister of Education, Culture, Sports, Science and Technology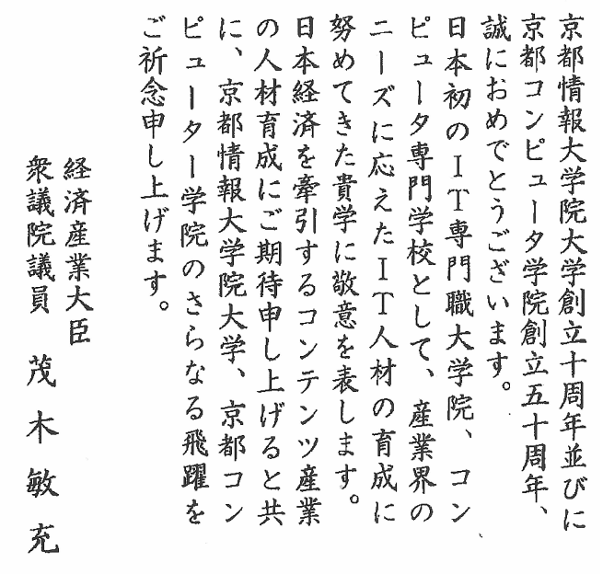 Mr. Toshimitsu Motegi, Minister of Economy, Trade and Industry, House of Representatives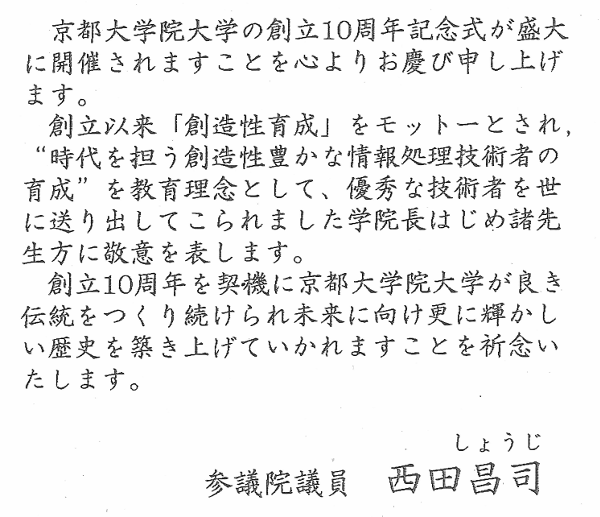 Mr. Masashi Nishida, Member of the House of Councilors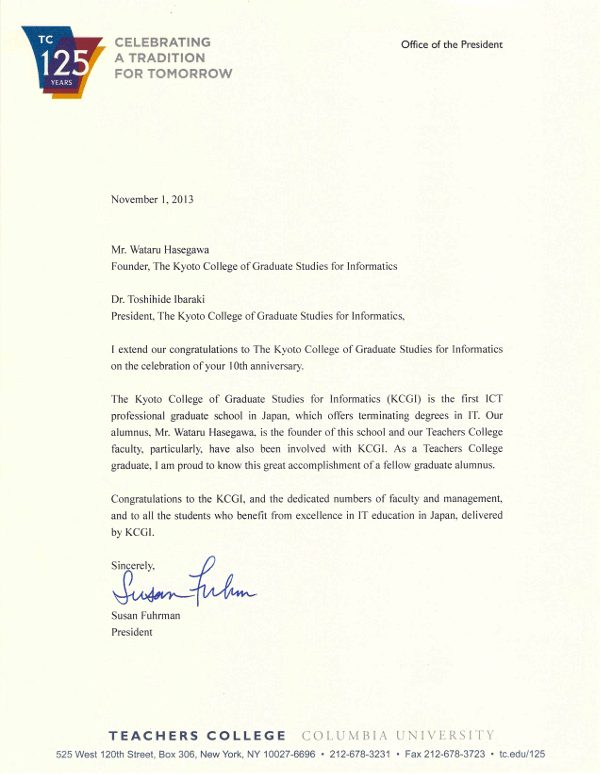 Dr Susan Furman, President, Teachers College, Columbia University