Satellite campuses enable students to attend our school from Sapporo and Tokyo.
In response to the growing need for highly specialized professionals in the ICT field, the Kyoto College of Graduate Studies for Informatics (KCGI) has established satellite campuses in Sapporo and Tokyo to provide more people with the learning opportunity for latest ICT technology and its applications to business. Our unique and practical curriculum, started in Kyoto, a city of tradition and innovation, is now available not only at our Kyoto main campus but also at our satellite campus. Increasing number of students now earn their master's degree at the satellite campuses, and move up their career ladder. In addition to eLearning delivery from our main Kyoto campus and the on-site visiting lectures by the faculty members, full-time satellite teachers, who are active professionals in the frontlines of IT industry, support student's learning experience, which caters to their individual goals. Why don't you gain the knowledge and skills to solve your business challenges at our satellite campuses?
Even for the busy working individuals, you can improve your skills via our e-learning courses.
Through our unique Learning Management Support System, "King-LMS", students can access e-learning content through PCs, tablets, smartphones and other devices at any time of day. This process enables students to freely learn what they want to learn on their own time. At our satellite campuses where the ratio of working students is high, many lectures are offered via Internet so students can have access to their class materials and recorded lectures as they study. In addition to questions, tests, and assignments, cutting-edge ICT like KING-LMS is utilized to communicate with the teachers and the classmates.
Example of a Weekly Schedule for a student with a full-time job [2nd year]
| | | |
| --- | --- | --- |
| Monday | At the beginning of the week, the student comes home late because he worked for a client's trouble shooting. | No Lecture |
| Tuesday | The meeting with the client transitioned into the after-work social outing. | No Lecture |
| Wednesday | It is a no overtime day at the workplace. The student finishes work early and took a programming class at 18:30 at satellite campus. This is a practicum taught by a full-time teacher and the subject is relevant to the student's current work. | Second period |
| Thursday | The student went to the satellite campus at 19 o'clock in order to receive guidance about the course completion project, which is equivalent to a master's thesis. The student reports progress to the academic advisor and gets advice. | First period |
| Friday | There is a deadline in a week at work. The student tackles Excel spreadsheets for the Project Management class. | No Lecture |
| Saturday | After a late breakfast, the student takes an e-learning security class. The student refreshes himself by jogging and has dinner with the family afterwards. | e-Learning |
| Sunday | The student goes out for lunch to a nice French restaurant found on the internet. After walking around the area and returning home, the student revises the presentation materials for work early next week. | No Lecture |
Example of a weekly schedule for a full-time student [Year 1]
| | | |
| --- | --- | --- |
| Monday | The required course "Leadership Theory" is a bilingual lecture in English and Japanese with an international atmosphere. Today, the student goes out with an international student from the group work. They go to eat the specialty food from that student's home country. | No Lecture |
| Tuesday | The student participates in "Introduction to Web Business" course at 18:30 at satellite campus. A passionate lecture by a former CIO of a major corporation. | First period |
| Wednesday | In the morning, the student watches an eCommerce related lecture content at home. In the afternoon, the student will work on his assignment. After taking a break, the student takes a programming class from 18:30 at satellite campus. | Second period |
| Thursday | The student goes to the gym before going to school. The student takes "Special Lecture on Animation Planning, Production and Promotion" distributed from Kyoto's main campus from 18:30. The teacher responds smoothly to questions from the satellite students, so distance doesn't cause inconvenience. After that, the student takes Fundamentals of Database Technology course by the teacher at satellite campus. | Second period |
| Friday | The student rewrote programming assignment at home. The student submits the assignment and has dinner with friends from college. | No Lecture |
| Saturday | Participated in Next-generation Agricultural Informatics" at satellite campus. Students go on a farm tour next week. | 3 Periods |
| Sunday | Student goes to watch a game event. Student feels motivated to improve programming quickly and make a game. | No Lecture |
Voices of Satellite Graduates and Current Students
Becoming an SAP Certified Consultant and Challenge further Career Development
Mr. Zhang.
I have been involved in the development of add-on programs for SAP systems as a system engineer in my workplace. I decided to enroll in KCGI because I wanted to be able to understand not only technology but also business processes and consulting. I took advantage of the long-term enrollment program and obtained a master's degree in 3 years while working full-time. I learned leadership and management through my business-related courses. Under Professor Ueda Harufumi, I studied mainly financial accounting and sales logistics, and achieved my goal of acquiring three qualifications. The theme of my course completion project (current master project) was "System Development using HANA Data analysis in SAP HANA Environment ".
While working as a manager, I finished my paper on the theme of business efficiency.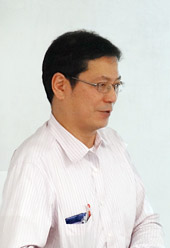 Mr. Koyama
Management knowledge is essential for IT management tasks at a manufacturing company. I had obtained an MBA a few years earlier, but I felt the need to study business processes based on advanced IT, so I decide to enroll in KCGI. Even though the satellite campus is not as fully equipped as the main campus, I chose to study at the satellite because there are courses that I can take at home, working on practical issues from my job based on the recorded lectures. In order to achieve a balance with work, I mainly take e-learning courses and work on a specific schedule. In the course completion project (current master project), I wrote a paper proposing an architecture for building an enterprise system with the logical analysis of challenges in business process. Since I was an older student, I was also given an opportunity to give a lecture to my younger peer in Kyoto using the distance learning system. I would like to continue to be involved with the school as an alumnus even after I get my master's degree so that I can expand my network with my peers.
I realized that what I learned in the lecture was directly useful for my work.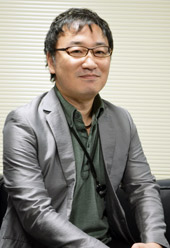 Mr. Horikawa
Having worked in the IT industry for many years, I joined Sapporo Satellite because I wanted to acquire a solid knowledge of IT. The satellite was well equipped, so the distance from the Kyoto main campus did not cause inconvenience. I was also surprised by the variety of lectures. I studied while I was working, but I could use my time effectively by going to school at night, on Saturday and Sunday, and using e-learning contents, and I was able to study smoothly. There are many examples where what you taught in the lecture immediately lead to practice. The use of Facebook Pages, various cloud services, etc., are now very useful at work. I would like to continue learning about quality control in project management while working.
Satellite development by The Kyoto College of Graduate Studies for Informatics
Let's learn the Cutting-Edge knowledge and technology within your hometown.
The Kyoto College of Graduate Studies for Informatics Satellite holds seminars on graduate school programs. We also provide individual consultation at your convenience.