Kyoto Information Graduate University (KCGI) and Kyoto Prefectural Government on May 26, 2015, Kyoto using the top-level domain ".kyoto", which is the activation of Keihanna Science City and the geographical name KCGI serves as a registry We concluded a comprehensive agreement on cooperation and cooperation, including brand transmission enhancement, human resource development and community development.KCGI is near the administration of "Cyber Kyoto Research Institute" with the theme of "Open University Kyoto" to promote the management and research of ".kyoto" and promote collaborative education with universities around the world using e-learning Academic research facility "Keihanna Open Innovation Center" (KICK, formerly: My Work Hall, Seika Town / Kizugawa City) opened.In September last year, Cyber Kyoto Research Institute received the first certification from the prefecture as a research and utilization plan for the center.In the conclusion, Keiji Yamada Governor of Kyoto Prefecture said, "By collaborating and collaborating with Kyoto Information Graduate University, which has a proven track record and has developed many human resources, we will be able to find more possibilities in Kyoto.In the future, I would like to collaborate in various ways for the realization of a smart city. "
On this day, a signing ceremony was held at the Kyoto Prefectural Government. KCGI President Hiroshi Hasegawa (KCG Group President) and Governor Yamada signed a handshake and signed an agreement based on the concept of "Efforts".The ceremony was attended by Toshihide Ibaraki, President of KCGI, Masatsugu Kido, Director of Cyber Kyoto Laboratory, and Shozo Naito, Deputy Director of Cyber Kyoto Laboratory.As Hasegawa said, ".kyoto is finally starting to be used with the guidance and support of the prefecture.The use of this domain is limited to organizations and individuals related to Kyoto, so Made in Kyoto will be certified with a URL at a glance, which will surely lead to the transmission of the Kyoto brand.In addition to setting up Cyber Kyoto Research Institute in Keihanna Science City and expanding its business, we will endeavor to make use of the development of Kyoto through cooperation and cooperation with Kyoto Prefecture in various aspects. "
The cooperation and cooperation items in the comprehensive agreement are as follows.
1 Activation of Keihanna Science City
Established "Cyber Kyoto Laboratories" at the Keihanna Open Innovation Center and contributed to the realization of next-generation smart cities using ICT
2 Strengthen Kyoto brand communication
".Kyoto"
The operation base of the new top-level domain ".kyoto", which will start operation in 2015, will be located in "Cyber Kyoto Research Laboratories" to launch new business, expand business, enhance information transmission, etc. using ".kyoto" Promote as a research theme and actively disseminate the Kyoto brand both in Japan and overseas
Promote the spread of the geographical name top-level domain ".kyoto" and conduct social education such as providing information related to ICT to users of ".kyoto"
Culture
Participation in the creation of a video site that unifies and introduces various information about Kyoto such as university, tourism, culture, Japanese cuisine, and local information
Participation in a Japanese food culture education consortium (tentative name) to work together to protect, inherit, develop and disseminate Japanese food culture
Internationally appealing Kyoto by disseminating information on manga / animation-related and game-related content represented by Cool Japan
3 Promotion of internationalization
Expansion of study in Kyoto
Education around the world that is interested in Japanese culture and science and technology, including the Asian region, on the Internet
Build a cyber university environment in collaboration with overseas universities centering on research institutions, and plan and produce attractive content to link to real study abroad
Planning a study abroad support system for Japanese students who want to study in Kyoto and local universities, etc.
4 Human resource development, town development
Research, development and provision of educational content
Cooperate in opening courses on the 6th industrialization of fisheries using ICT
Cooperation of students in efforts to promote content industry such as game events at KYOTO CMEX
Educational content research and development utilizing information provision, technical support seminars, e-learning, etc. for job seekers seeking employment in the web and content business fields
Fostering interest in the ICT field through the general opening of the largest computer museum in Japan
Conducting workshops and seminars aimed at improving ICT-related skills for a wide range of age groups from children to the elderly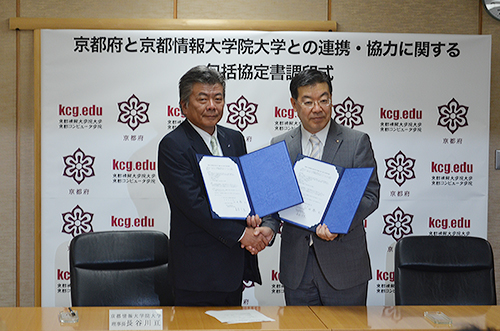 Chairman Hiroshi Hasegawa (left) and Keiji Yamada signing a comprehensive agreement on cooperation and cooperation between KCGI and Kyoto Prefecture and Keiji Yamada Governor of Kyoto = May 26, 2015, Kyoto Prefectural Government