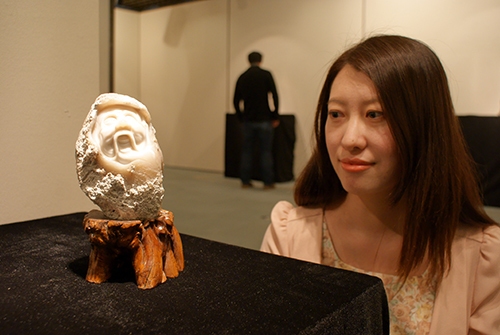 Mr. Zhang, a KCGI student, held an agate sculpture exhibition at the Kyoto International Exchange Center.The work is confident "Easy"
In order to deepen Japanese-Chinese cultural exchange through Chinese traditional agate crafts, a Chinese student from Kyoto University of Information Studies (KCGI), Zhang Cho-san, along with his friend Usui, who lives in Sagamihara City, A sculpture exhibition was held at the International House.Introducing 12 pieces brought in from China, such as Zhang 's confident work "Raku" (meaning "laugh"), and entertained visitors.
A masterpiece that expresses grapes and gourds while taking advantage of the unique rich shades of natural milky white and dark green."Easy" was created by the elderly people laughing. Zhang said, "Man is apt to think that it is sad that people get older, but they always live positively with smiles. I made a wish to do it. "
The agate is hard, and it is said that it takes considerable power to sculpt even with special tools.In Japan, there is no real material, and there is no place to produce, but Mr. Zhang hopes to secure material and production place and resume sculpture activities and hold an exhibition in Japan.