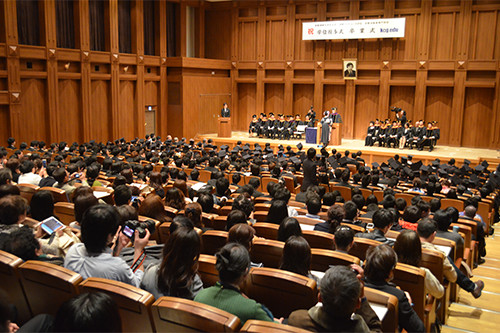 Graduation ceremony for the 2015 Kyoto Information Graduate University Degree Ceremony, Kyoto Computer Gakuin, Kyoto Japanese Language Training Center, and Kyoto Automobile College = March 18, 2016, Kyoto University of Information Sciences Kyoto University hole
Kyoto Information Graduate University (KCGI) degree award ceremony, Kyoto Computer Gakuin (KCG), Kyoto Japanese Language Training Center (KJLTC), and Kyoto Automobile College (KCGM) graduation ceremony in March 2015, Kyoto Information was held at the Graduate University of Kyoto in the Satellite Hall in front of Kyoto Station.While the shortage of IT human resources was screamed, the friends who studied together at the KCG group slammed into the society with technology and knowledge, with the memories of student life as their heart.
Congratulations to all graduates and graduates.I wish you all the best.
Many parents visited the ceremony and filled the hall.First, Toshihide Ibaraki, President of KCGI, awarded the degree of "Master of Information Technology (Professional)" to graduates.The KCG graduates received the diplomas from Shohoku, Kamogawa, and the Kyoto Ekimae school principals, the KJLTC graduates received the Kamogawa school principals, and the KCGM graduates received the diplomas.After this, KCGI / KCG / KCGM's best award, award certificate and souvenir were awarded to graduates and alumni who were selected for the award.
Mr. Wataru Hasegawa, Chairman of the KCG Group, gave graduates and graduates a list of IT-related topics that they faced, including the My Number system and the 2020 Tokyo Olympics and Paralympics. The country needs a lot of IT human resources, and the country spends a lot of money on these.On the other hand, however, the industry is screaming for a shortage of human resources.It 's your turn now, "encouraging.Introducing the KCG Group's efforts, such as new educational development in the content business and applied information fields, and the start of management and operation of ".kyoto". How wonderful would be if we could form a tag, grow together and develop together.I wish you all the best. "
President Ibaraki touched on steady and rapid progress in ICT (information and communication technology) and artificial intelligence, and said, "It will be decided how to use the great capabilities of machines and what kind of society will be created. "Everyone who is active in the ICT world" says, "A lot of business opportunities are rolling, and you are living in an era of fulfilling work.Always put on an antenna and actively challenge new possibilities.I have great expectations for their success. "
Next, on behalf of graduates and graduates, Maya Naganaga from KCG Information Science gave graduation remarks."In our life, we learned great wisdom from our teachers and seniors.And I had a lot of irreplaceable friends, learned together and spent time together was very meaningful.In particular, I was able to improve my skills through group work in project exercises. It is an important treasure that supports us.There will be a number of challenges, but each will fulfill its mission and take a new path. "Finally, all attendees sang "Firefly Light".
After the ceremony, the venue was moved to Kyoto Tokyu Hotel and a celebration was held.Graduates and graduates, together with faculty and staff who have shared joy and struggle, blossomed memories and vowed to make a leap forward.