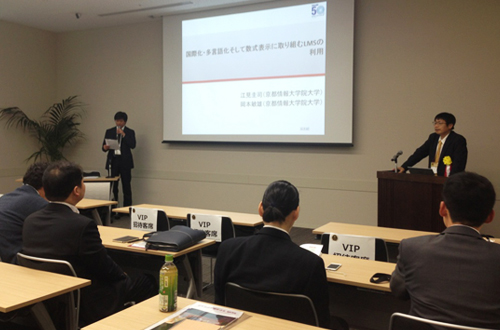 The e-Learning Awards 2014 Forum was held at the Ochanomizu Sola City Conference Center in Tokyo for 3 days from November 12 to 14, 2014. Keiji Emi Associate Professor, Kyoto University of Information Sciences (KCGI) gave a lecture entitled "Use of LMS for Internationalization, Multilingualization and Expression Display", and KCG Group's learning management support system combined with Kyoto Computer Gakuin (KCG) And the internationalization of the content.
The KCG Group is proposing "Network Multiversity" to improve the quality of education, improve the efficiency of management, and reduce the number of fixed areas through the integration of universities and rationalization of IT.In all subjects including face-to-face classes, all teachers use e-learning systems such as CMS, video conferencing system, communication system, shooting room / PC, and also provide lectures and class materials in both Japanese and English We take the initiative.
Prof. Emi introduced the KCG Information Network Galaxy-Learning Management System, a university-wide learning management support system that can be used in both Japanese and English. We talked about what kind of consideration is necessary from the viewpoint.
Toshio Okamoto, Professor KCGI, served as Chairman of the Board of Directors of the e-Learning Award Forum Management Office. Through his management, he was instrumental in innovation in educational fields such as the opening of education called MOOC, flipped classes, and Edtech using technology. It is.
"E-Learning Awards 2014 Forum"
http://www.elearningawards.jp/