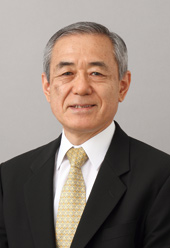 Profile
Bachelor of Engineering, Master of Engineering, Graduate School of Engineering, Kyoto University (Department of Mathematical Engineering)
Former Senior Manager of Systems Division, Fujitsu Limited, Former Vice President of Fujitsu Learning Media, Inc.
Vice President, Japan e-Learning Society
Field of Specialization
SCM theory and practice (TOC, SCOR, WebEDI, Rosetta Net, ebXML, etc.): I am interested in practical application of SCM from the experience of enterprises.
E-Commerce: I have a strong interest in practical approaches to the development and problems surrounding e-commerce, such as construction technologies, business models, and legal regulations.
Object-Oriented Systems Development (Practical development based on J2EE, etc.): My experience taught me the importance of teaching about a system of core development technologies. It is based on the Java language for the development of large and medium-sized open systems, and an essential technology for advanced information processing engineers.
Information System Design: I am interested in raising the awareness of each customer and IT vendor regarding the development of the IS system which utilizes IT. To achieve this, what has to be done throughout the life cycle of the system has to be clarified from the planning stage for the new growth of the enterprise, definition requirements, system design, development of the system, operation, outsourcing, etc..
Project Management: In order to smoothly advance the system development, it is important for both customers and IT vendors to decide the project leader who is responsible for the development, and to carry out the management comprehensively from various viewpoints. I have learned what should be done in each stage of the system development as systematic knowledge and know-how based on my experience in the business enterprises to this date.
e-learning: Based on my experience in developing e-learning systems (system for receiving training via Internet) and content (teaching material) for general companies, I was convinced of their future importance and potential for development, and are interested in innovative activities.
Business Performance
Paper
"Software Design Basics (CHAPTER 1) - Data Entry -", September 1991, Information Processing Society of Japan, The 43 th National Congress, Tsuneo IMAI
"Fundamentals of Software Design (CHAPTER 2) ― System Development Led by Field Personnel ―", 44 National Congress of the Information Processing Society of Japan, March 1992
"Software Design Basics (CHAPTER 4) - File Design -", 45 National Congress of the Information Processing Society of Japan, September 1992
"Fundamentals of Software Design (CHAPTER 5) ― Part Concepts ―", 46 National Congress of the Information Processing Society of Japan, March 1993
"From OA, which not everyone can do, to OA, which anyone can do, why not everyone can do it.", 47 National Congress of the Information Processing Society of Japan, September 1993
"From OA, which not everyone can do, to OA, which anyone can do "(CHAPTER 2) ― The Concept of OA Conversion and Its Education ―", 48 National Congress of the Information Processing Society of Japan, March 1994
"From OA, which not everyone can do, to OA, which anyone can do" (CHAPTER 4) - A Training Method for Everyone -", 49 National Congress of the Information Processing Society of Japan, September 1994
"From OA, which not everyone can do, to OA, which anyone can do" (CHAPTER 5): Problems and Solutions for Data Input" Information Processing Society of Japan, 50 National Convention, pp. 256 -257, 1995
"Comparison of the effects of face-to-face and on-demand classes using LMS", The Japan e-learning Society 2005 Academic Lecture
"In the hope of promoting e-learning at universities", NAIS Journal Vol. 1, pp. 30 -31, 2005
"System development method led by end users", NAIS Journal Vol. 1, pp. 60 -66, 2005
Books
"Theory and practice of database construction", January 1985, Corona Inc.
"Introduction to File Processing", April 1990, Koseisha Kosei-kaku
"Introduction to System Design", July 1993, Koseisha Kosei-kaku
"Let's read an English-language newspaper!" (July 2002, Koseisha Kosei-kaku)
"English Conversation, and English Reading and Writing, Too! March 2003, Koseisha Kosei-kaku
"English rakugo and Japanese rakugo groups", August 2004, Seijisha Hokei-kaku
"English Rakugo and Japanese Rakugo for a Lively Life!" July 2005, Koseisha Kosei-kaku
"The total fashion you make", August 2006, Seijisha Hokei-kaku