Summary
Enterprise Resource Planning (ERP) is a management method that uses IT to integrate and manage resources such as people, asset, capital and information for the entire company.The important step in improving business processes by introducing ERP systems into enterprises is to understand the ERP system that implements the desired approach.
In this specialized field, you will learn practically the mechanism of business integration and processing such as financial accounting and sales logistics, focusing on exercises using the educational ERP system (SAP S / 4HANA) of SAP, which is a major player in the industry.We also analyze issues faced by various companies and conduct surveys of ERP implementation cases.The collaboration between the latest enterprise infrastructures and ERP, such as in-memory database and IoT will be studied as well.
Target Career Paths
ERP Implementation Consultant
ERP Customization Engineer
ERP Add-on development Engineer
Past Master Project Themes
ERP Introduction Research at Online Shops
Data analysis in SAP HANA environment System development using HANA
Effective Hotel Management Using ERP System
Implementing SAP ERP System for Furniture Industry in Sri Lanka
ERP Implementation for Chinese Fruit Industry to Enhance Management
In addition to the above, projects related to the introduction of ERP to Chinese consumer electronics companies, cosmetic manufacturers, automobile manufacturers and others have been conducted.
Message from Project Instructor
Associate Professor Yi Li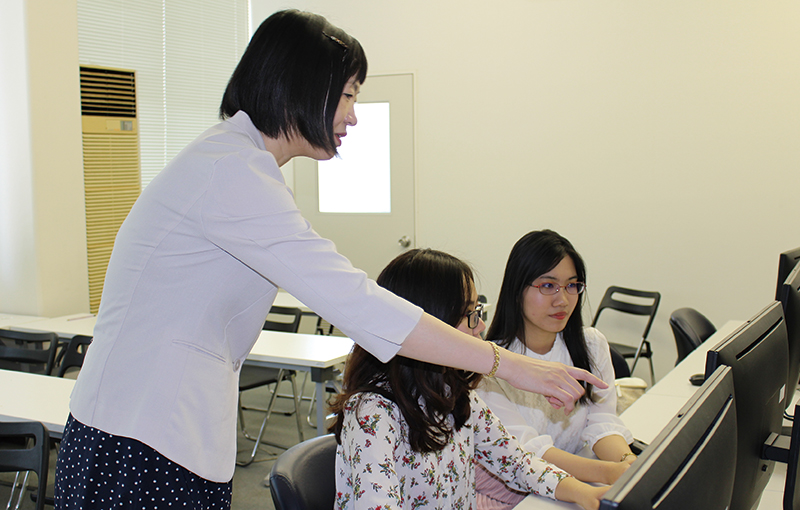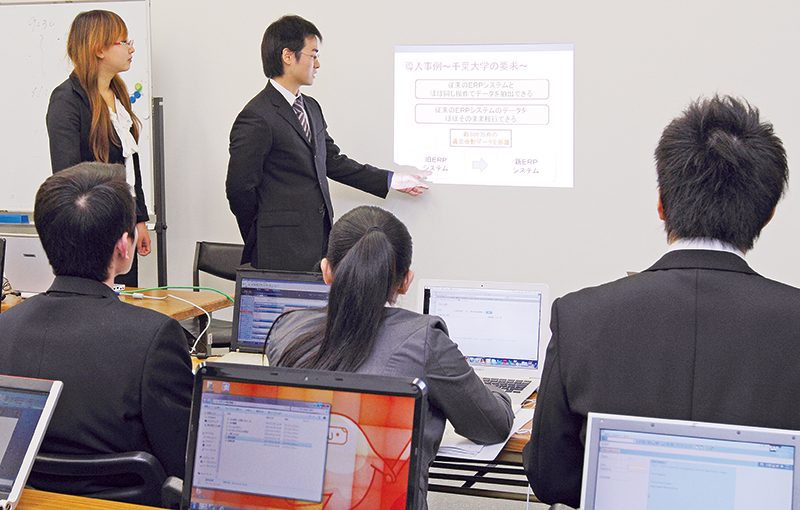 In an era of fierce competition between companies, many companies are introducing ERP integrated packages to improve their operations.In order to introduce an ERP system (enterprise resource planning system) to various industries, ERP consultants are required to have the ability to analyze the characteristics peculiar to the industry and introduce a system according to the business of the company.
At this university, students will learn management / accounting knowledge and basic IT such as programming, and then learn ERP purchasing inventory / production / sales logistics / accounting and customization of personnel management system.Furthermore, we will study the introduction of ERP by industry in the project, aim to improve business processes, and propose solutions to management issues.In addition to customizing the ERP system in the project, we also develop add-ons and external systems if necessary.
With the progress of globalization, the needs of internationally active ERP consultants are increasing.The university trains global ERP consultants according to the needs of the times and provides ERP consultant education in both English and Japanese.In addition to customizing the English / Japanese ERP system, we are also conducting research on how to support the ERP system to which IFRS (International Financial Reporting Standards) is applied.We are also investigating overseas accounting systems and business customs, and studying the introduction of country-specific ERP systems.Many students are working hard to become ERP consultants who are active in global consulting firms.
Many students passed the SAP certification tests
German SAP's ERP (Enterprise Resource Planning) package software is used by many global companies, and the SAP Certified Consultant Exam is known to be hard to pass.Passing this exam and obtaining a certification is a great strength for those who aspire to become ERP-related consultants or work as IT staff in companies.
At our university, more than 180 people, including international students, have passed the SAP Certified Consultant Examination.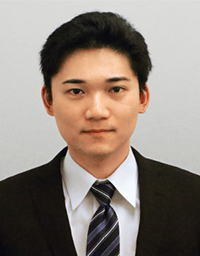 Mr. Fukuyama
Hibiya Computer System Co., Ltd.
Completed in March 2017
Graduated from Bukkyo University Sociology Department
Graduated from Kyoto Computer Gakuin Information Processing Program
When I was a university student, I was studying social studies in Sociology Department, but when I tried to use a computer for statistical processing of the collected data, I realized that I had insufficient knowledge in this field.In graduate school, I went to KCGI to study IT and found the ERP class.I was surprised to find out that there are such systems to support corporate management, and became very interested.
In particular, the financial accounting system is the foundation that supports company management, and I thought that obtaining an ERP consultant qualification in this field would be advantageous for employment.At KCGI, there are many classes related to ERP, and with the support for test preparation from the teachers in charge, I decided to take the exam.
I solely focused on what I was taught in classes and intensive lectures, and did not look into other things much when I studied for the exam.In particular, I think that detailed explanations of past exam questions were helpful.Being able to pass while I was in school gave me confidence in myself and I was able to work hard on the course completion project.It opened the way to employment, and I received a job offer from a company specializing in ERP consulting in Tokyo.ERP is a field where new technologies come out one after another, so I want to absorb new knowledge flexibly and continue to play an active role.
Initiatives to become an ERP consultant
By taking the following lectures and practical training in order in the main courses of the specialized field "ERP", you can prepare for the qualification examination of SAP certified consultants and acquire know-how for introducing ERP projects in companies. You can proceed while you are in school.These classes can be taken even if you have selected a specialized field other than ERP.
[First semester]
Learning the basics of management information systems
Enterprise System

Learn about the purpose of corporate activities and the role of core operations to achieve them.We will study what kind of information is generated and how it is systemized for each core operation, and learn how to develop that information system.

Business Integration and e-Business

We will seek to understand the corporate structure and business mechanism, and learn how to integrate operations to gain competitive advantage by using the latest ICT through SAP ERP.
[Second semester]
Lectures for SAP Certified Consultant Exam
Financial accounting system development I and II

We will develop financial accounting system used for ERP system.We will use the Financial Accounting (FI) module of the SAP system to handle basic design, slip processing, settlement processing, financial accounting reports, etc. of the financial accounting system.
Target qualification examination
SAP Certified Application Associate-Financial Accounting
Sales logistics system development I and II

Development of sales and distribution system used for ERP system.We will use the Sales and Distribution (SD) module of the SAP system to handle basic settings of the sales and distribution system and processing from order receipt to payment.
Target qualification examination
SAP Certified Application Associate-Sales and Distribution
Development of Production Control System

We develop production and process production systems used for ERP systems.The Production (PP) module of the SAP system is used to handle master data of the production system, material requirements planning and manufacturing instructions.
Target qualification examination
SAP Certified Application Associate – Production Planning and Manufacturing
[After the third semester]
Practical learning for implementation and development of ERP system
Simulation project for ERP Implementation

After creating a simulated business model and business process for a given industry or company, we will practice the preparation of specifications, implementation testing, and reporting for the introduction of various SAP system modules.

Internship

Participate in an internship at SAP's ERP-introduced companies, including overseas, for about a month on long vacations in the spring and summer (only for those who wish).We will be involved in practical training (manual creation, user education, etc.) and development work of SAP projects at companies.

Add-on development programming

We will develop additional programs using ABAP (Advanced Business Application Programming), a dedicated language for adding functions (add-on) to various modules in the SAP system.
Signed by ERP joint research with Gravis Architects Co., Ltd.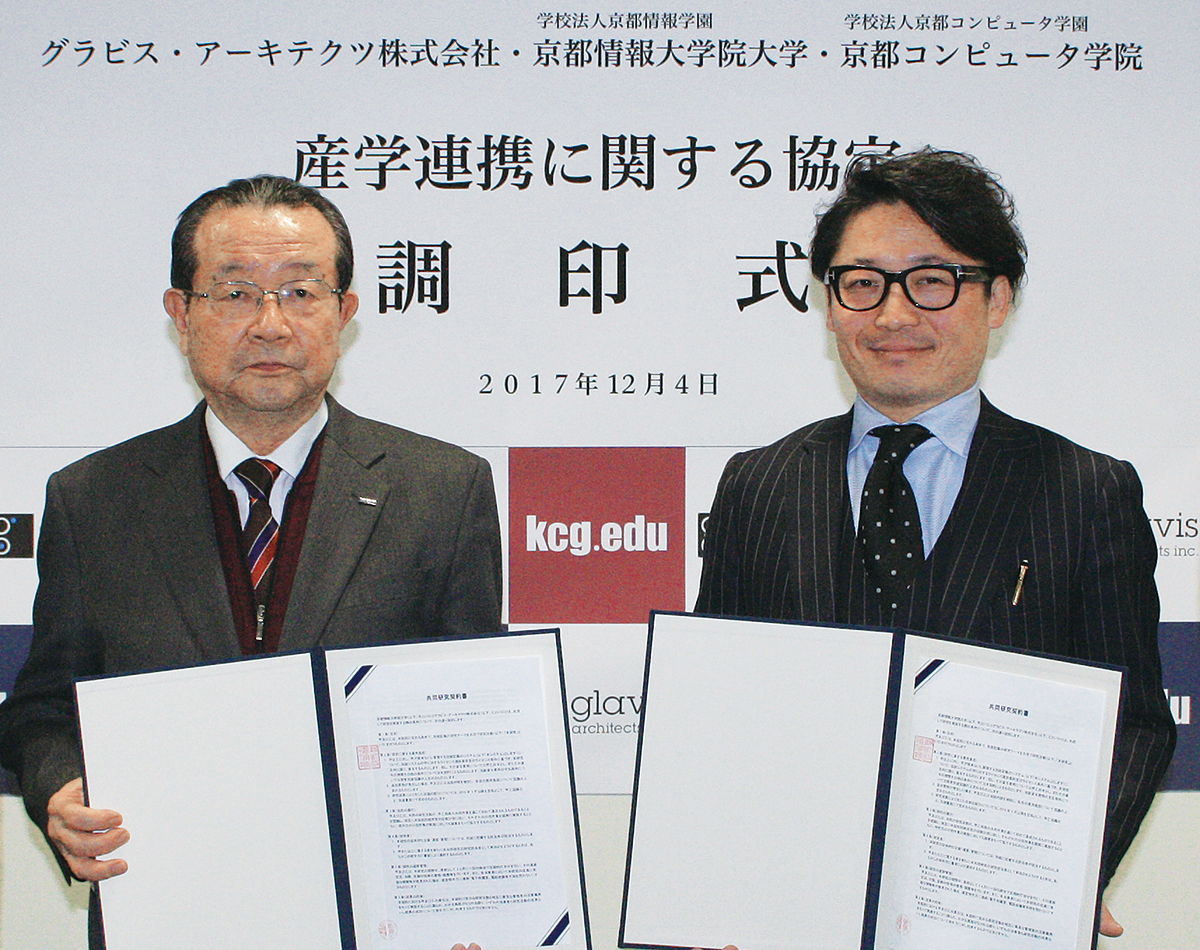 The Kyoto College of Graduate Studies for Informatics (KCGI) and Kyoto Computer Gakuin (KCG) have signed an agreement on IT-related consulting with Gravis Architects Co., Ltd. This was signed on Dec. 4th, 2017.
This joint research will develop package solutions based on ERP, especially applications adapted to the rapidly evolving technologies such as AI and IoT society, as well as applications with high added value from a business perspective. We will leverage the ERP education resources and research of KCGI, which has a rich track record in IT consulting services for public institutions such as central government ministries and agencies.
KCGI and KCG students also actively participate in this joint research, aiming to develop practical IT human resources with advanced skills.