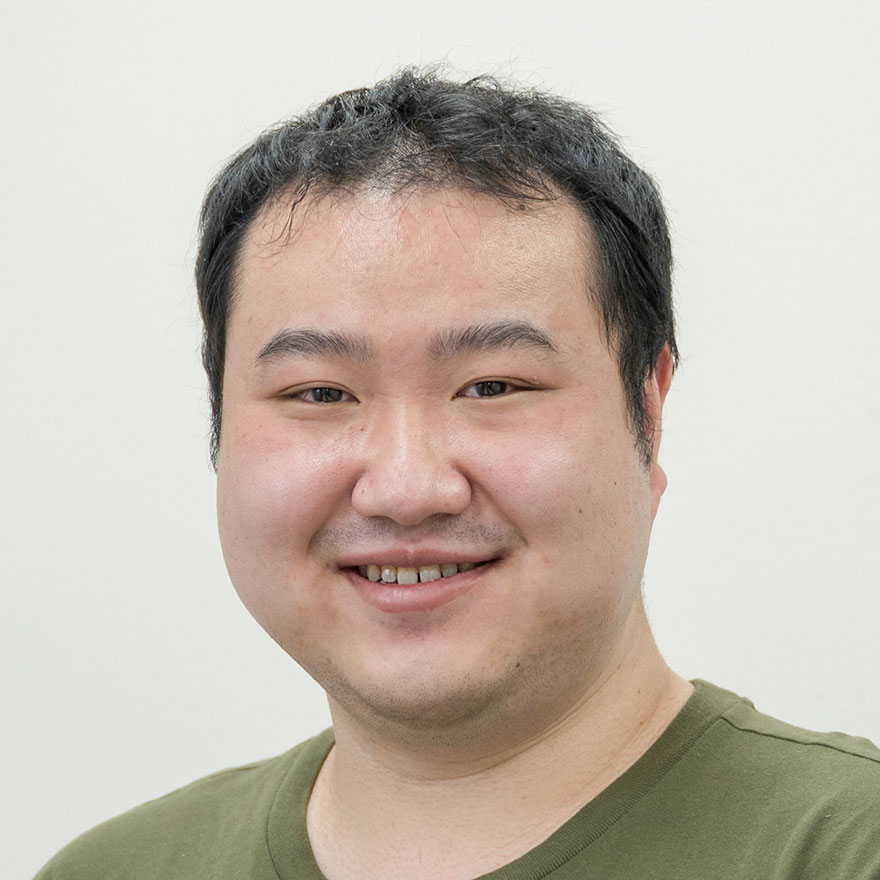 Mr. Tougei
Fujitsu Co., Ltd.
Graduated in September 2020
Graduated from Kyoto Computer Gakuin, Department of Game Science
Wanting to improve my ERP knowledge and skills
I entered Kyoto Computer Gakuin (KCG), because I love playing games and wanted to make them myself as well, and I felt that the facilities were well-equipped and the specialized level of education was outstanding.In addition to Game development and planning, I also really did my best at studying Japanese history and English.I will always remember how kindly the teachers supported me.While studying at KCGI, I learned that I could study ERP and Content Business and I decided I wanted to further improve my knowledge and skills about these topics.
Guest lectures at partner schools were a great experience.
At KCGI, I had the chance to learn about all IT related topics.I still have a special place in my heart for the partner schools in China: Beijing University of Posts and Telecommunications (BUPT) and Wuxi Institute of Technology, where I could teach a game class as a trainee assistant.I had learned a lot and it was a valuable experience for me.
Using SAP that I learned at KCGI, I can help companies solve problems.
After graduation, I was assigned to Fujitsu Limited in the JR Kawasaki Tower (in Kanagawa Prefecture), where I started preparing to do actual work.At KCGI, I studied ERP and while still being a student, I got certified in SAP FI (Financial Accounting) and after joining the company, I was also able to get the SD (Sales and Distribution) and MM (Material Managment) certifications.I am currently studying hard to obtain the CO (Controlling) and PP (Production Planning and Control) certifications.Everything I have learned at KCGI, I want to continue to use to solve problems faced by Japanese companies and support them in their global operations.Being in the world of IT, you constantly see new technologies coming out.It is quite exciting to be honest.Considering all of this, I think it's important to emphasize the importance of the basic knowledge.I hope that all students of the KCG Group will spread their wings and become excellent IT professionals.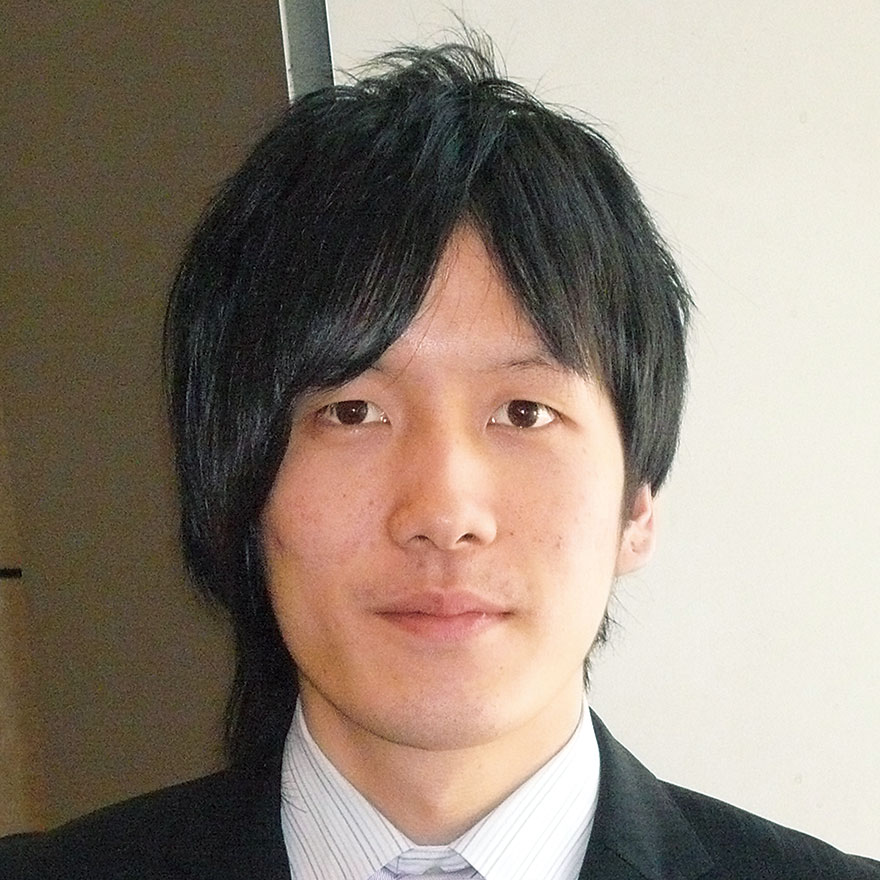 Mr. Ozaki
Yahoo Japan Corporation
Graduated in March 2013
Graduated from Osaka Electro-Communication University, General Information Science Department
I was drawn to the hands-on and free-feeling atmosphere.
I studied computers in the Department of General Information Science in college. Using this knowledge, I thought that it would be more beneficial for me to study practical web programming than to do research in graduate school, so I chose to enter KCGI, an IT professional graduate school. I was fascinated by the practical and free atmosphere at the school, which is one of the reasons why I decided to go.
Studying the latest in the industry, is going to be a big help in your future.
I was very interested in web technologies, so I really enjoyed web programming practice and group work. You've got the latest trends. Practical learning also helped me find a job. In the master project, we analyzed social media, which has been a major focus in recent years.Since I was able to study the most advanced technology, I think it will be a big plus for my future.
Through facing different challenges, we can get many experiences.
When I joined Yahoo, I felt that I was one step ahead of my peers from universities and academia, and I was able to start developing services immediately and quickly becoming familiar with them. I am currently involved in the development of EC (electronic commerce) sites. The good thing about KCGI is that you can try various things at your own discretion, such as academic activities and joint projects with companies. You will be able to experience things that other graduate schools can't imagine, such as how ideas generated from discussions during lectures can lead to actual business. Younger students, please make the most of these opportunities to enrich your student life.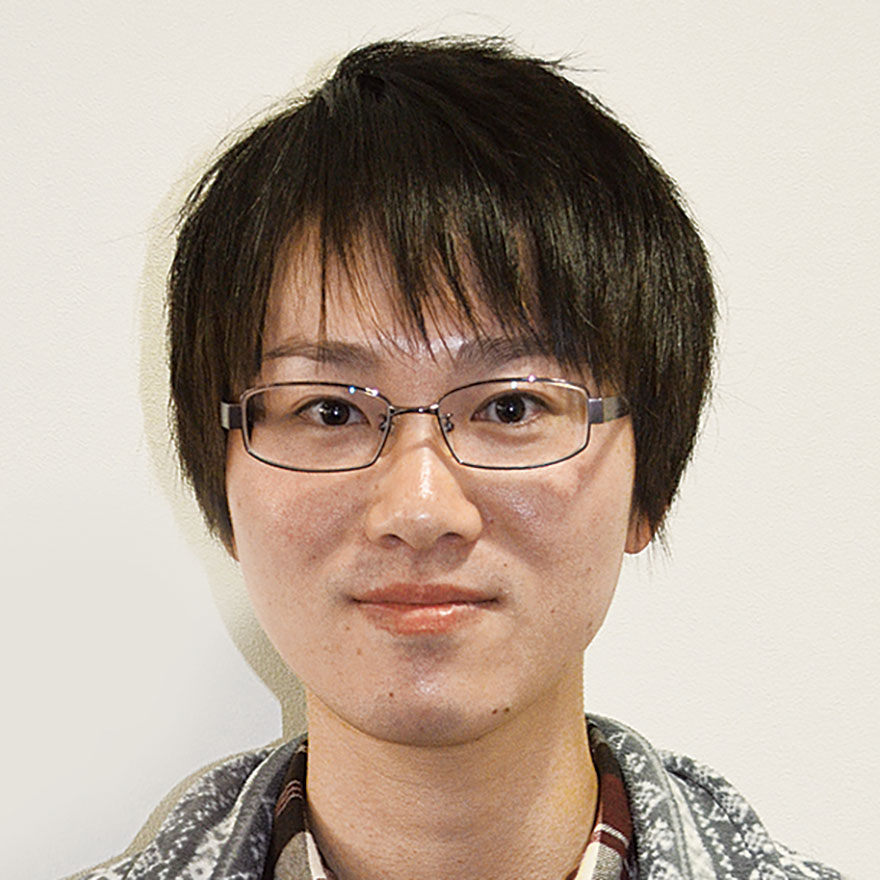 Mr. Yamanaka
Banshu Shinkin Bank
Graduated in September 2017
Graduated from Kobe Gakuin University, School of Economics
Acquiring advanced IT knowledge and management skills
I got a job at a financial institution after graduating from college, and I was assigned to the Systems Department. I was always interested in IT and it was rewarding, but I was keenly aware of the lack of knowledge and experience I had. At that time, in order to develop human resources with advanced IT knowledge and management ability, a plan to have employees' study at graduate school was proposed, and I was nominated. I decided on KCGI, because the curriculum matched the requirements of the credit union, its professors with a wealth of practical experience, and its proven track record.It is considered to be a long-term training program for the Shinkin Bank.
Study hard to succeed
It was the first attempt for our bank to offer this kind of long-term training to its employee, so I entered the school with a sense of great responsibility. First of all, I worked hard to acquire advanced IT skills, which is one of the missions entrusted to me by my workplace. The lectures by teachers with practical experience were especially interesting.In addition to IT and management, there were a lot of lectures on group work and legal matters such as intellectual property rights, and I was able to learn them in a practical manner. For two years, I went to school almost without a break, earned 77 credits, and I received the best student award when I finished.
As an IT-technician, I also want to focus on management.
After returning to Shinkin Bank, I have been involved in the development of systems to improve operational efficiency, the promotion of new marketing using tablet terminals, and the development of human resources capable of proposing new business models through the introduction of Fintech. My goal is not only to be an engineer in the system development field, but also to be involved in the business from the viewpoint of an engineer who can make full use of IT, as well as the management of the organization.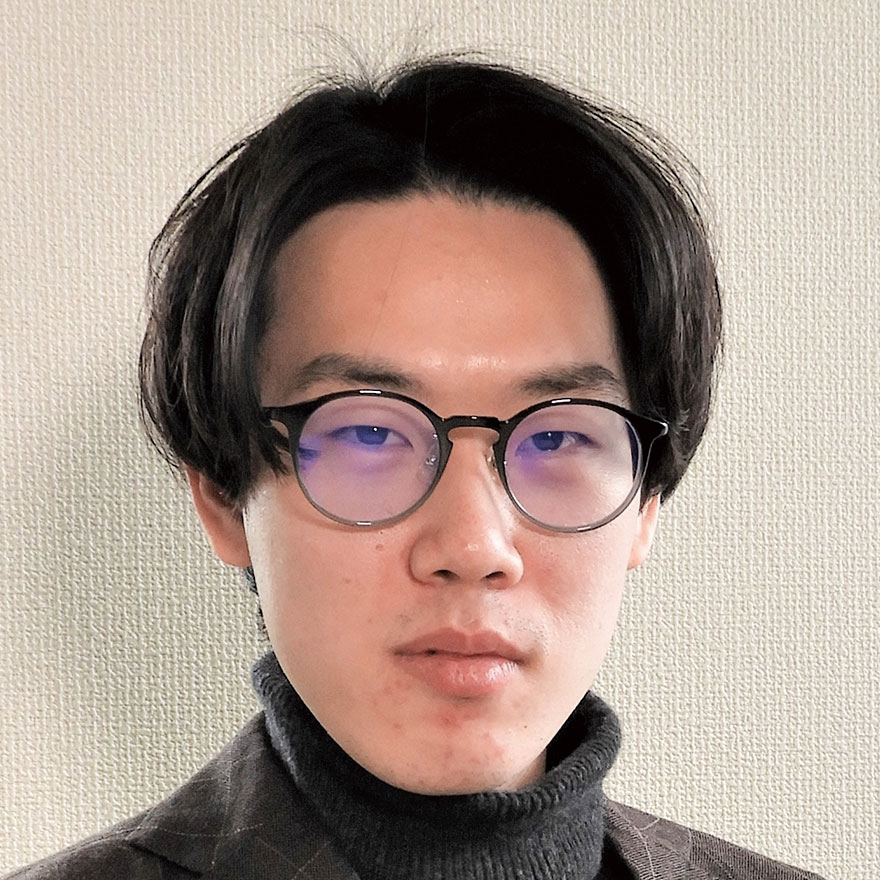 Mr. Saika
Tokio Marine & Nichido Systems Co.,Ltd IT Infrastructure Services Division Engineer
Graduated in March 2021 from Tokyo Satellite Campus
Graduated from Dokkyo University, Faculty of Law
Accepted whether your major was Humanities or Sciences
At university, I majored in international law and relations and was a member of a seminar on antitrust law. As a member of this seminar, I tried to search the Internet for legal precedents and similar cases, but I found it difficult to find the information I wanted, which got me interested in the relationship between the judiciary, AI, and IT itself.When thinking about my future career, I decided it would be good to go to a graduate school and add IT skills alongside my English skills and legal knowledge.I chose to study at KCGI, which accepts a diverse range of students, ranging from Humanities to Sciences.
With enhanced e-learning, you can step it up at Tokyo Satellite Campus
I chose to specialize in Business Data Analytics (now Data Science).The curriculum and educational environment were more practical than I could have imagined, and we had many opportunities for output, such as building a website, so I was able to make steady progress even though I was new to IT and management.As I gained more expertise, it was necessary to take a more independent and active approach to learning. My classmates encouraged me to keep studying.I could study at the Tokyo Satellite Campus without any problems, because of the enhanced e-learning system.
Using the knowledge I gained at KCGI, I have a business-related job
The company I work for belongs to a group of major insurance companies, including non-life insurance companies, and I joined the company because of its policy of actively promoting IT throughout the group.At KCGI, I had learned everything from IT basics to practical application, such as different programming ideas, so I was able to start doing my new job smoothly after joining the company.The company's main business is the development and management of systems related to insurance operations for customers, and systems to manage the working methods of employees in the group's non-life and life insurance companies.Although it is a small project, I am in charge of it, and I am working hard on business-related tasks such as schedule management and communication management with related parties, while working as an engineer.Some day, I would like to work in system development for the company.I often look back at what I have learned at KCGI.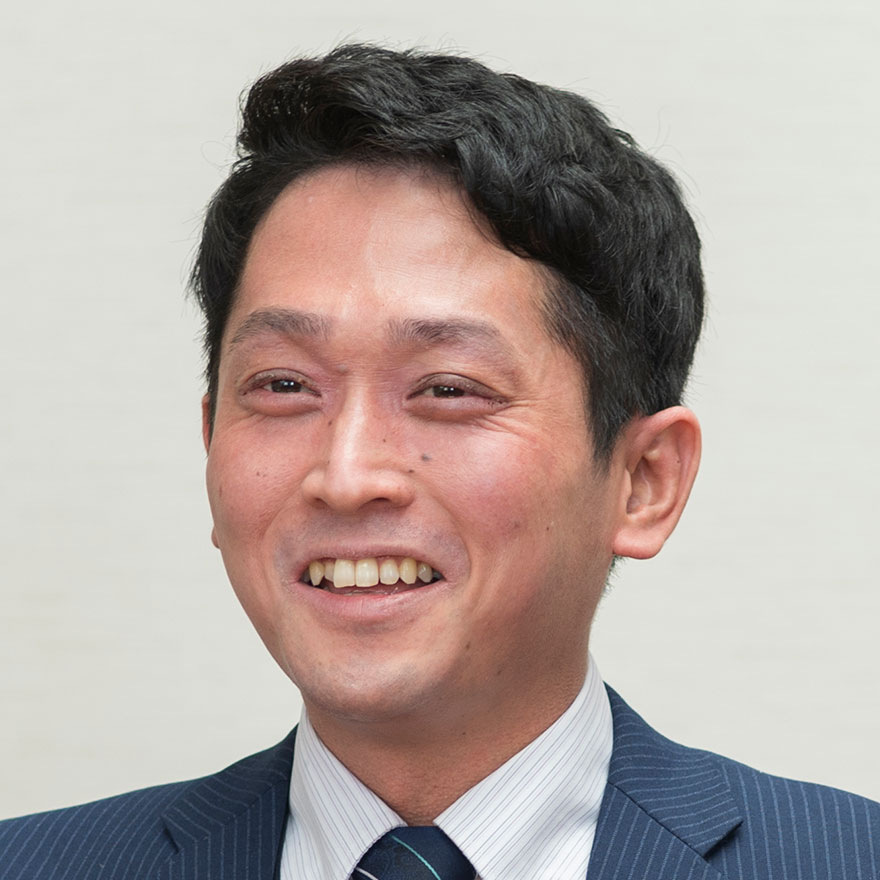 Mr. Mizutani
Fujitsu Limited. First Solution Department, Social Security Services Division, Administrative Solutions Business Group, JAPAN Business Group.
Graduated in March 2013
Kyoto Computer Gakuin Graduate
Interest in an IT professional graduate school
I had an interest in computers and loved playing games, so I entered Kyoto Computer Gakuin College (KCG) to pursue game and system development for my future career, and worked hard to gain computer knowledge and skills before entering KCGI.When I entered KCG, I had already decided to go to KCGI.I was interested in an IT professional graduate school, so I wanted to study there.
Experience personal growth as an intern
I went to Fujian Normal University in China, our partner university, for four months as an intern, and although the differences in language, culture, and way of thinking were very difficult at times, I was able to grow a lot as a person.In the department where I am currently working, I am often complimented on my presentation skills.I know that this the result of my study and experience at KCG and KCGI.
High-level work as project leader
We are based in Makuhari System Laboratory of Fujitsu Limited, and work in development and provision of services for long-term care insurance systems for municipalities nationwide.There are more than 100 people on the development team, including subcontractors, and I have been appointed project leader after nine years with the company, so everyday I feel I have a big responsibility and it is very rewarding.We will continue to improve the quality of the system while following the flow of the long-term care insurance system set by the Ministry of Health, Labour and Welfare, and strive to satisfy local government officials and users of the long-term care insurance system.In 2021, I received PMP, an international certification in project management, and I would like to continue to be in management at a higher level in the future.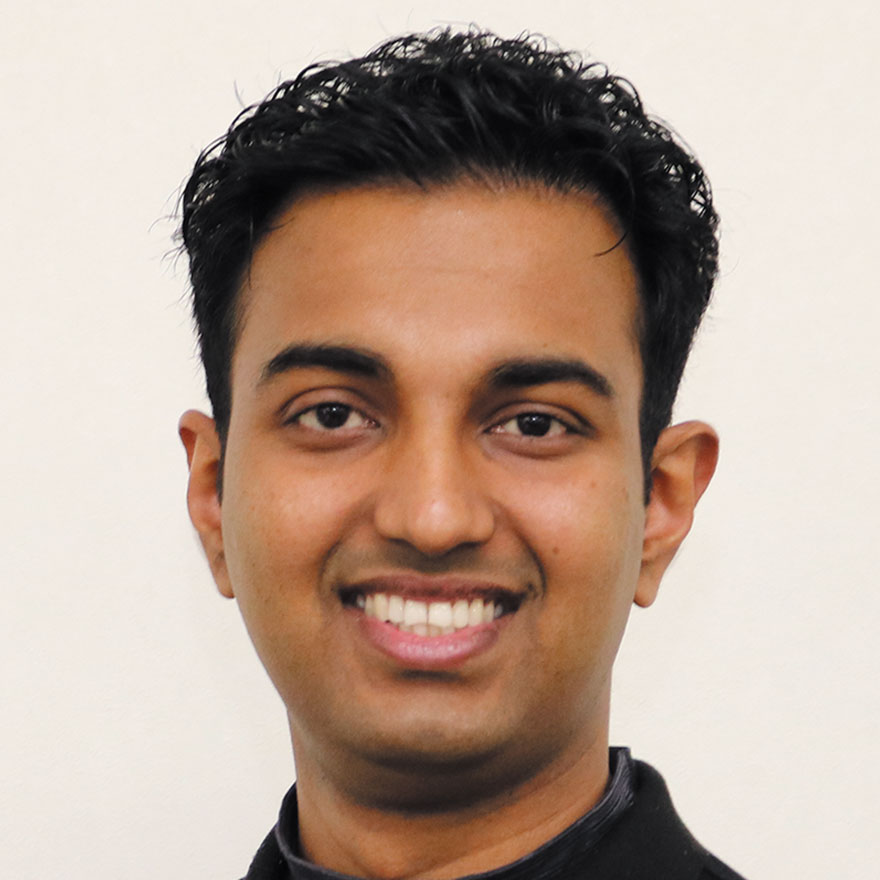 Mr. Hinkenda
Gravis Architects Co., Ltd.
Graduated in March 2019
Sri Lanka - Sri Lanka Institute of Information Technology Graduate
Learn ERP in English
After studying networking at a university in Sri Lanka, I worked for about seven years, but I decided to get a master's degree at a graduate school overseas because I wanted to further expand my knowledge and experience. When I looked at universities in Australia and Japan, I found the KCGI site and found that there was an ERP curriculum. When I was working, I thought that ERP was a promising qualification, and I found out that I could learn about ERP in English classes in KCGI. I could also try to get a qualification, so I decided to go to KCGI.
Learned about the difficulties of practical application
As I am interested in ERP, related subjects such as international accounting are, of course, interesting, but IT-related subjects such as database introduction were also interesting. There are many teachers who have a lot of practical experience, and they will teach you well. In the Master Project, the culmination of two years of study, my group and I designed and presented a system to streamline the operation and management of Kyoto City buses, using the ERP knowledge we learned in class.I learned how difficult and important it is to apply ERP practically. Many KCGI teachers speak English, and it is attractive for international students that we can obtain a degree even if we do not speak Japanese.
Message to Junior Students
I think that international students who enter KCGI should study Japanese language and Japanese customs and culture. That way you can enjoy life in Japan and study more efficiently. Japanese is especially important. When I came, I had a hard time because I couldn't speak any Japanese. I can speak a lot now, but now that I've got a job at an IT company in Tokyo, I'm going to study more and be able to communicate better with Japanese people at the company. Especially if you have a desire to work in Japan after completing the course, I recommend that you come after learning a little about the language and culture.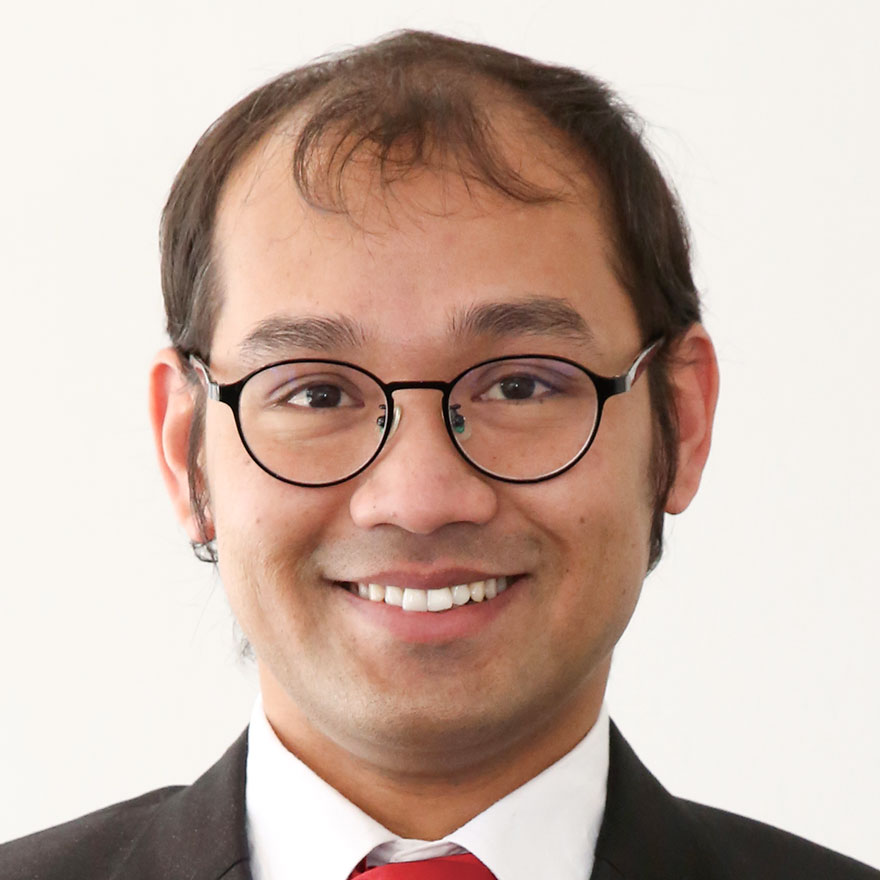 Mr. Kunwar
Rakuten Group, Inc.
Graduated in September 2021
Nepal - College of Information Technology & Engineering Graduate
High level education in English
I studied IT at a Nepalese university and got a job.However, I really wanted to work in the global IT business world and on top of that, I wanted to further develop my knowledge and skills.Around that time, I learned about KCGI located in Japan, a country with excellent technology. It has as high-level education in web system development, which I wanted to study and it also conducts lectures in English, so I decided I wanted to pursue a higher education as an international student at KCGI.The KCG Group has a long history and I felt I could put my trust in this educational institution.
Interesting lectures, emphasis on programming
I tried my hardest at programming, since I wanted to get the skills necessary to develop mobile apps. Among the programming languages, it was great to learn in depth about Python, which is often used for AI and data science.These skills have helped me find a job.Outside the field of web systems development, KCGI had many interesting lectures.The teachers explained in detail about the latest technology.It wasn't easy living in Japan, especially when it came to the language, but the people around me were so kind and encouraging me to continue studying.
I want to gradually improve my skills while working at a global company.
Rakuten Group is a global company with English as an official language and employees from various countries.I am so happy to work for a company that is at the top level of mobile app development.It's thanks to the teachers at the KCGI Career Center for backing me up.There is a lot to be learned in this kind of work environment, and I would like to gain experience in management at the same time.In the future, my dream is to start my own business in my home country, but for now, more than anything, I want to keep improving my skills.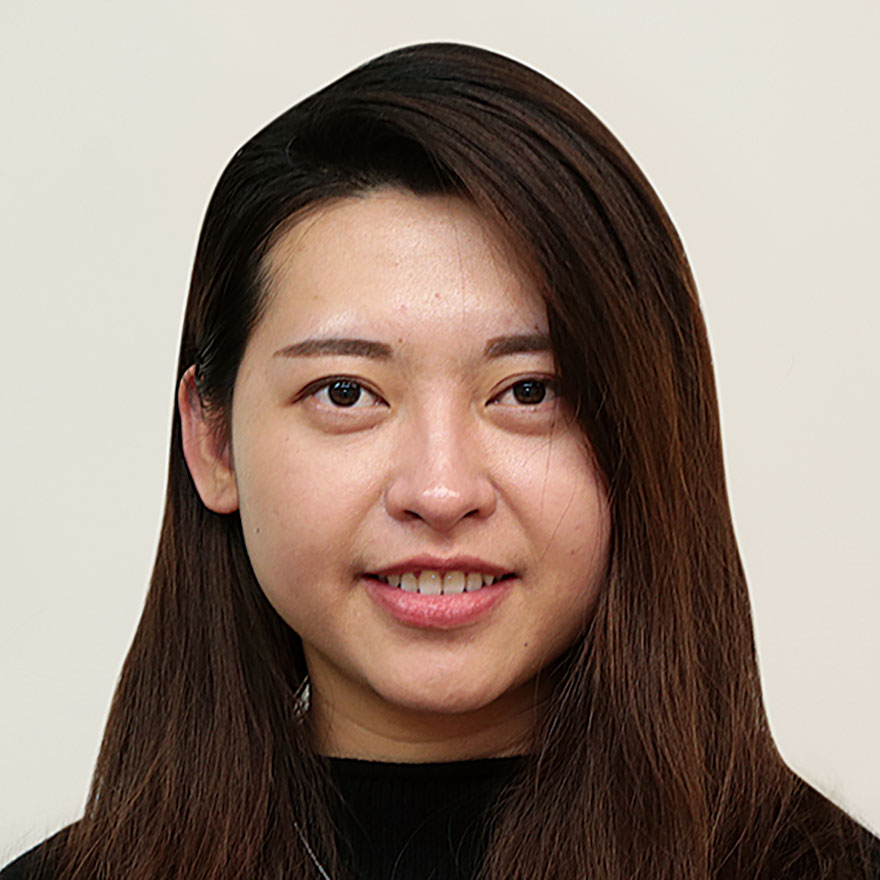 Ms. Wu
IBM Japan Services Company Ltd.
Completed in September 2016
Graduated from Jiangxi Normal University in China
IT knowledge will surely help you in your life
I intended to take advantage of the Japanese language I learned in college, but I couldn't find a good job. I thought that if I studied further, I would be able to have a brighter future, so I decided to study in Japan. While I was looking for universities and graduate schools in various liberal arts fields, I came to know about KCGI from someone who was senior to me in college. In addition to the study of Japanese language, I decided to go on to higher education because I thought that if I could acquire the knowledge of IT, which continues to evolve, it would surely be useful for my life.
Passed the SAP Certified Consultant Exam
When I entered the school, I didn't know much about IT, so I was wondering what I should learn, and my advisor recommended that I study ERP. The hard work paid off when I passed the SAP Certified Consultant (financial accounting) exam while I was still at school. Besides ERP, I also attended lectures on database and web programming. I thought it would be useful in the future if I could acquire basic skills in various fields related to IT.
Using my knowledge to build bridges with Chinese companies
I wanted to apply what I learned through KCGI to Japanese companies, so I joined my current company in April 2017 through the introduction of my teacher. After four months of training in Tokyo, I was assigned to GBS Kansai Competency Development for two years as an OJT. As an IT specialist I am mainly in charge of work related to IBM's semiconductor manufacturing line process management system "SiView" in Kyoto. Since the number of interactions with customers' companies will increase in the future, we must further improve our IT and Japanese lanugage proficiency.I think these IBM systems will spread to Chinese companies in the future. It would be great if I could act as a go-between at that time.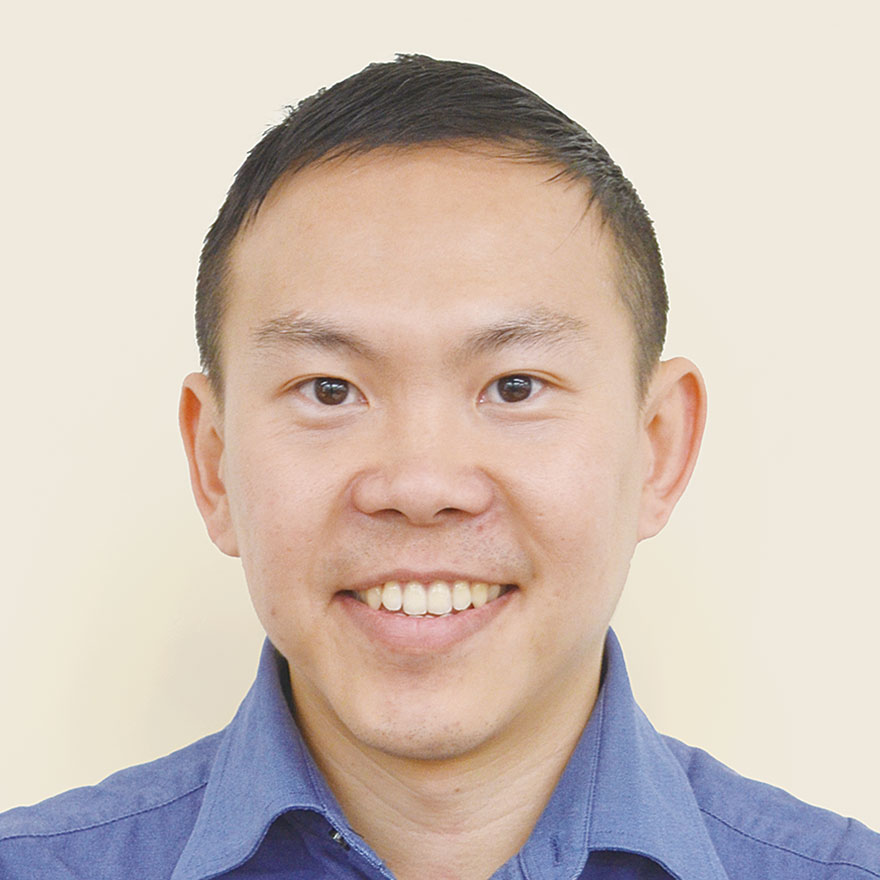 Mr. Irwan
Wasabi Co., Ltd.
Completed in September 2016
Graduated from MIKROSKIL University in Indonesia.
Appealing to learn both IT and business
After studying IT at a university in Indonesia, I worked for a local company. I had a dream to learn about security systems in Japan, where technology is advanced, and decided to study abroad. I found KCGI when I looked for a graduate school and it suited my needs. KCGI was the first professional IT graduate school in Japan with a long history and tradition in the field of computer education, so I chose it because I thought it would be the best for me as I wanted to find a job in Japan after completing the course. It was attractive that I could study not only IT but also business.
In the future, I'd like to start my own IT company in Japan.
I am currently working as a systems development engineer. I enjoy my job because it was the type of job I wanted, and the knowledge I learned in the KCGI class has been very helpful, but in the field of IT, new technologies are emerging one after another, so I still study every day. I want to build up my experience in my current job and become a central person leading the company, and in the future, I want to start an IT company in Japan.
Message to Junior Students
In addition to learning about IT and business, KCGI brings together international students from all over the world, so they can come into contact with various values and cultures to improve their communication skills and develop a global perspective. Even if you have problems with your studies or living, teachers and staff will be kind and helpful, so you can attend KCGI without worry.
Mr. Zhu
PLT Corporation Leader
Graduated in September 2013
Shanghai Municipal Vocational Technical Institute, Department of Business Japanese Graduate
After graduating from KCGI, I tried to get a job at an IT company, but it didn't work out, so I joined a social welfare corporation in Hyogo Prefecture.There were unfortunately few opportunities to apply the IT knowledge and skills I had acquired.At that time, Mr. Peng Zhang, a classmate and good friend of mine at KCGI, asked me if I would be interested in helping him establish a company, and I joined.After receiving intensive training and regaining my instincts, I was given the opportunity to work for an IT company, which I had longed to do.In 2019, I joined Mr. Zhang's newly established company and for my current position, I visit insurance-related companies to work on consulting and system development.Every day is a challenge, something I didn't have when I worked for the social welfare company.The requests from our clients are diverse and demanding, but we try our hardest to make them a reality.
I studied Japanese and business at a university in Shanghai, China. I was able to get JLPT N1.After that, I decided to enroll at KCGI because I thought I would be able to improve my skills by building on my knowledge of the Japanese and business, as well as adding high-level skills.Although studying IT was very difficult and I came very close to giving up.I have great memories of staying over at friends and finishing our reports.I was able to get to know Japanese students in our Leadership theory lectures.
I would like to improve my skills even more and become a person who is trusted by both customers and colleagues.The job is worth doing for me and the company has a good atmosphere, so I am enjoying every day.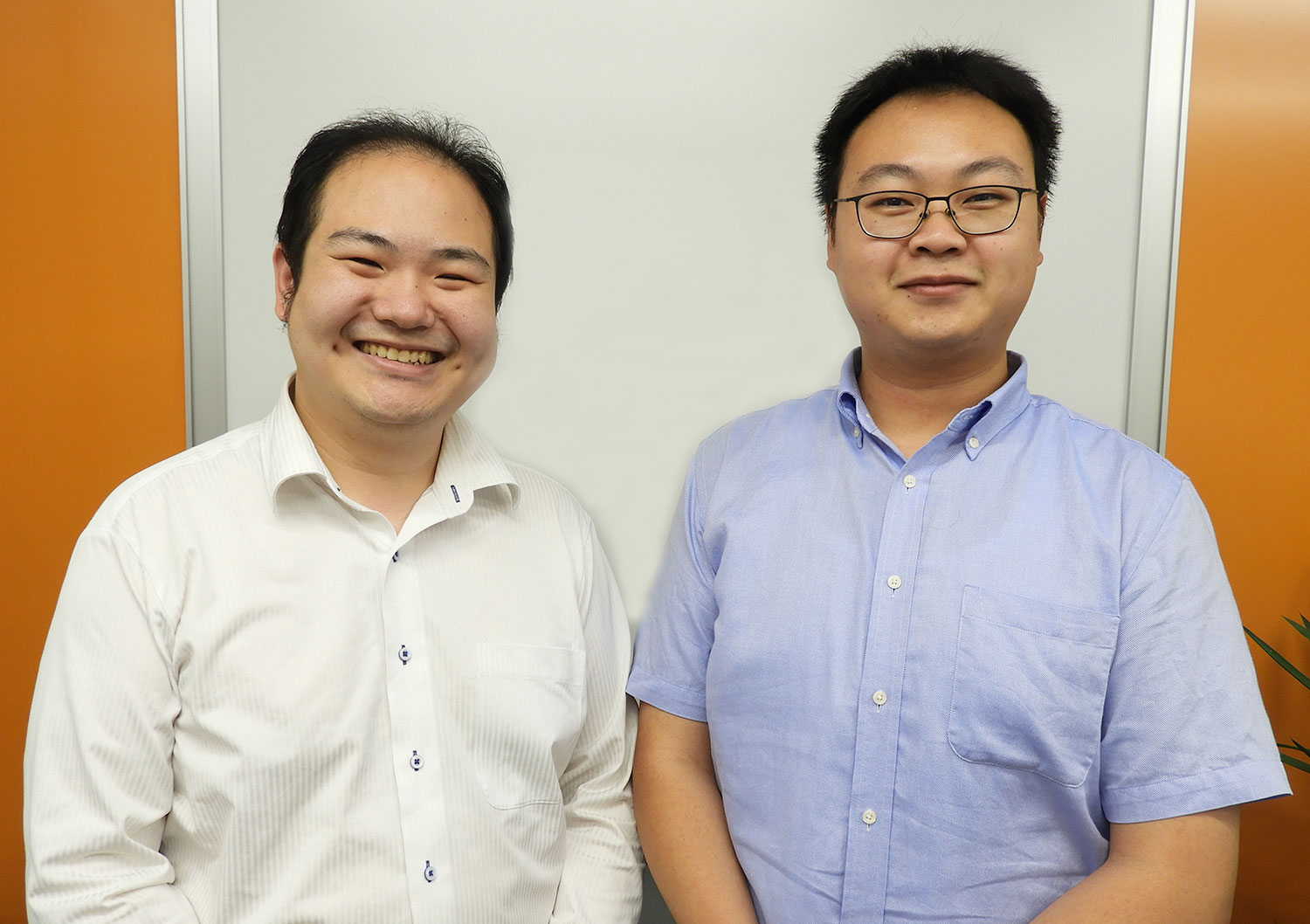 Mr. Zhang (R) and Mr. Zhu, who were classmates and now work together
For an interview with Mr. Zhang, please see "Messages of Entrepreneurs Who Have Spread Their Wings from KCGI".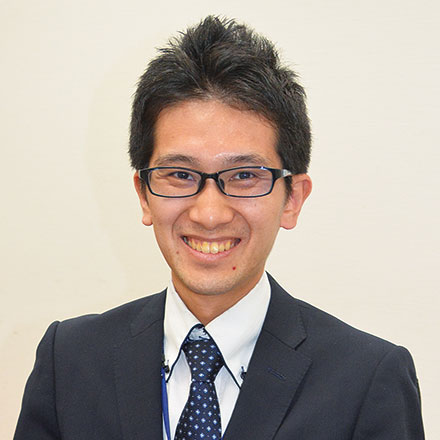 Mr. Goto
Fujitsu Co., Ltd.
Graduated in March 2010
School of Information Frontier Studies, Kanazawa Institute of Technology Graduate
Why I went to KCGI
I learned information technology at university, and while I was looking for a job in an IT-related company, I keenly felt that I had tunnel-vision, compared with other students. Especially during job interviews, I couldn't show my strength. I decided to go to KCGI because I thought I had to improve my skills to get a job and I wanted to study project management and teamwork activities.
About Student Life at KCGI
I think I was able to hone my knowledge and skills, but more than anything, I had the opportunity to talk with many teachers. There were many people who were actually active in companies, and I learned a lot from the various stories they told me. I think what I learned in the lectures about 'Project Management' is very useful in my current job.The word "nomi-nication" (=communication enhancement by drinking together) may not be popular nowadays, but I was especially impressed by the stories which our teachers shared with us at the social get-togethers after school.
Current work and future vision
I moved from Fujitsu's Healthcare Solutions Division, which was responsible for developing electronic medical record systems for small medical institutions, to a division that operates and maintains customers' cloud electronic medical records, including large hospitals. In the future, I would like to contribute to the development of the medical sector, whose needs are increasing more and more in the future, not by thinking "SUPPORTING" but by thinking of "providing a service". In 2013, I acquired a qualification as a medical information technologist and am using it in my work.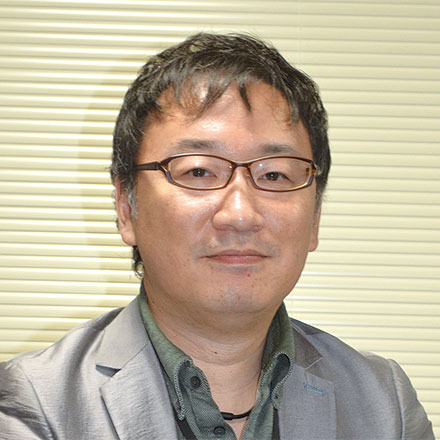 Mr. Horikawa
Director, Media Magic Co., Ltd. Head of Content Development Division
Graduated in March 2014 (Sapporo Satellite)
Graduated from Sapporo Inagumo High School
Why I went to KCGI
There is no other educational institution in Hokkaido or Sapporo where you can learn both IT and management. When I heard that KCGI's Sapporo Satellite will open in April 2012, I decided to enroll because I thought this was an opportunity. After I graduated from high school, I studied at a training school for game makers, and since then I have been working in the IT industry.
About Student Life at KCGI
Sapporo Satellite was well equipped, so I didn't feel the distance from Kyoto main school. I was also surprised by the variety of lectures. I studied while I was working, but I could use my time effectively by going to school at night and on Saturdays, and also by using e-learning contents. I could study smoothly. After studying, I still feel that an academic foundation is important for practical work.
Message to Junior Students
There are many examples where what you taught in the lecture immediately lead to practice. In some cases, I didn't know the latest technology even though I'm in the industry, so the cloud service from Google that I learned in the lecture and the tool for making the program flowcharts are very useful for my work now. I would like to continue learning about quality control in project management while working. KCGI is an environment that is easy to learn and has a curriculum that other schools don't have, so it would be a good idea for adults to try it.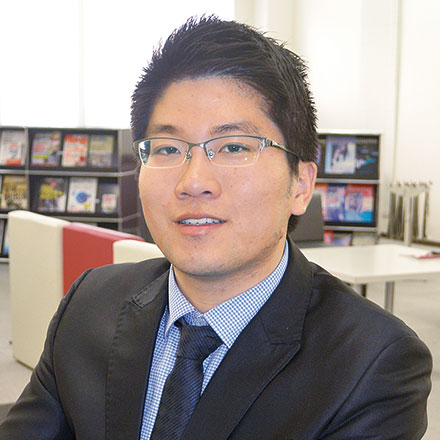 Ms. Wu
Fujitsu Research Institute
Graduated in September 2013
Graduated from Fujian Normal University in China
Why I went to KCGI
After studying Japanese at Fujian Normal University, I entered KCGI, an affiliated school. I was interested in the field of marketing, so I had envisioned myself coming to study at KCGI for a long time. I wanted to make a lot of Japanese friends as well as acquire knowledge by studying IT and business administration. To be honest, I was a little worried about cultural differences, but I was really looking forward to entering KCGI because I could make the most of the Japanese I learned and try it out.
About Student Life at KCGI
In KCGI, I learned a lot from teachers who have a lot of practical experience. I devoted myself to research and data analysis on the purchasing trends of the Internet and TV shopping and presented at a conference held in the United States in September 2012.
Job hunting
As I continued my research, I wanted to get a consulting job in the future, and I aimed for Fujitsu Research Institute. With the advice of my teachers, I was able to get a position based on what I learned through KCGI. I would like to learn more and grow.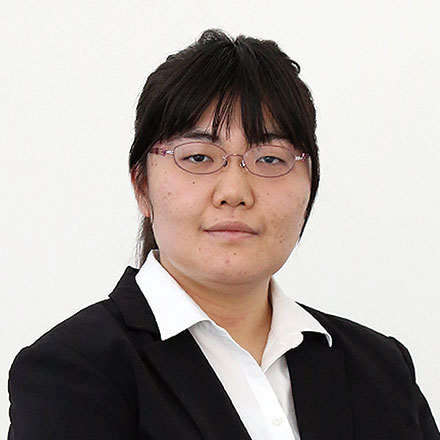 Mr. Higashi
Japan Clinic Co.,Ltd.
Completed in March 2020
Kyoto Computer Gakuin, Computer Science Program
Why I went to KCGI
I entered KCG to learn programming, and during a project exercise in my second year, I created support tools for creators.At that time, I was not satisfied with the result because I felt not capable enough, so I decided to continue making it and make it better, so I entered KCGI to acquire the necessary skills.
About Student Life at KCGI
I learned mainly about specialized web system development.Bothat KCG and KCGI I was blessed with many opportunities to present at academic conferences and had good experiences.In the KCG era, I was particularly bad at presentations and presentations, and I couldn't even speak in public, but KCGI is an environment where presentations, discussions, logical thinking, and group work are always required. I was motivated to act and felt my improvement.The Master Project, a system that has been developed by KCG since its founding, has resulted in a "real-time collaborative production system that supports collaboration among illustrators in remote locations".
Current work and future vision
In my first job at a bridal company, I was in charge of systems-related work and was web designer/director. We created and managed two e-commerce sites selling pound cake and dried flowers to take advantage of the skills of the bridal staff who had fallen on hard times due to the Corona pandemic.Seeing that my work can change the company's sales, made me feel my job was worth doing and was very satisfied.In my current position, as an engineer supporting a large company, I have the good fortune to work with my boss, who happens to be a senior of KCG, as a team in system maintenance.I feel that KCG and KCGI are the perfect schools for those who want to be an active part of society, as they can apply everything they have learned in a wide range of ways in their work.