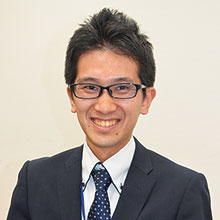 Why I went to KCGI
I learned information technology at university, and while I was looking for a job in an IT-related company, I keenly felt that I had tunnel-vision, compared with other students. Especially during job interviews, I couldn't show my strength. I decided to go to KCGI because I thought I had to improve my skills to get a job and I wanted to study project management and teamwork activities.
About Student Life with KCGI
I think I was able to hone my knowledge and skills, but more than anything, I had the opportunity to talk with many teachers. There were many people who were actually active in companies, and I learned a lot from the various stories they told me. In the lecture, "Project Management Techniques (current project management)" was very useful in my current job. The word "nomi-nication" (=communication enhancement by drinking together) may not be popular nowadays, but I was especially impressed by the stories which our teachers shared with us at the social get-togethers after school.
Current work and future vision
I moved from Fujitsu's Healthcare Solutions Division, which was responsible for developing electronic medical record systems for small medical institutions, to a division that operates and maintains customers' cloud electronic medical records, including large hospitals. In the future, I would like to contribute to the development of the medical sector, whose needs are increasing more and more in the future, not by thinking "SUPPORTING" but by thinking of "providing a service". In 2013, I acquired a qualification as a medical information technologist and am using it in my work.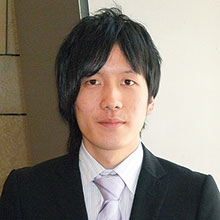 Why I went to KCGI
I studied computers in the Department of General Information Science in college. Taking advantage of this knowledge, I thought that it would be more beneficial for me to study practical web programming than to do research in graduate school, so I went on to KCGI, an IT professional graduate school. I was fascinated by the practical and free atmosphere at the school, which is one of the reasons why I decided to go.
About Student Life with KCGI
I was very interested in web technologies, so I really enjoyed web programming practice and group work. You've got the latest trends. Practical learning also helped me find a job. In the course completion project, we worked on the analysis of social media, which has been attracting attention in recent years.Since I was able to study the most advanced technology, I think it will be a big plus for my future.
Message to Junior Students
When I joined Yahoo, I felt that I was one step ahead of my peers from universities and academia, and I was able to start developing services immediately and quickly becoming familiar with them. I am currently involved in the development of EC (electronic commerce) sites. The good thing about KCGI is that you can try various things at your own discretion, such as academic activities and joint projects with companies. You will be able to experience things that other graduate schools can't imagine, such as how ideas generated from discussions during lectures can lead to actual business. Younger students, please make the most of these opportunities to enrich your student life.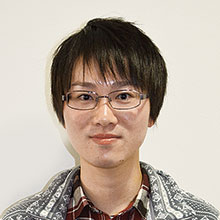 Why I went to KCGI
I got a job at a financial institution after graduating from college, and I was assigned to the Systems Department. I was always interested in IT and it was rewarding, but I was keenly aware of the lack of knowledge and experience I had. At that time, in order to develop human resources with advanced IT knowledge and management ability, a plan to have employees' study at graduate school was proposed, and I was nominated. I chose KCGI because it has a curriculum that matches the requirements of the company, and because it has teachers with a lot of practical experience and a good track record. I attended school as a long-term training for the company.
About Student Life with KCGI
It was the first attempt for our bank to offer this kind of long-term training to its employee, so I entered the school with a sense of great responsibility. First of all, I worked hard to acquire advanced IT skills, which is one of the missions entrusted to me by my workplace. The lectures by teachers with practical experience were especially interesting.In addition to IT and management, there were a lot of lectures on group work and legal matters such as intellectual property rights, and I was able to learn them in a practical manner. For two years, I went to school almost without a break, earned 77 credits, and I received the best student award when I finished.
Current work and future vision
After returning to Shinkin Bank, I have been involved in the development of systems to improve operational efficiency, the promotion of new marketing using tablet terminals, and the development of human resources capable of proposing new business models through the introduction of Fintech. My goal is not only to be an engineer in the system development field, but also to be involved in the business from the viewpoint of an engineer who can make full use of IT, as well as the management of the organization.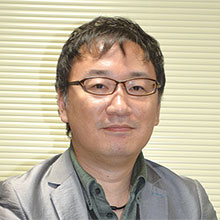 Why I went to KCGI
There is no other educational institution in Hokkaido or Sapporo where you can learn both IT and management. When I heard that KCGI's Sapporo Satellite will open in April 2012, I decided to enroll because I thought this was an opportunity. After I graduated from high school, I studied at a training school for game makers, and since then I have been working in the IT industry.
About Student Life with KCGI
Sapporo Satellite was well equipped, so I didn't feel the distance from Kyoto main school. I was also surprised by the variety of lectures. I studied while I was working, but I could use my time effectively by going to school at night and on Saturdays, and also by using e-learning contents. I could study smoothly. After studying, I still feel that an academic foundation is important for practical work.
Message to Junior Students
There are many examples where what you taught in the lecture immediately lead to practice. In some cases, I didn't know the latest technology even though I'm in the industry, so the cloud service from Google that I learned in the lecture and the tool for making the program flowcharts are very useful for my work now. I would like to continue learning about quality control in project management while working. KCGI is an environment that is easy to learn and has a curriculum that other schools don't have, so it would be a good idea for adults to try it.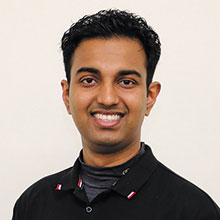 Why I went to KCGI
After studying networking at a university in Sri Lanka, I worked for about seven years, but I decided to get a master's degree at a graduate school overseas because I wanted to further expand my knowledge and experience. When I looked at universities in Australia and Japan, I found the KCGI site and found that there was an ERP curriculum. When I was working, I thought that ERP was a promising qualification, and I found out that I could learn about ERP in English classes in KCGI. I could also try to get a qualification, so I decided to go to KCGI.
About Student Life with KCGI
As I am interested in ERP, related subjects such as international accounting are, of course, interesting, but IT-related subjects such as database introduction were also interesting. There are many teachers who have a lot of practical experience, and they will teach you well. In the course completion project, which is the culmination of two years of learning, we designed and announced a system that streamlines the operation and management of Kyoto City Bus by utilizing the knowledge of ERP learned in class.I learned how difficult and important it is to apply ERP practically. Many KCGI teachers speak English, and it is attractive for international students that we can obtain a degree even if we do not speak Japanese.
Message to Junior Students
I think that international students who enter KCGI should study Japanese language and Japanese customs and culture. That way you can enjoy life in Japan and study more efficiently. Japanese is especially important. When I came, I had a hard time because I couldn't speak any Japanese. I can speak a lot now, but now that I've got a job at an IT company in Tokyo, I'm going to study more and be able to communicate better with Japanese people at the company. Especially if you have a desire to work in Japan after completing the course, I recommend that you come after learning a little about the language and culture.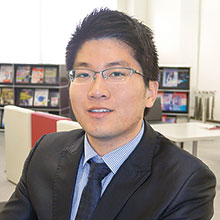 Why I went to KCGI
After studying Japanese at Fujian Normal University, I entered KCGI, an affiliated school. I was interested in the field of marketing, so I had envisioned myself coming to study at KCGI for a long time. I wanted to make a lot of Japanese friends as well as acquire knowledge by studying IT and business administration. To be honest, I was a little worried about cultural differences, but I was really looking forward to entering KCGI because I could make the most of the Japanese I learned and try it out.
About Student Life with KCGI
In KCGI, I learned a lot from teachers who have a lot of practical experience. I devoted myself to research and data analysis on the purchasing trends of the Internet and TV shopping and presented at a conference held in the United States in September 2012.
Job hunting
As I continued my research, I wanted to get a consulting job in the future, and I aimed for Fujitsu Research Institute. With the advice of my teachers, I was able to get a position based on what I learned through KCGI. I would like to learn more and grow.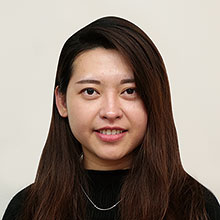 Why I went to KCGI
I intended to take advantage of the Japanese language I learned in college, but I couldn't find a good job. I thought that if I studied further, I would be able to have a brighter future, so I decided to study in Japan. While I was looking for universities and graduate schools in various liberal arts fields, I came to know about KCGI from someone who was senior to me in college. In addition to the study of Japanese language, I decided to go on to higher education because I thought that if I could acquire the knowledge of IT, which continues to evolve, it would surely be useful for my life.
About Student Life with KCGI
When I entered the school, I didn't know much about IT, so I was wondering what I should learn, and my advisor recommended that I study ERP. The hard work paid off when I passed the SAP Certified Consultant (financial accounting) exam while I was still at school. Besides ERP, I also attended lectures on database and web programming. I thought it would be useful in the future if I could acquire basic skills in various fields related to IT.
Current work and future vision
I wanted to apply what I learned through KCGI to Japanese companies, so I joined my current company in April 2017 through the introduction of my teacher. After four months of training in Tokyo, I was assigned to GBS Kansai Competency Development for two years as an OJT. As an IT specialist I am mainly in charge of work related to IBM's semiconductor manufacturing line process management system "SiView" in Kyoto. Since the number of interactions with customers' companies will increase in the future, we must further improve our IT and Japanese proficiency.I think these IBM systems will spread to Chinese companies in the future. It would be great if I could act as a go-between at that time.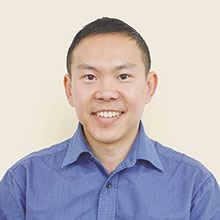 Why I went to KCGI
After studying IT at a university in Indonesia, I worked for a local company. I had a dream to learn about security systems in Japan, where technology is advanced, and decided to study abroad. I found KCGI when I looked for a graduate school and it suited my needs. KCGI was the first professional IT graduate school in Japan with a long history and tradition in the field of computer education, so I chose it because I thought it would be the best for me as I wanted to find a job in Japan after completing the course. It was attractive that I could study not only IT but also business.
Current work and future vision
I am currently working as a systems development engineer. I enjoy my job because it was the type of job I wanted, and the knowledge I learned in the KCGI class has been very helpful, but in the field of IT, new technologies are emerging one after another, so I still study every day. I want to build up my experience in my current job and become a central person leading the company, and in the future, I want to start an IT company in Japan.
Message to Junior Students
In addition to learning about IT and business, KCGI brings together international students from all over the world, so they can come into contact with various values and cultures to improve their communication skills and develop a global perspective. Even if you have problems with your studies or living, teachers and staff will be kind and helpful, so you can attend KCGI without worry.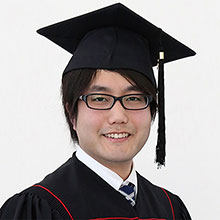 Why I went to KCGI
My major at university was multimedia, and since I was in a band since high school, I was learning the techniques for making music and video.I wanted to find a job in that area, but the number of job offers was overwhelmingly small and it didn't work out as I had hoped. So I changed my mind and decided to acquire new programming that I thought would be directly related to my work, so when I consulted with my seminar teacher, I was introduced to KCGI.I took an extension course, and he gave me various detailed consultations, so I decided to go on to school, saying, "I think I can learn well here."
About Student Life with KCGI
I took most of the programming-related lectures.In the master project (currently the course completion project), we worked on the development of a "work posting type web service that implements a throwing function to support creators".As a creator, I had always thought, "I wish there was such a system to make it easier for everyone who creates to receive financial support."The good thing about KCGI is that it provides detailed guidance with a small number of people.The project sponsor's teacher carefully taught me the details of what I didn't understand, such as sending me emails frequently.
Current work and future vision
Now, as an engineer involved in web system development, I would like to become a force as soon as possible and be entrusted with the service system for my real estate agent.Besides my work, I would like to continue improving my self-made system and creative activities.All KCGI teachers will enthusiastically teach you as much as you hear, so please talk positively.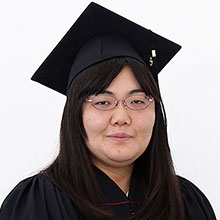 Why I went to KCGI
I enrolled in Kyoto Computer Gakuin to learn programming, and created a support tool for creators in a project exercise when I was in the second year.At that time, I wasn't satisfied with the result due to lack of power, so I wanted to continue making this and make it even better, so I went on to KCGI to acquire the necessary skills.
About Student Life with KCGI
I learned mainly about specialized web system development.Both KCG and KCGI were blessed with many opportunities to present at academic conferences and had a good experience.In the KCG era, I was particularly bad at presentations and presentations, and I couldn't even speak in public, but KCGI is an environment where presentations, discussions, logical thinking, and group work are always required. I am motivated to act and feel the growth.In the master project (currently the course completion project), the self-made system since KCG has resulted in "a real-time collaborative production system that supports the collaboration of illustrators in remote areas".
Current work and future vision
Since I will be the only system-related person in charge at my place of employment, I would like to grow as a web designer and director with a view to management experience.The above-mentioned system embodies the image of creators in remote locations bringing their works to an online "table" and co-creating them while consulting with each other.Based on this, I want to realize my dream of starting a business someday.I've always liked making pictures and novels since I was a kid, but I realized that the side that supports the creation with KCGI is also important.Please improve your strengths and the strengths you want to acquire here.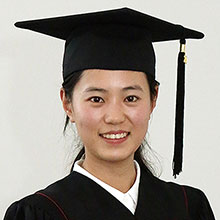 Why I went to KCGI
I had work experience at a greenhouse vegetable farm run by a relative, and at that time, greenhouse management basically relied on people, and there were often problems with quality.Therefore, I felt that the function of ERP, which can centrally manage important management information of a company and accelerate the management speed, will bring a solution suitable for the farm management problem of relatives.At that time, I heard from a Chinese friend who had completed KCGI and is working in Japan that "KCGI is the best way to study IT, especially ERP," and decided to go on to university.Knowing that KCGI is Japan's first graduate school of IT professionals, I was convinced that it would "grow me up."
About Student Life with KCGI
The feature of KCGI is that there are a wide range of genres that can be learned in the field of applied information.Studying Japanese was difficult, but after passing the N2 exam, I went on to higher education.The study to obtain the ERP consultant qualification also proceeded smoothly thanks to the guidance of the kind teachers, and the company recommended by the teacher after passing the ERP certification examination in the field of "financial accounting (FI)" of SAP Germany. I was able to get a job at.It is an unforgettable memory that I was celebrated by setting up a ceremony as the 150th KCGI student who passed the exam.
Future vision
I like trying new things.By taking on challenges, you can find out what you are lacking and improve your skills even further.Although ERP has some fields that are quite specialized and difficult, I would like to continue taking on challenges and play an active role as an excellent ERP consultant in the future.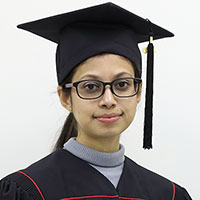 Why I went to KCGI
After graduating from my home university, I wanted to go on to a master's program at a graduate school abroad, so I looked up information on graduate schools in many countries.I chose KCGI because of its extensive ERP education.Also, learning in English was a decisive factor."Classes are in Japanese only" is a high hurdle for international students.
About Student Life with KCGI
Kyoto is an international city, and at the same time, it has many Buddhist temples that resemble my hometown, so I love it very much.Although I had a hard time learning Japanese, I passed the "Financial Accounting with SAP ERP 6.0 EHP5", an ERP certification test related to financial accounting, in May 2019.Thanks to the supervisor's teachers and other teachers for their easy-to-understand lessons and advice."Tourism IT" and "database management" are very interesting in non-specialized classes, and KCGI's appeal is that you can take a wide range of courses according to your own interests.
Current work and future vision
I am very happy to be able to get a job as an ERP consultant at an international company in Tokyo and make full use of my knowledge of English, accounting and ERP.It's my first time to get a job in Japan, and I often have to learn a lot, but the current environment where I can learn more while putting what I learned at Sri Lankan universities and KCGI into practical work is very good. It is fulfilling.5 to 10 years goal is to advance to the prospect in management positions, eventually we believe that when you are working to contribute to their native Sri Lanka.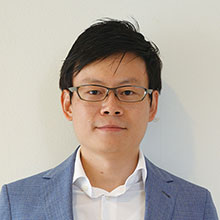 Do your best if you do
Joined At Izumi Co., Ltd., which plans and proposes web applications, which was launched mainly by the first students of KCGI while attending KCG.After completing KCGI, after working for Fuji Electric Co., Ltd. for 10 years, he has been in his current position since 2018.As a manager of a company engaged in the power semiconductor business, he started both sales and marketing departments from scratch, and also oversees the PR and technical support departments.
Thank you for your connection
After graduating from high school in China, I first enrolled in Kyoto Computer Gakuin (KCG) because I wanted to learn IT and programming.While attending school, a good friend of mine asked, "Why don't you join At Izumi together?I joined the company from one word, and I was able to be involved in many projects, and I felt "thank you for your connection."Konosuke Matsushita, the god of management, said, "In the connection between people, there is a deep power of ties that goes beyond personal intentions," and I can sympathize with this very much.I still communicate with my seniors at that time through Facebook and other media.From this experience, I decided to go on to KCGI because I wanted to be involved in a business that makes full use of IT in the future.
The words of my teacher support my heart
I wanted to learn IT and marketing deeply, so I took as many classes as possible after going on to school.After asking, I joined the seminar of Professor Ko Hong Seung, a former CIO of a major electronics manufacturer, from the latter half of my first year, and received guidance based on my experience as a marketing professional and the actual experience of starting up a venture.
The first word from Professor Takashi was, "If you do, be prepared and do your best."This teaching was so emotional at the time that it is still engraved in my heart.The guidance and lectures of the high professor were strict as I heard in advance, but for two years, I was able to do everything from reading specialized books in English to presenting at academic conferences overseas, so my English ability, logical thinking, and marketing ability. I realized that I have steadily acquired these three.After graduating, I worked for the Tokyo head office of Fuji Electric Co., Ltd. for 10 years, but passed the in-house planning job examination level 1 in 6 years after joining the company.I was surprised by other employees that I was appointed as an assistant section chief in the shortest course, and I was able to build a strong relationship of trust with people inside and outside the company in combination with other achievements.
As was the case during the Fuji Electric era, there were always many difficulties and challenges in changing jobs to the current company in 2018 and starting the sales and marketing department from scratch as vice president.Under such circumstances, I was able to steadily solve any difficult problems one by one because the words and teachings of Professor Takashi supported my heart.
I want to be a bridge between Japan, China and South Korea
Currently, our immediate goal is to prioritize business expansion in China, but in the future we would like to expand overseas step by step.Sales in South Korea are gradually increasing, and we will establish a Japanese branch office in the first half of 2020.Since I was a student, I have wanted to be a bridge between Japan, China, and South Korea, and in order to realize that dream, I would like to grow my current company into a globally strong company as a manager.
When you're in your teens or twenties, it's easy to get lost in your career because you can't really see what your dreams and what you want to do.I also want to give KCGI's juniors the words, "If you do, do your best."And I want you to deeply understand the meaning of the word and put it into practice.That way, if you face the problems you face head-on and work hard on them, you will surely bear great fruit in five or ten years.