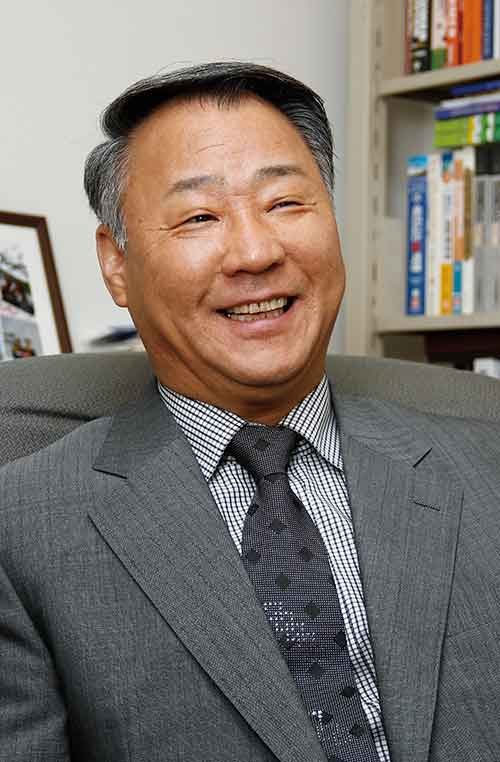 Former Samsung Electronics Co., Ltd.
General Manager, Information Strategy Department, Strategic Planning Office (CIO)
President, Japan Society for Applied Information Science
Professor Hong Seung Ko was born in South Korea, and formerly worked for the giant South Korean electrical appliance and electronic components maker, Samsung Electronics as the Manager of Information Strategies to bring to life Internet-based corporate strategy, CALS (primarily B2B conceptually-based), and e-commerce for general consumers. He also made major contributions to the informatization and profitability of that company.
Professor Hong spoke at length about the human talent that will be needed in the e-business world, as it undergoes dramatic shifts.
Developing human resources to lead e-business
e-Business Requiring A Strategy
-The world of e-business seems to be changing rapidly. The world of e-business appears to be undergoing rapid changes. Has business also changed with the spread of the Internet?
Samsung launched their Website, both domestically and for international customers, in the mid-90s shortly after I became the Manager of Information Strategies. At the time, no one considered the Internet as a powerful tool for marketing, and it appeared to be no more than a means to improve the brand recognition of a company. However, when we opened the website, we received around 200 e-mails a day from all over the world inquiring about product aftercare services, complaints etc. That's when I had a feeling that we could probably use our website as a marketing tool.
Businesses that used the Internet, such as booking systems and stock trading, grew after that. But, we didn't see large-scale growth in sales simply by developing and launching a system for use on the Internet. There was a failed IT boom that occurred in South Korea at the time where people thought that if they just used the Internet their business would do well. They thought that they could make commerce happen if they made an Internet shopping mall, put the products up and host customers from all over the world. But almost all of those Internet shopping malls disappeared from the Internet in several years' time.
Ultimately, what they probably didn't realize is that the Internet is just one tool. And, they probably lacked a strategy. No matter how many products you put up on the Internet, they are simply just up on a screen. That's because in most cases, customers bought products after they touch them with their hands and check them out.
Japanese Companies Falling Behind and a Lack of Human Talent
- Amidst these tremendous changes, how do you view the current world business environment?
Unfortunately, the current situation in Japan and South Korea, among other countries, is that there is a lack of human talent to bring to life strategies that use the Internet to improve company sales. Also, companies are making massive investments in preparing IT infrastructure, so this situation leaves them with unending problems.
What companies need is, simply put, human talent to create e-business strategy. Essentially, they need to gain the capacity to make use of IT resources for marketing and management.
It's generally thought that there is little marketing consciousness among employees in Japanese and South Korean companies. This is because the base of their thinking about salary is the equitable distribution of profits, which they can receive through the salary they earn for their day-to-day work.
But, the US is different. There is constant, heavy pressure regarding the amount of work that is done and how much your job actually contributed to the company. There are almost no departments devoted solely to marketing in US companies. All the employees already have this mindset, which makes these departments unnecessary. US companies are of the mind to think about how they can improve profitability even if the economy takes a turn for the worse, so they always have the potential to move forward. This is why it is difficult for Japanese and South Korean companies to match with them. There are many companies in Japan and South Korea, including large ones, that mistake sales, advertising and branding as marketing. That's why it is currently only companies in the US that have succeeded as IT companies in using the Internet for business. There are companies that have received that type of acclaim domestically in Japan and South Korea, but they have just rode the e-business wave that has occurred due to the advancement of infrastructure and have succeeded through a money game-type speculation. Incidentally, there are also no companies in Europe that have succeeded in e-business. This is due to the major delays in the spread of the Internet.
Becoming a Specialized Graduate School to Dominate in Asia
- In this business environment, what kind of features should KCGI hammer out; what should we aim for?
There are not many graduate schools that specialize in IT. Also, Kyoto Computer Gakuin is in the ancestry of KCGI. This is our biggest benefit.
Moreover, KCGI has a great assortment of faculty who have specialized skills and knowledge, and who have worked for major corporations. In my lectures, I try to speak not just about my success stories, but also about my failures. That's because failures often teach much more than successes. This is how I train the human talent that will really be needed in this era.
The educational network with universities in other countries is also expanding year after year. The field isn't just limited to Japan. I would like KCGI to be a specialized graduate school that can contribute to the training of human talent capable of working in Asia and on the global stage.