China
Dispatch of teachers and exchange with short-term courses
Tianjin University of Technology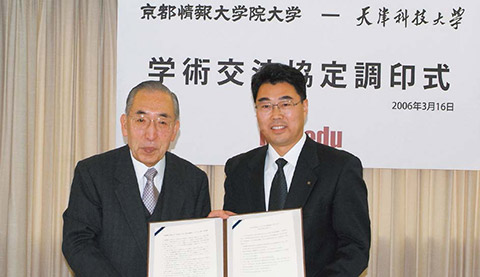 Since its establishment in 2004, KCGI has been actively involved in exchanges with Chinese universities. In March 2006, we concluded an Academic Exchange Agreement with Tianjin University of Technology, a university established in 1958. In September 2000, the university signed a sister school agreement with Kyoto Computer Gakuin (KCG), a member of the KCG group. The KCG/Tianjin University of Technology Joint Venture Program "Tianjin University of Technology KCG Course" has been established in the university. Through our partnership, we not only provide further learning opportunities for course graduates, but also actively promote exchanges among faculty members. Academic exchange agreements and joint education agreements were also concluded with Dalian Foreign Language University and Fujian Normal University in 2006, with Dalian Institute of science and Technology and Dalian Neusoft Institute of Information in 2008, with Dalian Ocean University, Beijing City University, Central Academy of Fine Arts in 2009, and Beijing University of Post and Telecommunications in 2010. Since 2009, based on an exchange agreement, KCGI has been dispatching faculty to Fujian Normal University to conduct multimedia/network-related classes, and actively promoting exchange.
In recent years, ties with Chinese companies have been further strengthened, including internships at local companies in China, information sessions for Chinese companies at school, and the establishment of various cooperation systems with local companies to expand opportunities to play an active role in their home countries as highly skilled professionals.
Dalian University of Foreign Studies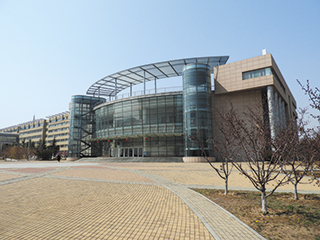 We formed a partnership with Dalian University of Foreign Languages in Liaoning Province, China, in July 2006, and have maintained a long-standing friendly relationship. Dalian University of Foreign Languages, whose flag is the training of internationalized human resources, has many departments such as engineering, economics, management, law, and art, with a focus on foreign language education, and has about 15,000 students.The production of diplomat personnel is one of the highest in Japan, and since it is the predecessor of a Japanese language vocational school, the level of the Japanese language education department is particularly high.KCGI has a particularly strong relationship with its School of Software Engineering and has established a short-term course for them which is recognized as their credit. We also arrange internships at Japanese companies.
Shanghai Jian Qiao University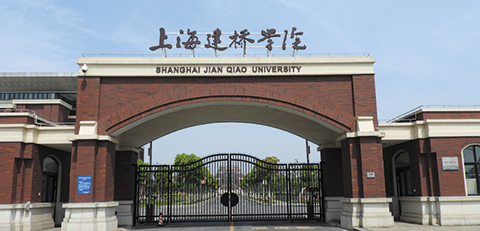 Shanghai Jian Qiao University is a comprehensive university in Pudong New District, Shanghai, China, which has been established for more than 20 years. It covers 6 departments such as economics, science, engineering, and literature, and has about 1,200 faculty members and 20,000 students. We are proud of our scale.In April 2012, we formed a partnership with our university and established a collaborative course in four fields: ▽ network ▽ digital design ▽ computer application ▽ travel.Every spring and autumn, we send faculty members to the school to offer many classes such as tourism culture, technical Japanese, database overview, information security, and enterprise resource planning (ERP basics).We continue to have deep level exchanges, such as short-term courses for the institute and internships at Japanese companies.
■ Fuken Normal University ■ Dalian Neusoft Institute of Information ■ Dalian Marine University ■ Beijing Castle City Academy ■ Central Art Academy ■ Beijing Post University Century Academy ■ Tohoku Normal University Humanities Institute ■ Dalian University of Science and Technology Faculty of Mathematical Sciences ■ Sansai University Commerce Academy ■ Dalian University ■ Sushu Industrial Park Service Encapsulation Vocational School ■ Henan Agricultural University ■ Guangdong Culture School ■ China Labor Relations School ■ Chongqing Engineering School ■ Wushu Vocational Technology School ■ Nandong University ■ Jiangsu University ■ Zhejiang Transmission School ■ Shanghai Applied Technology University ■ Hehai University Bunten Gakuin ■ Sichuan University Kinjo Gakuin ■ Musin Open University ■ Sichuan Institute of Industry and Commerce ■ Hebei Soft Affairs Vocational Technology Academy ■ Eso Marine University ■ Nanjing University of Science and Technology Shikin Gakuin
South Korea
Leading Information Security in Asia
Korea University Graduate School of Information Security・Electronics and Telecommunications Research Institute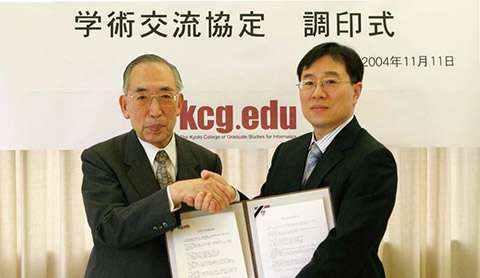 In November 2004, we concluded an academic exchange agreement with Korea's No.1 graduate school, the Graduate School of Information Security of Korea University, which fosters specialists in the field of information security. Taking this opportunity, the two schools co-hosted the Japan-ROK Joint Seminar on "Utilization of ICT Applications in the Ubiquitous Society in Japan and Korea: Focusing on Information Security" in Jeju Island, the Republic of Korea in August 2005. At the same time, we also formed a business exchange alliance with the Korean Electronics and Telecommunications Research Institute (ETRI), the largest non-profit government-affiliated information and telecommunications research institute (Ministry of Knowledge Economy) in Republic of Korea, for the purpose of conducting joint research and development in the field of ubiquitous information security. In October 2006, we co-hosted the "Seminar on the use of information security technology in the ubiquitous society" at KCGI, a joint seminar organized by Japan, the Republic of Korea and Vietnam. In addition, a Japan-Korea Joint Seminar on u-society security was held in Jeju Island, Republic of Korea in 2007, and a Japan-ROK Joint Seminar on u-society IT security was held in Kyoto in October 2008 with the support of the Japan Society for the Promotion of Science.
Promoting people-to-people exchanges in the IT sector
National Jeju University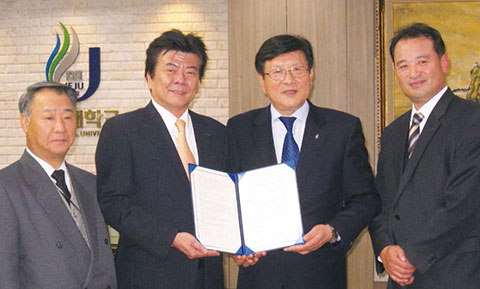 In November 2010, an agreement was signed with Jeju National University in Jeju, Korea to operate a dual degree program, under which credits can be exchanged between students at both universities. The objective is to develop advanced ICT human resources in both Japan and ROK, and promote the entire Asian region. We will actively utilize a remote lecture system via the Internet.
The characteristics of the agreement include (1) the conclusion of an agreement between Jeju National University, one of the eight national universities in Republic of Korea, and a private university in Japan (professional graduate school); and (2) the first conclusion between Japan and Republic of Korea in terms of comprehensive credit transfer between the two countries, without limiting the transfer to a specific graduate school or major.
In September 2006, KCGI and Jeju National University concluded an Academic Exchange Agreement for the purpose of education and research in the field of ICT, as well as mutual exchanges of people. In September 2008, they also signed an agreement on the construction of a Japan-ROK cyber campus on the Internet that both students can attend.
Jeju International University (Former Jeju University of Industry and Information)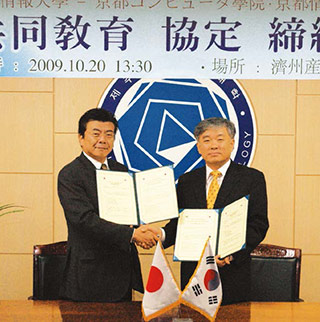 In October 2009, the KCG Group signed an agreement with Jeju University of Industry and Information of the Republic of Korea on a joint educational project for the purpose of fostering highly skilled professionals in the IT field with an international perspective and cultural exchanges between Japan and the Republic of Korea. Jeju University of Industry and Information is the only IT university in Jeju, which is the successor of the first private vocational school established in Jeju, and provides practical education with the aim of developing human resources who will lead the knowledge information era. It merged with Tamna University in 2012 and became Jeju International University. In the future, we will cooperate with each other to improve the level of computer and Japanese language education based on this friendly relationship. We will develop projects such as the management of joint educational programs, joint research, and the holding of academic study meetings.
Czech Republic
The circle of joint research has expanded to Europe.
Technical University of Ostrava

In September 2005, KCGI formed a friendly partnership with Technical University of Ostrava in the Czech Republic. In April 2006, an agreement was made with their Faculty of Economics to begin joint research and exchanges between teachers and students.
University of Pardubice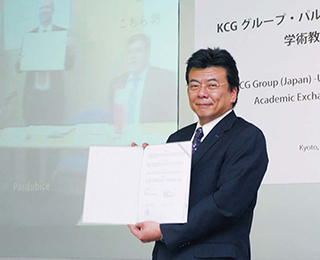 In May 2008, the KCG Group and the University of Pardubice in the Czech Republic signed an agreement on academic exchange using a teleconference system. It was the first time in the world that a signing ceremony between universities was held in the form of live broadcasting via the Internet using a remote videoconference system. An agreement was reached to exchange academic materials and publications as well as teachers and students and cooperate in education and research. Based on this agreement, we implemented as a joint project called the "Analysis of the decision-making process of women choosing computers and ICT-related fields: case studies of Japan and the Czech Republic" with the Graduate School of Economics and Management of the University of Pardubice. In relation to this research, the Tateisi Science and Technology Promotion Foundation provided grants for international technology exchange, and in December of the same year, a discussion was held on the research results at the University of Pardubice.
Italy
Establishment of Tourism IT Double Degree Program
IULM (International University of Languages and Media)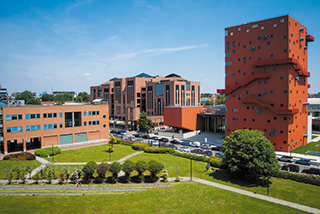 In 2018, we partnered with IULM, a prestigious university for tourism and other education in Milan, Italy.We have set up a program to study abroad at IULM's graduate school and obtain a double master's degree.IULM is a private university founded in 1968 in the city of Milan.There are three faculties of Language and Communication including Tourism and Art. Presently, there are about 6,300 students in their undergraduate and graduate programs. Based on their policy of conducting practical education with an awareness of business, IULM continues to take on new challenges in response to the needs of the times by networking with UNESCO's research institutes and the world's academic community. We also created a short-term sightseeing training course where you can study at IULM for 2 weeks.