Curriculum Outline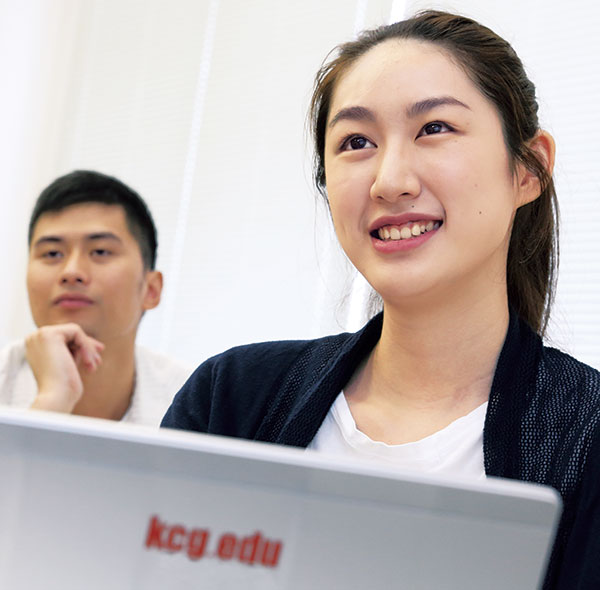 We believe that learning ICT (information and communication technology) and applying it to specific issues in various fields will lead to new and innovative applications of ICT, which will then lead to further happiness and social improvement for the people who use it.
Our curriculum is designed to help students acquire the general knowledge of ICT, the ability to apply specialized technology, and good manners and ethics as professionals. It is modeled on American professional school education, with a focus on practical knowledge and practice.
In developing the curriculum, we refer to both the model curriculum of the ACM (Association for Computing Machinery), the world's largest educational science and technology calculation association, and the IT skills standard model curriculum of the Independent Administrative Institution "Information-technology Promotion Agency, Japan (IPA: Information technology promotion agency)".
The achievement target of the skills required by the curriculum of our university is set as follows, referring to the level 1 to level 3 of the IPA IT skill standard v3.
To become capable of performing professional-level tasks alone or with limited instruction and support.
To acquire the ability to work in the industry of your choice in Japan or in your own country.
To be able to work at the level required in a selected field of business or industry.
To become a sensible member of society with superior work abilities and a sense of responsibility.
Level 4 and 5 of the IPA IT Skill Standards V3, which are positioned as "high level," are considered to be professionals who have established specialized fields of skills and can use their knowledge and application skills to train their successors.In order to achieve such career advancement, it is common to spend time to gain work experience in companies. It is possible to become a "high-level human resource" in a shorter period of time by deepening your practical learning in the area of business and IT at a professional graduate school of information science like ours.
In order for students to acquire these skills, we have structured the curriculum with emphasis on the following areas, and are updating it to meet the needs of the age and society.
Knowledge and Skills of ICT
The subjects of study are a wide range of ICT knowledge and skills and their specific applications. In order to learn these, we classify multiple subject groups organized by specialized field of ICT and industry to which ICT is applied, and by selecting or combining one of these subject groups, we can take courses. The curriculum is structured so that you can enhance your specialty and application skills (details of each subject group will be described later).
Exercises and projects
The foundation of our educational philosophy is learning through experience, that is, through practical exercises and projects. Students gain practical experience through project-based learning activities and internships.
Interpersonal Skill
Professional interpersonal skills, such as clear written and oral communication skills, the ability to work with others, and the ability to exercise leadership, are essential to fulfilling a career, not to mention the importance of IT expertise and skills. Our school will foster the "human power" of students that exceed mere technical capabilities.
Integrated curriculum for "applied information technology expert" development
Raising the "applied information technology experts and introduce them to the society" which is the philosophy behind the establishment of The Kyoto College of Graduate Studies for Informatics, we offer an integrated curriculum that combines a study model based on study objectives and student-centered projects and activities.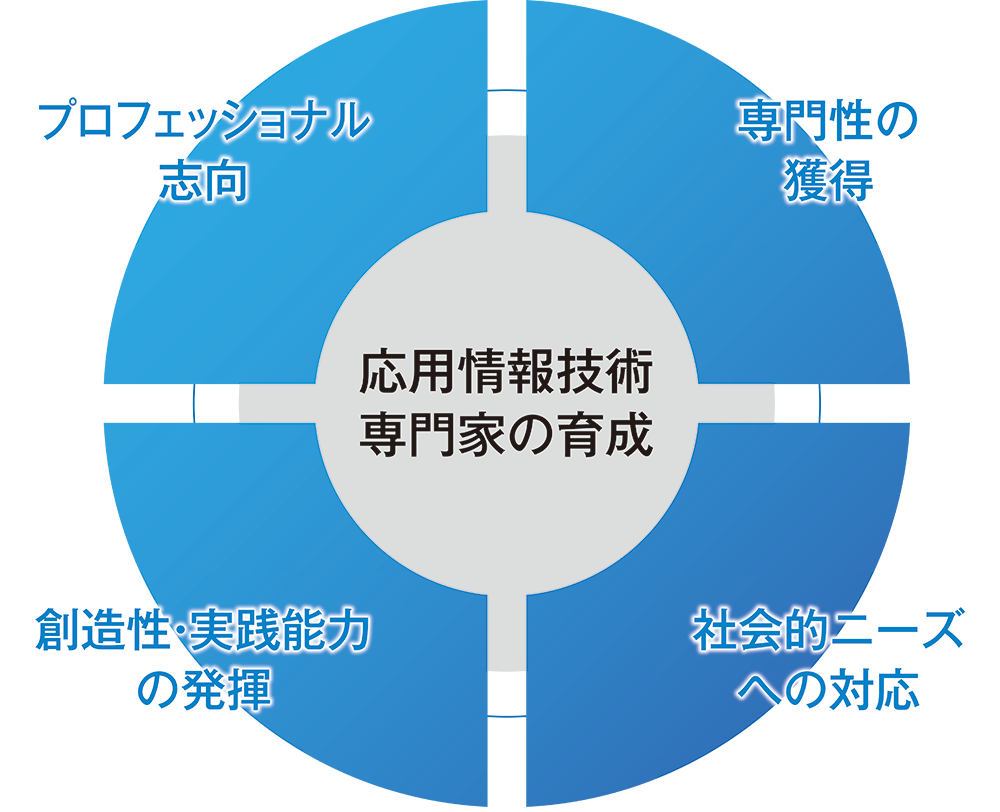 Gain Expertise
As an applied information technology specialist, it is not realistic to try to cover all of the wide range of ICT-related knowledge. Therefore, in order to enhance specialization, we have identified a field and have prepared a group of specialized field subjects for each field so that we can acquire a wide range of deep specialized knowledge from basic to applied / practice.
Responding to Social Needs
In various modern industries, the need to apply ICT to solve problems such as efficiency and knowledge aggregation is increasing.To meet this need, we have established a group of industrial subjects to learn examples and issues regarding the practical use of ICT in specific industries.
Demonstration of creativity and practical ability
As a specialist in applied information technology, it is necessary to proactively plan and design actions to take, and offer the results of the practice to others. It is crucial to connect the acquired knowledge from the coursework to actual problem solving and practical application. Therefore, in order for students to acquire these qualities, the curriculum includes master projects and research projects/independent studies in which students pursue various themes under the guidance of a project sponsor (faculty member in charge of the master project).
Professional Orientation
Applied Information Technology Engineers are required to be professionals who can lead actual problem solving and practical applications in the field of actual industry.To this end, we encourage internships at companies and other organizations, and provide opportunities for people to experience the different level of skills and problem-solving skills required of professionals.
Not all students are required to choose a study model or work on a project. Various choices and combinations are possible depending on the interests and depth of study of each student. The curriculum is designed to build the knowledge and skills for the development of applied information technology specialists while respecting students' learning freedom.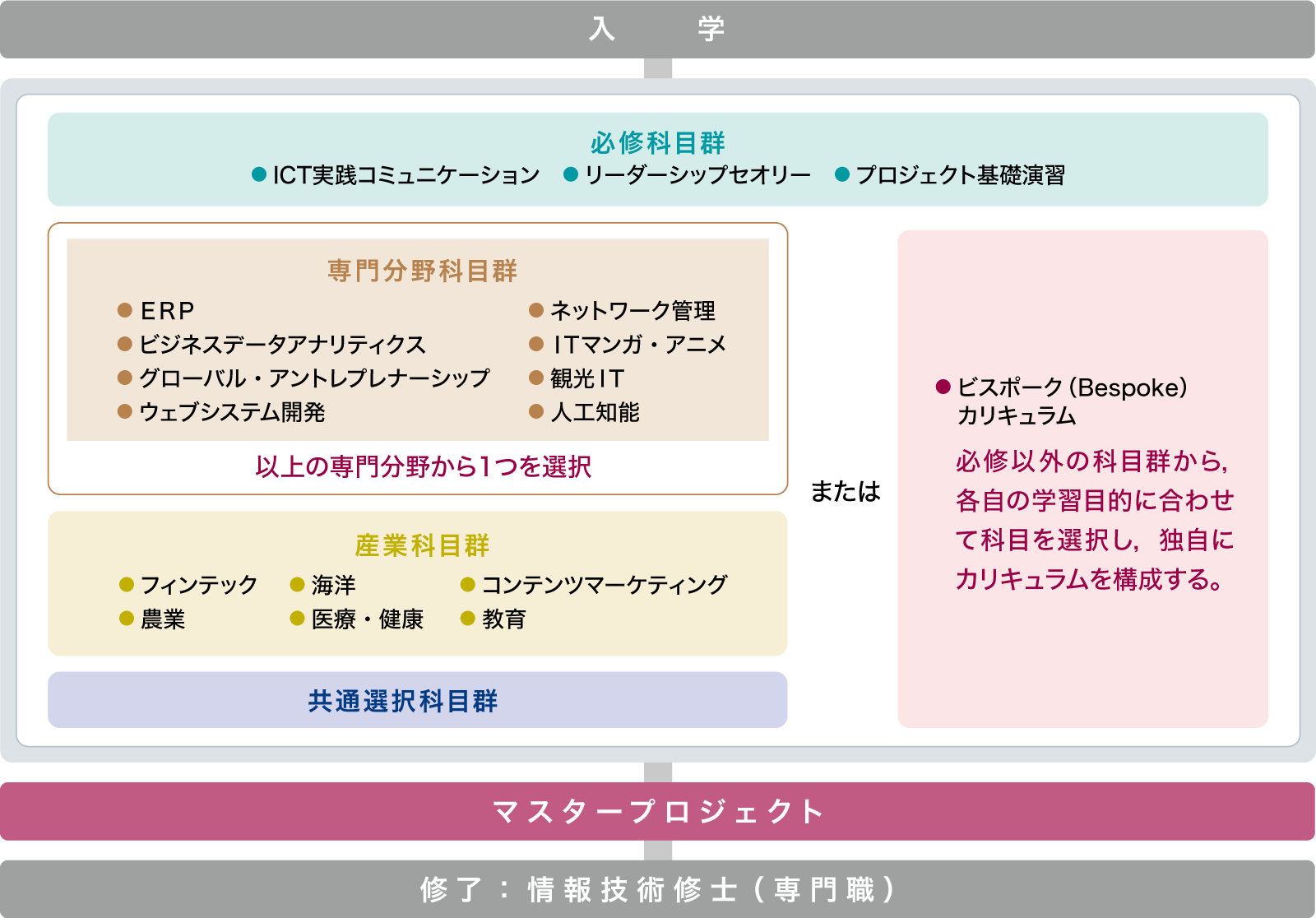 Our curriculum structure
We have developed a curriculum to acquire fundamental skills and knowledge in the field of ICT.Compulsory subjects are designed to provide students with basic skills as a businessperson and applied skills in specialized fields.The "Concentration Courses" cover a wide variety of courses related to each specialized field.In the "Industry Courses", related courses are set up for each field that is in high demand in society.
However, in order to respond to the daily evolution of ICT, it may be necessary to construct and study a curriculum other than one of the existing models.Therefore, from the non-required subject group, we select the subject in consultation with the faculty member according to the learning purpose of each student so that they can compose their own curriculum.This is called the "Bespoke Curriculum".
Compulsory subjects
Our school accepts a wide variety of students from various backgrounds, regardless of their school of origin. We assume the social responsibility to offer the opportunity to make career changes to many people.
For this reason, the courses offered as requirement are not limited to the specialized skills of individual students, but are designed to cultivate basic skills in active and logical communication required of highly skilled professionals.
Compulsory
ICT Practical Communication
Leadership Theory
Project basic exercise
Selection of Courses
In consultation with the academic coordinator (academic advisor), students select courses to be taken in each semester from the "concentration", "industry", and "supporting elective" courses, and formulate their own course plan.
Each course has a course pathway (recommended course pattern) to ensure that students achieve satisfactory academic results.On the other hand, there is an upper limit to the number of credits that can be taken in a semester, so that students can plan their studies while ensuring time for individual study.
Research Project/Independent Study
The "Research Project/Independent Study" course is designed to allow students to pursue independent research under the guidance of faculty members, outside the framework of the university's course offerings.Research results are summarized in a research report, oral presentations are made, and credits are granted when certain results are recognized. Depending on the type of master project, students may work in combination with this course.
Internship
There is an "internship" system in which companies and organizations related to the content of study at our school provide work experience for a certain period of time. Students are expected to learn how to apply the specialized knowledge and communication skills developed through their coursework at school to the actual, practical applications. Prior application is required for the internships. And credits will be recognized by submitting a participation report and giving an oral presentation at the end.