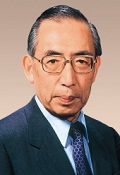 Dr. Hiroshi Hagiwara, the first president of Kyoto Institute of Information and a world authority on computer development, electronic circuits, information theory and communication systems, passed away on January 8.He was 87 years old.As a pioneer in the field of computers in Japan, he has made significant contributions, including the development of the high-speed computer "TOSBAC-3400" (owned by the Kyoto Computer Institute and certified as a Heritage of Information Processing Technology), and has also made significant contributions to the development of the Kyoto Institute of Information.Our deepest condolences go out to the family.
A wake will be held at 6:00 p.m. on January 10, and a funeral service at 11:00 a.m. on January 11, both at his home in Matsugasaki Yobikake-cho 24, Sakyo Ward, Kyoto City.The pallbearer is the eldest son, Shigeru.
Dr. Hiroshi Hagiwara is a graduate of the Faculty of Engineering, Kyoto University, and a doctor of engineering.He has served as president of the Information Processing Society of Japan and as a member of the Science Council of Japan.After serving as a professor of the Faculty of Engineering at Kyoto University, a professor of the Faculty of Science and Engineering at Ryukoku University, and the Director of the Institute of Information Engineering at Kyoto Computer Institute, he became the President of Kyoto Institute of Information in April 2004, and served until March 2008.In April 2009, he was awarded the Order of the Sacred Treasure, Gold Rays with Neck Ribbon.
He had a sincere and warm personality and was well-liked, and the researchers around him admired his deep insight into the future of the times.I would like to express my heartfelt gratitude to him and pray for his peaceful and eternal rest.