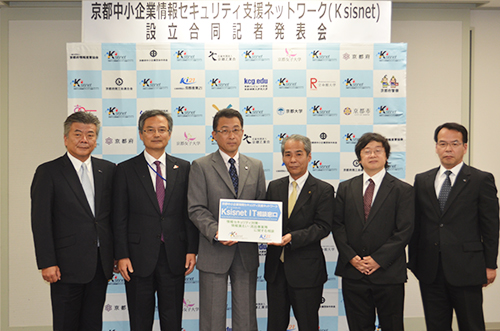 A press conference for the establishment of "Kyoto SME Information Security Support Network (Ksisnet)" held at the Kyoto Industrial Support Center.Hiroshi Hasegawa, President of Kyogi Association, KCGI / KCG President, October 1, 2015)
The "Kyoto SME" was established and started operation on October 1, 2015, led by the Kyoto Police Headquarters, with the introduction of the "My Number System" to strengthen information security measures for SMEs in Kyoto. The Kyoto Information Industry Association (Kyojo) is headquartered by the President of Wataru Hasegawa of Kyoto Information Graduate University (KCGI) and Kyoto Computer Gakuin (KCG). KCGI participated.From the standpoint of industry and educational institutions, we will focus on cyber attacks on local SMEs and prevention of information leaks and leaks.
The network is composed of "All Kyoto" from industry, government and academia."Industry" is the Kyoto Chamber of Commerce and Industry, Kyoto Chamber of Commerce and Industry, Kyoto Prefectural Small and Medium Enterprises Association, Kyoto Sangyo 21 etc., "Government" is the Kyoto Prefectural Police, Kyoto Prefecture, Kyoto City, etc. In addition, Kyoto University and other names are listed.
On this day, there was an establishment press conference at the Kyoto Prefectural Industrial Support Center (in Kyoto Research Park in Shimogyo-ku, Kyoto), where the Hasegawa and Kyojo Association directors and other organizations that made up the network attended. I explained the efforts to the news media.
The network has established a consultation desk within this prefecture's Industrial Support Center from this day and accepts information security measures for SMEs, consultations on information leaks / outflows, and will continue to hold educational seminars and develop human resources in the future. I am going to go.
The "Numbering System (My Number System)", which assigns individual numbers to all citizens, allows the government to accurately understand the income level of individuals, pensions, medical care, etc., and to achieve effective social security benefits. The service will start in January 2016 with the aim of simplifying and improving the efficiency of office work, illegally receiving welfare protection, and preventing tax evasion.Prior to that, personal numbers will be sent to the public and companies from October this year.It is pointed out that this system always involves the risk of leakage of personal and corporate information because personal information is managed centrally by the country, prefectures, and municipalities.