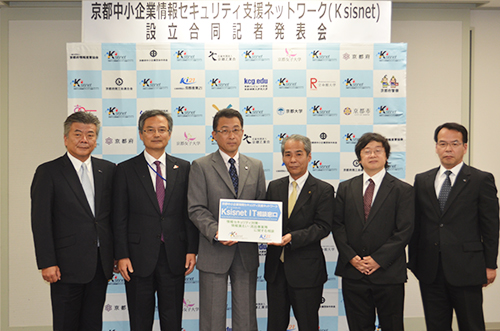 A press conference was held at the Kyoto Industrial Support Center to announce the establishment of the Kyoto Small and Medium Business Information Security Support Network (Ksisnet).(At far left is Wataru Hasegawa, KCGI and KCG General Director, President of the Kyoto Emotion Association, October 1, 2015)
The "Kyoto SME" was established and started operation on October 1, 2015, led by the Kyoto Police Headquarters, with the introduction of the "My Number System" to strengthen information security measures for SMEs in Kyoto. The Kyoto Information Industry Association (Kyojo) is headquartered by the President of Wataru Hasegawa of The Kyoto College of Graduate Studies for Informatics (KCGI) and Kyoto Computer Gakuin (KCG). KCGI participated.From the standpoint of industry and educational institutions, we are committed to preventing cyber-attacks, information leaks and outflows to local small and medium enterprises (SMEs).
The network is an "all-Kyoto" organization comprised of industry, government, and academia.The "industry" includes the Kyoto Chamber of Commerce and Industry, the Kyoto Prefectural Federation of Small Business Associations, and the Kyoto Sangyo 21 Foundation, while the "government" includes the Kyoto Prefectural Police, Kyoto Prefecture, and Kyoto City, and the "academia" includes KCGI and Kyoto University.
On this day, a press conference was held at the Kyoto Industrial Support Center (located in Kyoto Research Park, Shimogyo-ku, Kyoto City) to announce the establishment of the network, and Mr. Hasegawa, the head of the Kyoto Association for Information Technology, and other organizations that make up the network attended to explain the purpose of the establishment and future activities to the media.
The network has set up a consultation counter in the Prefectural Industrial Support Center to provide consultation on information security measures for small and medium-sized enterprises, information leaks and outflows, as well as to hold educational seminars and human resource development.
The "My Number System," in which all citizens are assigned a personal number, will be in use from January 2016 with the aim of enabling the government to accurately grasp the income level of individuals and the actual status of pension and medical benefits received, as well as to realize efficient social security benefits, simplify and streamline administrative work, and prevent improper receipt of public assistance and tax evasion.Prior to that, citizens and companies will be notified of their personal numbers from October of this year.It has been pointed out that under this system, personal information is managed centrally by the national government, prefectures, and municipalities, and thus there is always a risk of leakage of personal and corporate information.