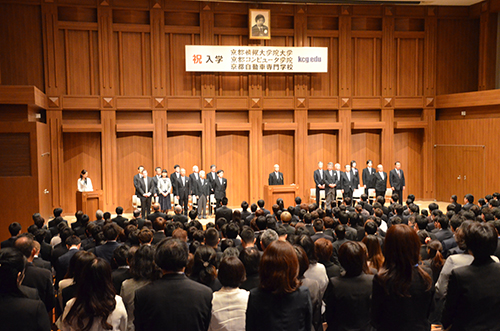 The entrance ceremony for the 2018 KCG group.Many new students and their parents attended (April 7, 2018, KCGI Kyoto Station Satellite Large Hall)
Kyoto Computer Gakuin (KCG), Kyoto Information Graduate University (KCGI), Kyoto Japanese Language Training Center (KJLTC), Kyoto Automobile College (KCGM) KCG Group's 2018 entrance ceremony, which celebrated its 55th anniversary on April 7 ( Sat), KCGI was held at the Kyoto Ekimae Satellite Hall, and many new students and guardians attended.There is a strong oath from the freshman representative at the ceremony, "To contribute to the realization of an ideal information society, we will strive to grow daily with the aim of cultivating rich creativity together with specialized knowledge and technology" A large group of IT and automotive industry members have joined the KCG Group.
First of all, after watching a video introducing the history of the KCG Group, established in 1963 as Japan's first computer education institution, Wataru Hasegawa, President of the KCG Group.After touching on the schools of KCG Group and their efforts so far, "Osaka University celebrated its 55th anniversary, and it is an educational institution that continues to innovate with a spirit of entrepreneurship, always embracing its philosophy.I sincerely hope that all of you who will be part of the University will be proud of you, study hard, and have a meaningful student life. "
Subsequently, Toshihide Ibaraki, President of KCGI, cited numerical weather forecasts with improved accuracy as an example of progress in the ICT field. "New technologies are born one after another.It is important to be interested not only in a limited field of expertise but also in the surrounding area, and acquire a wide range of knowledge.Also, please make a lot of new friends while you are in school. "
In response, Naoto Akiyama (Department of Information Science, Hikone Shoyo High School) and Ayumi Miyazawa (Department of Web Business Technology, Graduate School of Applied Information Technology, Department of KCG Games) , Each has a goal, a challenge, a new challenge, a determination to move forward and move forward toward the future envisioned.In today's advanced information society with the development of ICT, we believe that our mission is to create a rich, safe and comfortable society where everyone can effectively use the information they need. "I swearing powerfully."
After this, there was a parental gathering, and students took a new step as members of the KCG family.
Congratulations to all of you.We support you to have a fulfilling student life.