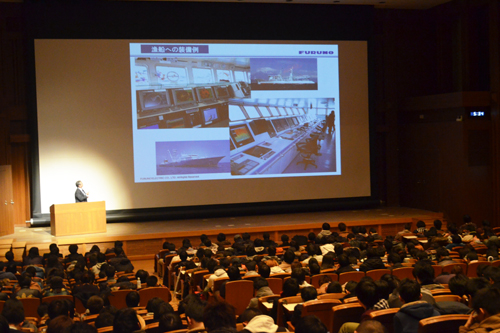 An academic lecture by Mr. Furuno Denki and Mori, the first activity after industry-academia collaboration with the KCG Group "Current Status and Future of Maritime IT"
KCG Group = The Kyoto College of Graduate Studies for Informatics (KCGI) / Kyoto Computer Gakuin (KCG) = Furuno Electric Co., Ltd. (Head office: 9-52 Hagiwaramachi, Nishinomiya City, Hyogo Prefecture, Yukio Furuno, listed on the first section of the Tokyo Stock Exchange) has signed an agreement between industry and academia. An academic lecture by the director in charge, "Current Status and Future of Maritime IT," was held on 30th January at the Kyoto Information Graduate University Kyoto University Hall, where students and faculty members attended.In 1948, Mori introduced the world's first fish finder, and introduced the history of Furuno Electric, which has reached the world's top share in the marine electronics field. On the other hand, "The industry is looking for" thorny "SE.I encourage my students to study so that they can become talented people who have superior skills that can not be defeated by anyone, the ability to find and solve problems, and the skills to correctly convey and express the technology. " It was.
Mr. Mori emphasized at the beginning of Furuno Denki's introduction, "Our company is developing a business with the vision of" realization of a safe and secure society and voyage "".Following the fish finder, we developed fishery radios, marine radars, and GPS navigation devices. The current global market share of marine electronics is 16% for merchant ships, 9% for pleasure boats, and 44% for fisheries. Occupy.Nine domestic subsidiaries, 25 overseas subsidiaries, and sales offices in 84 countries were also shown.
In the technical aspect, he explained the mechanism of the fish finder / sonar, radar, GPS, satellite communication device, and the developed product.As an inside story, he mentioned the development of weather radar. "The company's engineers in charge live in Kobe.In 2008, torrential rains occurred in 2008, and many people including children were swept away by muddy streams.This engineer was passionate about developing weather radars that could foresee sudden weather changes if the same thing should not be repeated. "In addition, the company emphasized the environment, temperature / humidity, vibration / impact, waterproofing, etc. in the product making process, and introduced the video of the actual test.
On January 29, KCG Group and Furuno Denki signed an agreement on industry-academia collaboration at the Furuno Denki headquarters, and based on the establishment of academic exchanges and cooperative relationships between the two. Implementation of the meeting ▽ We will proceed with exchange of academic information, publications and materials.
Furuno Electric Co., Ltd.
http://www.furuno.co.jp/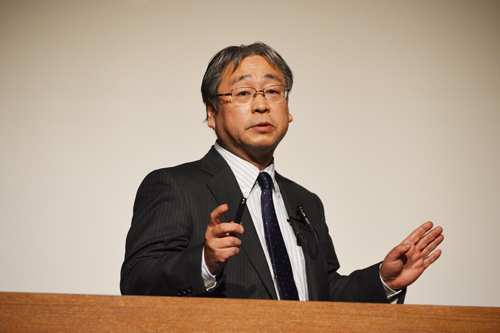 Mr. Mori sent an ale to the students saying, "Please study hard to become a" tung "SE"