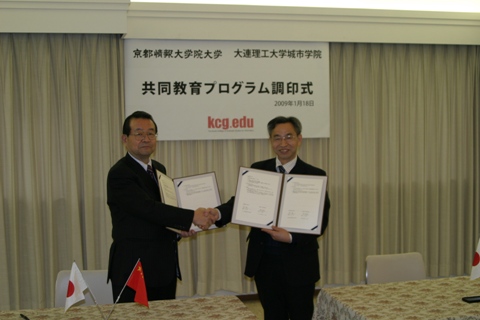 On January 18, 2009, KCGI signed an agreement on joint education programs with Dalian University of Technology, Shiro City Academy.In the future, we plan to accept international students from Dalian University of Technology, Jo City Gakuin, and train them as highly skilled professionals who are familiar with Japanese and IT.
On this day, a signing ceremony was held at KCGI Kyoto Station Satellite.From Dalian University of Technology, Jo City Gakuin, four directors, including President Yasukuni, attended, and Dr. Yoichi Terashita, Vice President of Kyoto University of Information Sciences, signed the Agreement on Joint Education Programs.
Prior to signing, Kyoto University Graduate School of Information Science Professor Hiroshi Hasegawa and Prof. Akino discussed the need for human resource development to support the IT industry in Japan and China, and both schools will support the future IT industry in Japan and China. It was confirmed that advanced IT human resource development would be promoted.
Dalian University of Technology, Castle City Academy
Established jointly by Dalian University of Technology and Dalian Songyuan Enterprise Group in 2003, this is the first independent state-owned private university in Northeast that has been approved by the Chinese National Education Department.According to the actual demands of social development, it consists of 55 major courses: ▽ Electronic and Computer Engineering School ▽ Management School ▽ Architecture Engineering School ▽ Foreign Language School ▽ Art and Media School-.As of 2008, there are about 8400 students.