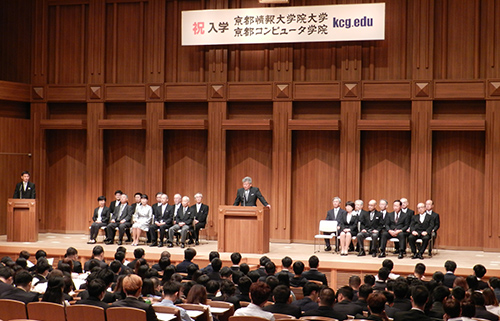 KCG Group KCG Group's Fall Semester entrance ceremony held at KCGI Kyoto Station Satellite Hall (September 29)
The Fall Fall Entrance Ceremony of Kyoto Computer Gakuin (KCG), Kyoto Japanese Language Training Center (KJLTC), and Kyoto Information Graduate University (KCGI) was held on Friday, September 29, at the KCGI Kyoto Ekimae Satellite Grand Hall. Many people who are eager to cultivate new creativity have joined the KCG family.
After attending a video introducing the history of the KCG Group over 50 years with all enrolled students, Wataru Hasegawa, President of the KCG Group, gave a ceremony.While introducing the University's educational philosophy, past steps, and a number of initiatives for the next generation, "I hope that we can fully study while looking ahead to the future and open up the future.Our faculty and staff will do their best to back you up. "
Next, Toshihide Ibaraki, President of KCGI, cited the solution of exhaust gas problems and global warming as one of the genres that ICT will play a role in the future. After that, "To absorb as much knowledge as possible, Please actively participate in classes, exercises and projects.At the same time, it is worthwhile to take on various activities both on campus and off campus and gain experience in accomplishing something, "he sent a message to new students.
As a result, Masanori Kawamura (graduate of the Faculty of Economics, Kyoto University) who entered KCGI on behalf of new students said, "We will contribute to the realization of an ideal information society, with a wealth of creativity along with specialized knowledge and technology. I will endeavor to provide a fulfilling student life, working together with many friends, sometimes working hard, with the aim of nurturing the life. "Freshmen took a new step as members of the KCG group.
Congratulations to all students.