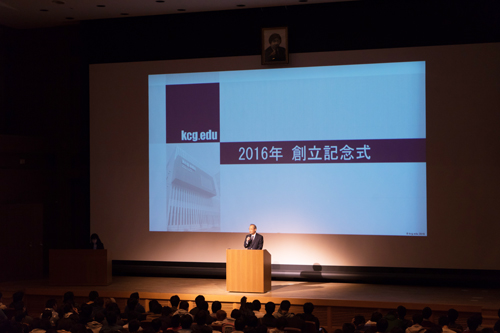 Venue for the 53rd anniversary celebration of Kyoto Computer Gakuin
On April 29, the 53rd anniversary of Kyoto Computer Gakuin (KCG) was celebrated at the main hall of Kyoto Station Satellite, Kyoto Institute of Information Science.
At the commemorative ceremony, Prof. Yukihiro Nakamura at The Kyoto College of Graduate Studies for Informatics (KCGI) gave a commemorative lecture to KCG students entitled "Learn at Kyoto Computer Gakuin".
Prof. Nakamura, reflecting on his own research career at companies and universities, emphasized the importance of the role IT and ICT will play in society in the future, and spoke of the importance of accumulating and analyzing big data obtained from this network to create new value and wisdom.
He then encouraged the students in the audience to make the most of their enrollment at KCG, which has taken the lead in this field of education, and to study to the best of their ability, since IT and ICT are the technologies that build the foundation of social systems in a society where information and the physical world are becoming one.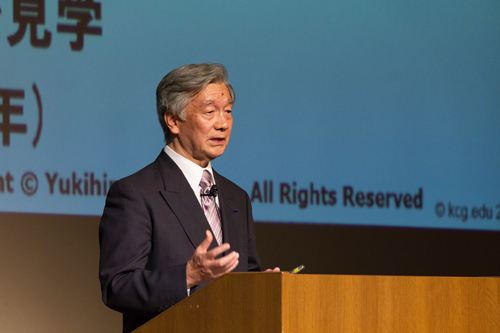 Prof. Yukihiro Nakamura at The Kyoto College of Graduate Studies for Informatics (KCGI)