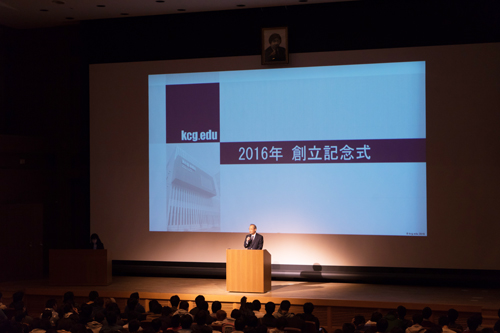 Kyoto Computer Gakuin 53rd Anniversary Ceremony
The commemorative ceremony for the 53rd anniversary of Kyoto Computer Gakuin (KCG) was held on April 29 at the Kyoto University Graduate School of Kyoto Satellite Hall.
At the commemorative ceremony, Prof. Yukihiro Nakamura at Kyoto Information Graduate University (KCGI) gave a commemorative lecture to KCG students entitled "Learn at Kyoto Computer Gakuin".
Prof. Nakamura looks back on his research career at companies and universities, emphasizes the importance of the role of IT and ICT in the future society, and is also referred to as the Fourth Industrial Revolution. In the present age, 50 billion to 1 trillion devices are expected to be connected to the Internet in the next 10 years. Big data obtained from this network is accumulated and analyzed to create new value and wisdom. I told them that it would be important to connect
On top of that, in a society where this information and the physical world are being integrated, IT / ICT is the technology that builds the foundation of social systems. We encouraged the students at the venue to make the best use of the benefits they had and to study with all their strength.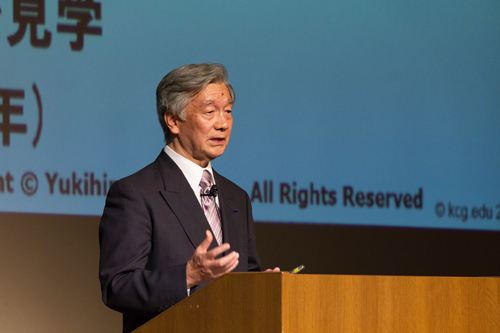 Prof. Yukihiro Nakamura at Kyoto Information Graduate University (KCGI)