A lecture on Jidai Matsuri, known as one of the three major festivals in Kyoto along with Aoi Matsuri and Gion Matsuri, and held on October 22 every year, was held on Friday, October 19 at the Kyoto Ekimae Satellite Hall of Kyoto Institute of Information Science as an event recommended by the Ministry of Education, Culture, Sports, Science and Technology for "Education and Culture Week.KCG advisor Dr. Teiichiro Yoneda, in conversation with KCG's Dr. Hideki Yushita, gave an hour-long presentation on the origin, history, and highlights of the Jidai Matsuri.
Participants listened attentively to the 102-year-old Dr. Yoneda, who has dedicated his life to the field of education.After the lecture, there was an opportunity for a friendly discussion with Dr. Yoneda, and the conversation was lively.
The Ministry of Education, Culture, Sports, Science and Technology (MEXT) has designated one week (November 1-7), including Culture Day (November 3), as "Education and Culture Week" to deepen public understanding of education and culture and to promote their enrichment.The Kyoto College of Graduate Studies for Informatics (KCGI) and KCG are recommended events, in addition to this lecture "About the Festival", ▽ Lecture "Information Society and Traditional Culture" (Kyoto Prefectural University course): November 9 (Friday) 15: 15-16: 15, Performer: Mr. Minako Tanaka, Representative Director 冨 Vintage Computer Exhibition: November 11th (Sun) 10: 00-16: 00-All held at KCG Kyoto Station Front School intend to do something.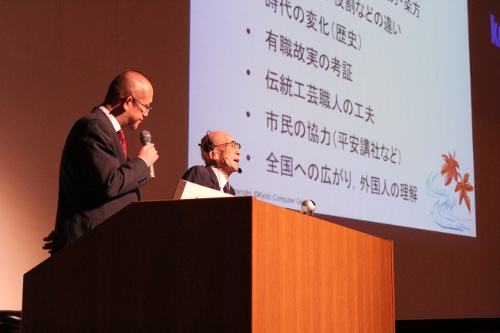 Dr. Yoneda talks about the Jidai Matsuri (left is his assistant, Dr. Yushita)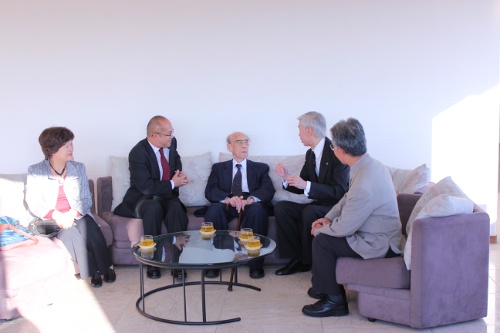 After the lecture, the audience gathered around Dr. Yoneda for a lively conversation.