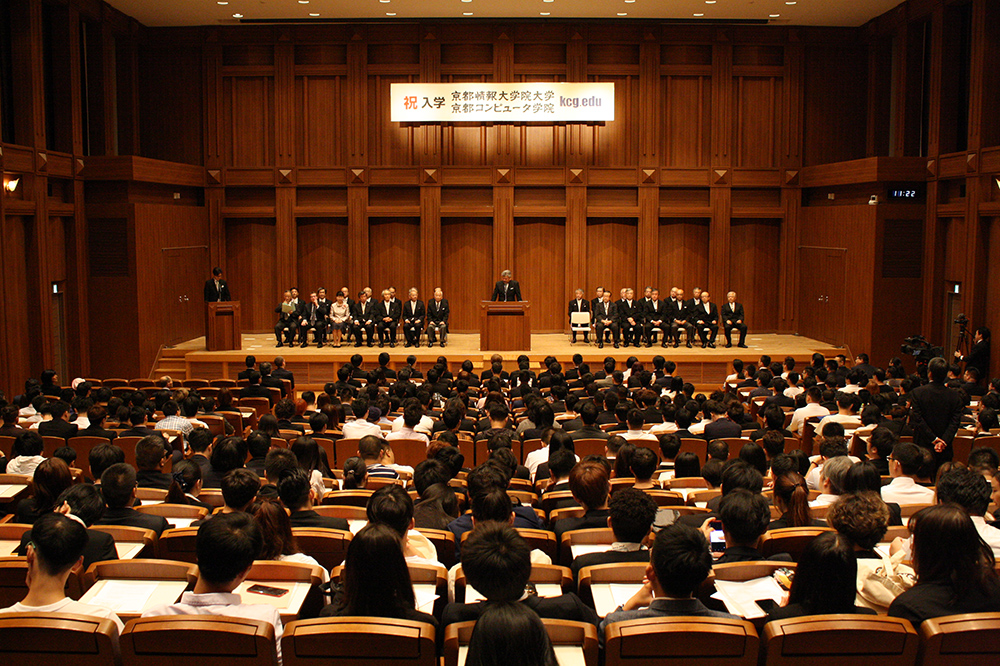 Kyoto Computer Gakuin (KCG), Kyoto Computer Gakuin Kyoto Japanese Language Training Center (KJLTC) and Kyoto Information Graduate University (KCGI) 2019 Fall Semester Entrance Ceremony September 30 (Mon), KCG Kyoto Station School KKGI Kyoto Station It was held at the 6th floor large hall of the satellite.New students started a new academic life as a KCG family with the hope of acquiring advanced and advanced technologies and the determination and hope of realizing their future dreams.
After seeing a video introducing the history of the KCG Group, 56 years after its founding, all new students attended the ceremony.President Hasegawa explained the educational philosophy of the University and the history and achievements of new attempts while always being aware of the cutting edge of the times.After that, "I want you to spend your student life meaningfully while looking to the future.I hope to be a confident alumni and alumni following the excellent seniors and open up the future, "he encouraged new students.
Toshihide Ibaraki, President of KCGI, asked the new students in the ceremony, "What you should do at the University is to acquire ICT knowledge about the specialized field you have chosen."And I hope that international students from many countries will be able to play an active role as a bridge between Japan and Japan after leaving the University.
In response, Mr. Inoue (from Ritsumeikan Moriyama Senior High School) who entered the KCG Information Processing Department on behalf of a freshman said, "We have a goal toward the future, challenge new things, make efforts to make efforts and make first efforts. It is solidified.In order to contribute to the realization of an ideal information society, we will endeavor to grow daily with the aim of cultivating "rich creativity" along with specialized knowledge and technology. "
Congratulations to all new students.