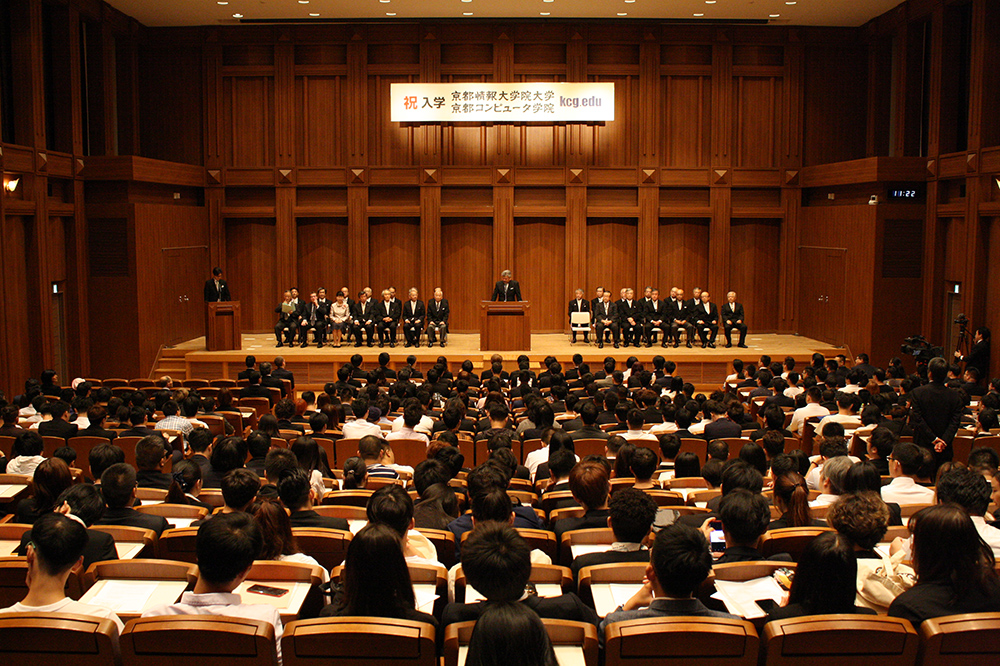 Kyoto Computer Gakuin (KCG), Kyoto Computer Gakuin Kyoto Japanese Language Training Center (KJLTC) and The Kyoto College of Graduate Studies for Informatics (KCGI) 2019 Fall Semester Entrance Ceremony September 30 (Mon), KCG Kyoto Station School KKGI Kyoto Station It was held at the 6th floor large hall of the satellite.The new students started their new academic life as members of the KCG family with determination and hope toward mastering advanced state-of-the-art technology and realizing their dreams for the future.
After all the new students watched a video introducing the history of KCG Group since its establishment 56 years ago, Mr. Wataru Hasegawa, KCG Group President, gave the ceremonial address.Chancellor Hasegawa explained the university's educational philosophy and its history and achievements in taking on new challenges while always being aware of the leading edge of the times.He added, "I hope that you will spend your student life in a meaningful way while keeping your future in mind.I hope that you will follow in the footsteps of our outstanding seniors and become confident graduates and alumni who will open the way to a better future," he said, encouraging the new students.
In his ceremonial address, KCGI President Toshihide Ibaraki requested the new students, "What you should do at KCGI is to acquire a solid knowledge of ICT in your chosen field of specialization.He also expressed his hope that international students from many countries would "play an active role as bridges between their home countries and Japan after leaving the university.
In response, Mr. Inoue (from Ritsumeikan Moriyama High School), representing the new students in the KCG Information Processing Department, said, "I am determined to move forward with my goals, challenge new things, and spare no effort toward the future.In order to contribute to the realization of an ideal information society, I will strive to grow every day, aiming to cultivate "abundant creativity" as well as specialized knowledge and skills," he pledged strongly.
Congratulations to all the new students!