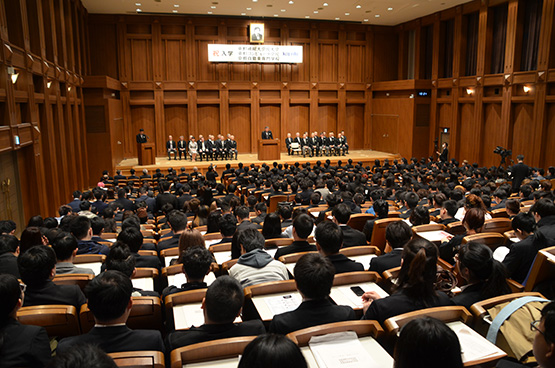 The KCG Group's 2019 entrance ceremony for Kyoto Computer Gakuin (KCG), Kyoto University of Information Studies (KCGI), Kyoto Japanese Language Training Center (KJLTC), and Kyoto Automobile College (KCGM) will be held on April 6, KCG Kyoto Station School, KCGI Held in the 6th floor hall of the satellite in front of Kyoto Station.New student representatives who entered the Heisei last month and face the first semester of Ryowa said, "To contribute to the realization of an ideal information society, we can grow daily with the aim of cultivating" rich creativity "along with specialized knowledge and technology. I will do my best, "he vowed to resolve to take on a new era.Congratulations to all of you.
With the increase in students motivated to acquire specialized knowledge and advanced skills, the entrance ceremony was held twice in the morning and afternoon for the third consecutive year.The ceremony venue was filled with new students and guardians from both Japan and overseas.Young people who will be responsible for the future IT and automotive industry have joined the KCG Group.
At the entrance ceremony, after watching the video introducing the progress of the KCG Group, which was established as the first computer education institution in Japan and celebrated its 55th anniversary last year, Wataru Hasegawa, President of the KCG Group, gave a ceremony. .President Hasegawa introduced, "Pioneer spirit and challenge spirit should be called the DNA of the KCG Group of the University"."I hope that you will be proud of your decision to study at our university and spend your student life meaningfully while looking to the future.Make as many friends as you can in your lifetime while in school.I encourage you to work with many friends and learn enough. "
Next, Toshihide Ibaraki President KCGI gave a ceremony.President Ibaraki pointed out, "It is important to actively acquire the necessary knowledge by actively participating in classes, exercises and projects, not passive attitudes such as taking credits.""Our goal is not only to systematically provide ICT (information and communication technology) knowledge but also to develop human resources who can play an active role in a wide range of application fields.We recommend that you acquire as much knowledge as possible, rather than confined to a limited field of interest. "
As a new student representative, Part 1 is Mr. Arashi Uno (from KCG Information Science), Department of Web Business Technology, Graduate School of Applied Information Technology, KCGI, and Part 2 is Tatsuya Kudose, Medical Information Course, Department of KCG Applied Information Science. (Okayama University of Science attached high school) stated the oath."In today's advanced information society with the development of ICT, our mission is to create a rich, safe and comfortable society where everyone can effectively use the information they need. I think.I will cooperate with many of my friends I will meet and work hard as a good rival, and I will endeavor to live a fulfilling student life so that I can feel that I was really good. "
After this, there was a parental gathering, and students started a new journey as a member of the KCG family.