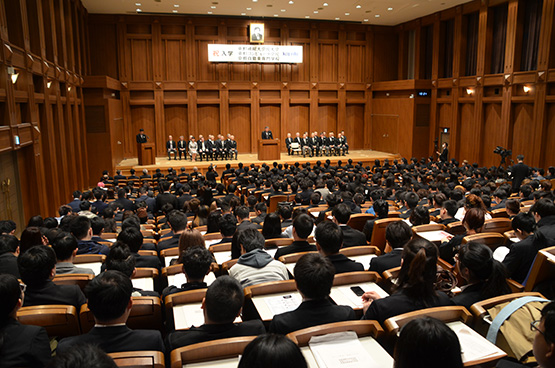 The KCG Group's 2019 entrance ceremony for Kyoto Computer Gakuin College (KCG), The Kyoto College of Graduate Studies for Informatics (KCGI), Kyoto Japanese Language Training Center (KJLTC), and Kyoto College of Global Motor Vehicles (KCGM) was held on April 6 at the 6th floor hall of KCG Kyoto Ekimae School and KCGI Kyoto Ekimae Satellite.The representative of the new students, who entered the school in the final month of the Heisei era and will be attending their first semester in 2022, pledged his determination to take charge of the new era: "I will strive to grow every day, aiming to cultivate 'rich creativity' along with specialized knowledge and skills, in order to contribute to the realization of an ideal information society.Congratulations on your enrollment!
With the increasing number of students eager to acquire specialized knowledge and advanced skills, the entrance ceremony was held in the morning and afternoon for the third year in a row.The ceremony hall was filled with new students and parents from Japan and abroad.Young people who will lead the IT and automotive industries in the future have joined the KCG Group.
After watching a video introducing the history of the KCG Group, which was established as the first computer education institution in Japan and celebrated its 55th anniversary last year, KCG Group President Wataru Hasegawa gave the opening address.President Hasegawa introduced the KCG Group by saying, "The pioneering spirit and spirit of challenge are part of the KCG Group's DNA.He added, "I hope that you will take pride in your choice and decision to study at our university, and spend your student life in a meaningful way with an eye on the future.Make as many lifelong friends as you can while you are in school.I encourage you to study hard with many friends.
KCGI President Toshihide Ibaraki then delivered the ceremonial address.President Ibaraki pointed out, "It is important for students to actively participate in classes, exercises, and projects, and to acquire the necessary knowledge independently, rather than passively just earning credits.He added, "Our goal is not only to provide systematic knowledge of ICT (Information and Communication Technology), but also to nurture human resources who can play an active role in a wide range of applied fields.We recommend that you acquire as broad a knowledge base as possible, rather than limiting yourself to a limited number of areas of interest," he urged.
Following this, Mr. Arashi Uno (KCGI Graduate School of Applied Information Technology, Web Business Technology Course) and Mr. Tatsuya Kudose (Okayama University of Science Senior High School), a student in the Medical Information Course of the KCG Department of Applied Information Technology, gave the pledge as representatives of new students in the first part.In today's advanced information society with the development of ICT, we believe that the mission of information engineers is to create a rich, safe, and comfortable society in which everyone can effectively use necessary information.I will cooperate with many of the friends I will meet in the future, and I will work hard as a good rival and strive to lead a fulfilling student life so that I will be truly happy to have enrolled in this school.
This was followed by a parent-teacher conference, and the students began their new chapter as members of the KCG family.