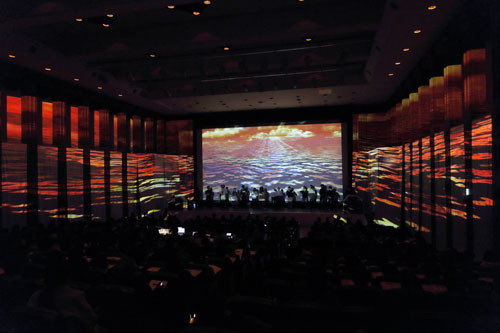 Three-dimensional image space created by CG projection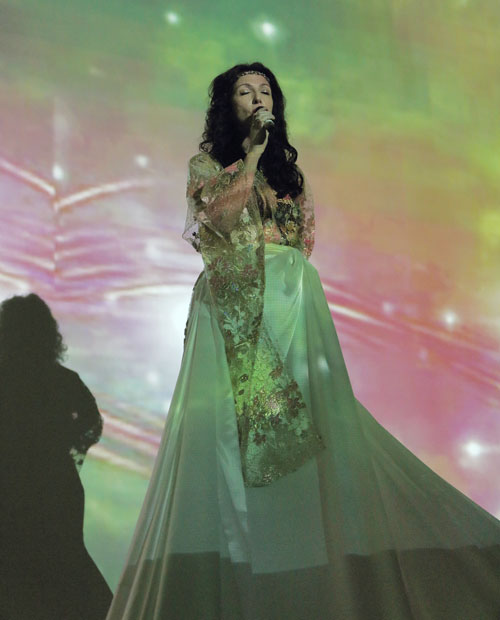 Ms. Nizza Melas singing enthusiastically
Nitza Melas, a professor at The Kyoto College of Graduate Studies for Informatics (KCGI) and active as the main vocalist of the international entertainment group "Cirque de Soleil", is a visual artist active in Hollywood, Kirill Kosik. The MUΣA Live Show, which was designed for visual effects and was attended by many students from KCGI and Kyoto Computer Gakuin (KCG), was held on January 22 at the Kyoto University Information University Kyoto Station Satellite Hall. People enjoyed a 30-minute song and dance show with plenty of brilliant visual effects.
This show was planned as the culmination of the intensive lecture "Performing Arts IT" held at KCGI and "Performing Arts Seminar" held at KCG last year. Students from both schools worked on the production of the show by mobilizing all the knowledge they had learned in the classes, such as acting, vocal techniques and CG production.The preparations began in earnest only a week before the performance, and with the guidance of Ms. Nizza, the students rehearsed many times, made their own costumes and props, and set up the hall by themselves.Members of KCG's dance and chorus clubs also participated in the event, performing energetic dance and singing in a youthful manner.
The best part of the show is the collaboration between the performances on stage and the CG images projected on the three walls of the hall.CG images of fire, water, snow, moon, etc., created by Mr. Kirill and KCG Kamogawa students, were projected from three projectors not only on the screen in front of the hall, but also on the left and right walls covered with white cloth to the accompaniment of the performers' songs and dances, creating a three-dimensional visual space surrounding the audience.Flames were projected in time with the hand movements of a shaman dressed as a student, and in a shadow puppet dance performed by a dance circle advisor, a giant moon moved slowly across the sky, and Ms. Nizza sang a solo against a background of endless dancing snowflakes in a fantastic show.
This "Performing Arts IT" course is a practical class that cultivates IT-savvy stage directors under the guidance of Mr. Nizza and Mr. Kirill, who are at the forefront of the entertainment industry in North America.In addition to learning the individual skills that make up a show, students participate in the planning and staging of a MUΣA live show, giving them a comprehensive learning experience that allows them to apply the knowledge and skills they have learned in a real-world setting.
MUΣA Live Show
http://www.kcg.ac.jp/event/concert20150122.html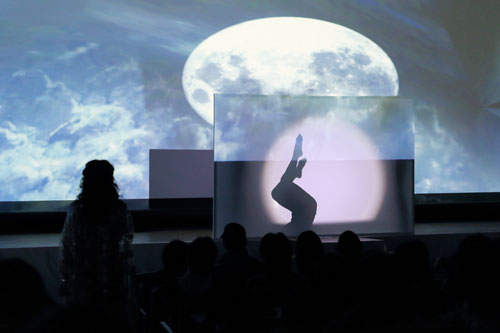 Shadow Dance under the fantastic moon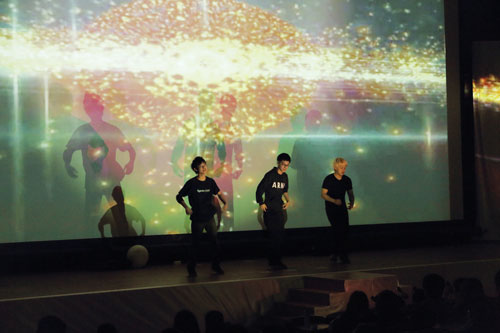 Energetic dance performed by KCG Dance Circle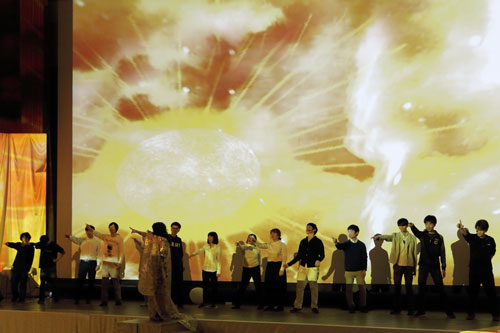 At the end, all participants go on stage!
January 22, 2016 'MU ΣA LIVE SHOW' Digest