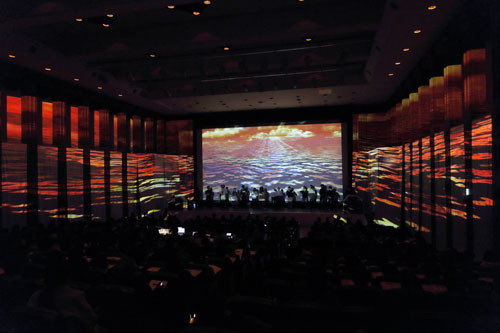 Three-dimensional video space created by CG projection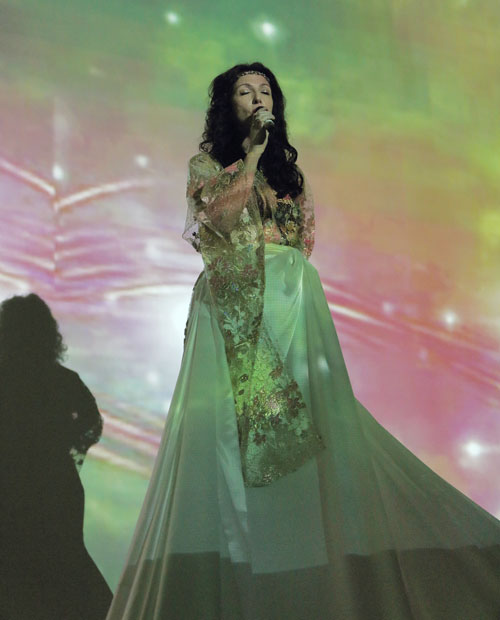 Nizza Melas
Nitza Melas, a professor at Kyoto Information Graduate University (KCGI) and active as the main vocalist of the international entertainment group "Cirque de Soleil", is a visual artist active in Hollywood, Kirill Kosik. The MUΣA Live Show, which was designed for visual effects and was attended by many students from KCGI and Kyoto Computer Gakuin (KCG), was held on January 22 at the Kyoto University Information University Kyoto Station Satellite Hall. People enjoyed a 30-minute song and dance show with plenty of brilliant visual effects.
This show was planned as a culmination of the intensive lecture "The Performing Arts IT" held at KCGI last year and the "Performing Arts Exercise" held at KCG. The students of both schools learned in class We mobilized all aspects of acting and vocalization, knowledge of CG production, etc., and worked on the production of the show.The preparation work was in full swing just a week before the performance. While receiving rehearsals over and over from Nizza-san, the costumes and props were handmade and the halls were set up by their own hands. It was.Participants from KCG dance and chorus circles participated in the performance and singing voices of young people.
The best part of the show is the collaboration between the stage performance and the CG images projected on the three walls of the hall.CG created by Kirill with students at KCG Kamogawa School, with the image of flames, water, snow, and moon, to match the performer's songs and dances A three-dimensional image space that was projected from three projectors and surrounded the audience also appeared on the wall.A flame is projected in accordance with the movement of the shaman who is a student, and in the shadow dance performed by the teacher of the dance circle advisor, the huge moon slowly moves in the sky, and Nitza sings against the backdrop of snowflakes A fantastic show was held.
This "Performance IT" course is a practical training program that develops human resources who are well versed in stage production using IT under the guidance of Mr. Nizza and Mr. Kirill who are active in the forefront of entertainment in North America. It is a class.Students can learn not only the individual skills that make up the show, but also participate in the planning and production of the MUΣA Live Show, so they can gain a comprehensive learning experience that applies the knowledge and skills they have learned in practice. The
MUΣA Live Show
http://www.kcg.ac.jp/event/concert20150122.html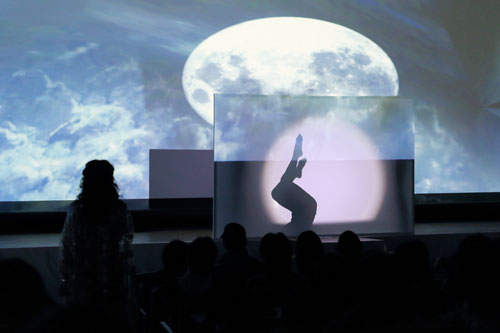 Fantastic moonlight shadow dance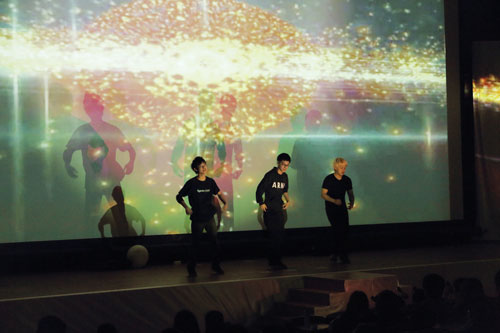 Cheerful dance performed by KCG Dance Circle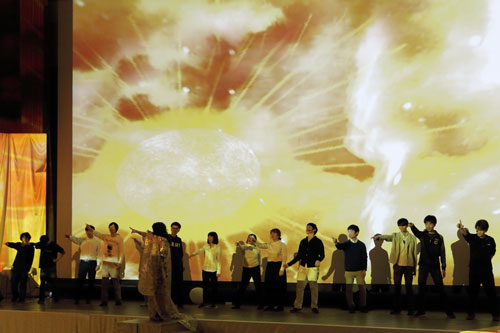 Finally, all the participants are on stage!
Digest of "MUΣA LIVE SHOW" held on January 22, 2016