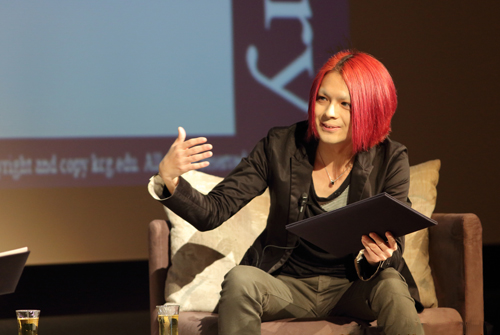 The skyscraper opera Ayame, who became a guest professor at KCGI and KCG
Talk live held on April 14, 2013 (Kyoto Institute of Information Science, Kyoto Station Satellite Hall)
Ayame, the keyboard manager of "Matenro Opera," a visual band popular with young people, has been appointed as a visiting professor at Kyoto Computer Graduate School (KCGI) and Kyoto Computer Gakuin (KCG) this year.Ayame, who studied at Keio University Faculty of Environment and Information Studies (SFC), is currently engaged in music activities using IT.I hope this experience and technology will be used in KCGI and KCG education.In the future, we will also plan a lecture by Ayame.
As part of the 50th anniversary of the KCG foundation and the 10th anniversary of the establishment of KCGI, Ayame-san held a talk live on April 14, 2013 at the Kyoto University of Information Sciences, Kyoto Station Hall. Appeared in "Formula Information Society and Music" and talked about the relationship between music, computer and IT.On this day, many of Ayame's fans, such as junior and senior high school students and adults, gathered to listen to the role of IT in their daily music activities.