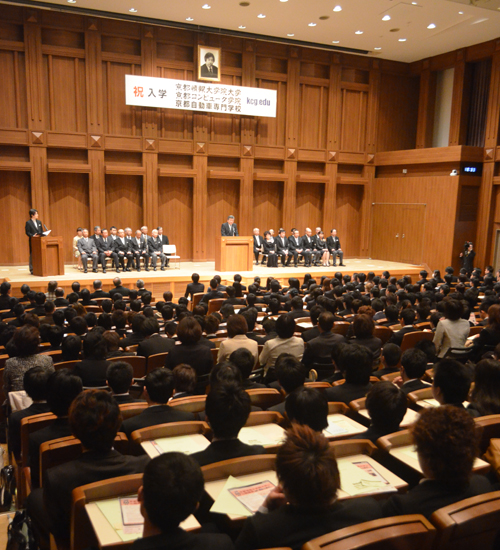 The entrance ceremony of the 2015 Kyoto Information Graduate University, Kyoto Computer Gakuin, Kyoto Japanese Language Training Center, and Kyoto Automobile College, held at the University of Kyoto (April 5, 2015, Kyoto University of Information Science, Kyoto Ekimae Satellite Grand Hall)
The entrance ceremony of Kyoto Information Graduate University (KCGI), Kyoto Computer Gakuin (KCG), Kyoto Japanese Language Training Center (KJLTC), and Kyoto Automobile College (KCGM) is held on April 5th (Sun) at KCG Kyoto Station School The KCG group was joined by a large number of friends who will be responsible for future IT and the automotive industry.At the ceremony, the freshman representatives had a strong oath: "We are prepared to move forward with the future we have drawn".
The main hall of Kyoto Information Graduate University Kyoto Ekimae Satellite Hall was filled with freshmen, parents and other related parties, and foyer and classrooms were used as venues.At the beginning of the ceremony, after watching a video introducing the history of the KCG Group, established in 1963 as Japan's first computer education institution, Wataru Hasegawa, President of the KCG Group."Computers (IT / ICT) are indispensable for our society."Human resources who want to contribute to further technological development and evolution are expected from many perspectives and have a great future.Be proud of yourself that you have decided to study at the University and spend a meaningful student life. "
Next, Toshihide Ibaraki, President of KCGI, explains the rapid progress of recent robots that have been used for nursing and daily life, starting with ASIMO. Pointed out.Asking students to acquire "learning power" to learn positively, "If you are still in school, you will never be accused even if you fail or you will be praised. Please challenge various things by all means.I think it would be best if you could become active through such experiences while you were in school and be able to go out to society with confidence when you graduate from the university. " It was.
In response, Yoshishi Oka, a freshman representative (from the Department of Games, Shiga Prefectural Yahata Industrial High School), said, "While IT has developed significantly, incidents of illegal use of information technology are reported every day. increasing.I believe that information processing engineers are given the role of creating a society where information technology can be used correctly.In our university, we learn not only specialized knowledge and technology from teachers and seniors, but also a wealth of humanity, and make many friends who can cooperate and support each other to have a broad perspective, while taking responsibility for their own actions I want to grow and grow every day. "
After this, there were orientation and parental gatherings, and students took a new step as members of the KCG family.
Congratulations to all of you.I support everyone's success.