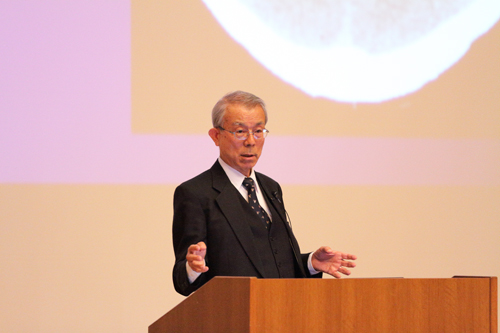 Professor Masatsugu Kidode, Director of Cyber Kyoto Institute, KCGI, delivers a commemorative lecture titled "CV (Computer Vision): Now, Then, and Dreams" at the 12th anniversary ceremony of the founding of KCGI.
November 1, 2015 marks the 12th anniversary of the founding of The Kyoto College of Graduate Studies for Informatics (KCGI).Prior to the ceremony, a commemorative ceremony was held on October 30 at the main hall of the Kyoto Station Satellite of Kyoto Institute of Information Science, where students and faculty members celebrated and pledged to make further progress in the future.
At the beginning of the ceremony, Professor Shigeru Eiyasu, Vice President of KCGI, introduced KCGI, saying, "KCGI has designated November 1, 2003, when the university declared its opening, as the anniversary of its founding." He then talked about the time when the first lecture was given in April 2004, the following April, the future progress, and future prospects.KCGI Professor Masatsugu Kidode, who is also the director of the KCGI Cyber Kyoto Institute, which manages and operates the .kyoto geographical top-level domain, gave a lecture titled "CV (Computer Vision): Now, Then, and Dreams" - From .kyoto.After introducing recent IT-related topics, Prof. Kidode encouraged the students to keep their antennae up to catch the latest IT information, to be interested in new things, and to look up unfamiliar terms immediately, rather than waiting until later.
KCGI opened as Japan's first IT professional graduate school, inheriting the pioneering spirit of KCG, Japan's first computer education institution, which was founded on May 1, 1963.The Graduate School of Applied Information Technology offers a major in Web Business Technology, and upon completion, students are awarded a Master of Information Technology (Professional), the highest degree in the field of IT applications.In addition to the main school in Kyoto, there are satellites in front of Kyoto Station, Sapporo, and Tokyo.In the academic field, the Applied Information Business Course (medical IT, agricultural IT, marine IT, etc.) will be added to the existing Web Business Technology Course, Web System Development Course, and Contents Business Course in 2016.In addition, the admission capacity has been increased from 80 (total capacity of 160) to 210 (total capacity of 420).We have produced excellent human resources with both management and IT knowledge and skills in the IT industry in Japan, Asia, and around the world.