Professor Yasuhiro Takeda, director of Gainax, famous for "Neon Genesis Evangelion," will talk about regional revitalization through animation in preparation for the opening of "Yonago Eiga Jiken," a project created with the citizens of Yonago, Tottori Prefecture.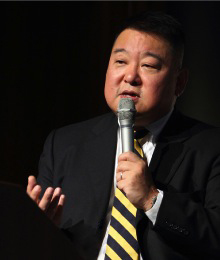 Lecturer: Mr. Yasuhiro Takeda
Director, GAINAX Corporation
General Manager, Animation Production Division
Professor, The Kyoto College of Graduate Studies for Informatics
Course Content "Before the Second Yonago Movie Incident"
What is the Yonago Film Incident?
Yonago Eiga Jiken" is a festival created by GAINAX Corporation and local people in an attempt to make pop culture, including movies, animation, photography, manga, and music, a breakthrough in revitalizing local cities.
schedule
Friday, October 12, 2012, 18:30-21:40

free

Kyoto Computer Gakuin General Affairs Department
TEL : 075-762-2030
Email:general@kcg.ac.jp
(Office hours: 9:00 - 17:00 weekdays)