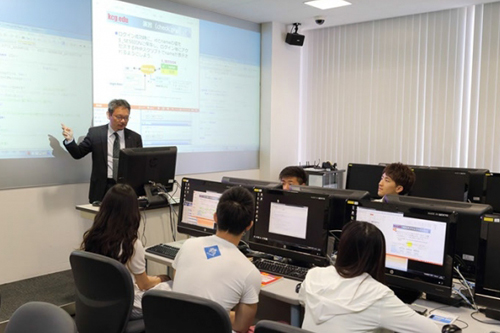 With the advancement of ICT in all industries, The Kyoto College of Graduate Studies for Informatics will open an open course in May to get you closer to the latest business models and information and communication technologies.
Focusing on the "Content Industry Special" (June 4th) to learn about the business model and laws of how anime production has changed digitally, and the new style of agriculture brought about by collaboration with ICT and other industries In addition to "Next Generation Agricultural Informatics" (June 25), the lecture "Music and Technology" that uncovers the history and future of music-related technologies by Ayame (visiting professor at The Kyoto College of Graduate Studies for Informatics) in charge of keyboards for rock band "Skyen Opera" (July 10).
We also offer courses for those who want to try smartphone application development for the first time and for beginners who want to try creating mobile websites.
In addition to the main campus in Kyoto and the Kyoto Ekimae Satellite, some lectures are also available at satellite campuses in Tokyo and Sapporo.For more information, please click on the link below to visit the 2016 2nd Open House page.As Japan's first IT professional graduate school, we hope that you will become familiar with ICT and improve your skills even if only a little through our open lectures.