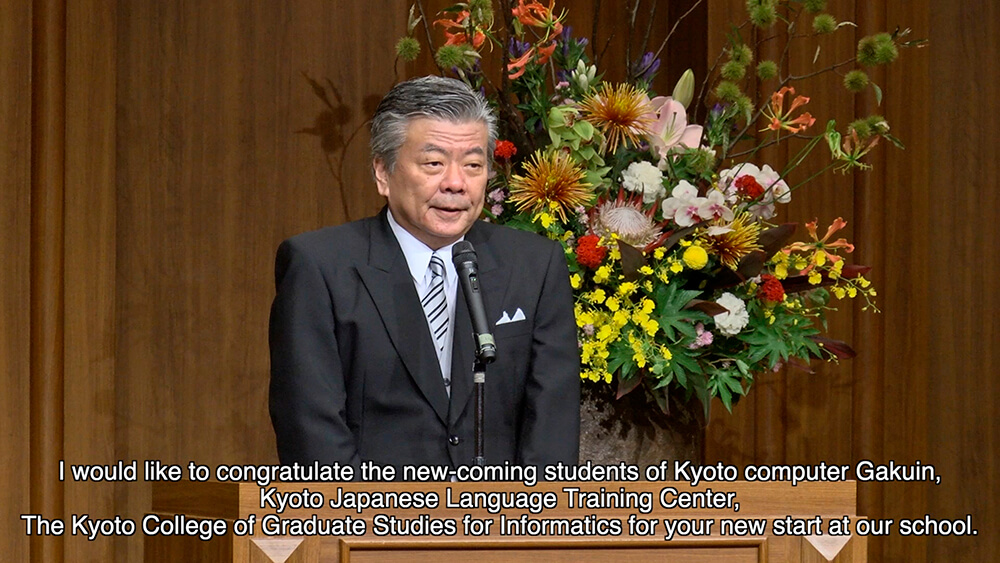 Kyoto Computer Gakuin (KCG), Kyoto Japanese Language Training Center (KJLTC), and Kyoto College of Information Technology (KCGI) held their 2020 fall semester entrance ceremony on Wednesday, September 30, in cyberspace.To prevent the transmission of the new coronavirus, the ceremony was not held in the main hall on campus following the 2020 entrance ceremony in April, and KCG Group President Wataru Hasegawa and KCGI President Toshihide Ibaraki welcomed and encouraged the new students in a video-streamed address.The new students started their new academic life as members of the KCG family with determination and hope to acquire the advanced technology required in this era of accelerated digitalization by the government and the national government, and to realize their dreams for the future.Congratulations on your enrollment!
Following the delivery of a video introducing the history of the KCG Group in its 57th year since its founding, President Hasegawa delivered his ceremonial address.The general director explained that the entrance ceremony was held in cyberspace to prevent the spread of the new coronavirus infection and to ensure the health and safety of the new students, their families, and other concerned parties.He added, "Cyberspace has now become a place that connects people to each other.It is in no way inferior to real spaces, where face-to-face interaction is the norm.I hope that all of you who are going to study IT will become students at the forefront of the times, with the ability to move freely between real space and cyberspace," he encouraged.He also introduced the educational philosophy of the university and its history and achievements of always being aware of the leading edge of the times and taking on new challenges.
In his ceremonial address, President Ibaraki noted that for the time being, most lectures will be given remotely, and pointed out that "advanced ICT technology is necessary to make remote lectures possible.He asked the students, "As you are about to learn about ICT, I hope you will take an interest in learning how it works and develop the skills to play an active role in the world of ICT.He added, "By studying hard for a few years, you will be able to advance to the cutting edge of ICT.Our goal is not only to provide systematic knowledge of ICT, but also to develop human resources who can play an active role in a wide range of applied fields.No matter which field you wish to pursue, the work you are involved in will have some impact on the world 20 to 30 years from now.I hope that you will make every effort to realize a society that is prosperous and livable for its people.
Then, on behalf of the new students, Mr. Niu (from Shandong University of Foreign Affairs and Vocational Studies, China), who has enrolled in the Graduate School of Applied Information Technology at KCGI, said, "The environment surrounding us is changing drastically due to the new coronavirus.How to support new lifestyles through the power of ICT will be important.We will make daily efforts to acquire advanced knowledge and skills and to develop practical ability and creativity to lead the next generation in the blessed environment of our university," he pledged strongly.
After the ceremony, a Zoom-based new student social event and parent information session were held.At the meeting, homeroom teachers met with the new students and gave them detailed explanations about online classes, etc., so that they would not feel anxious when they start their studies.Parents were informed about online learning at home and asked for their cooperation.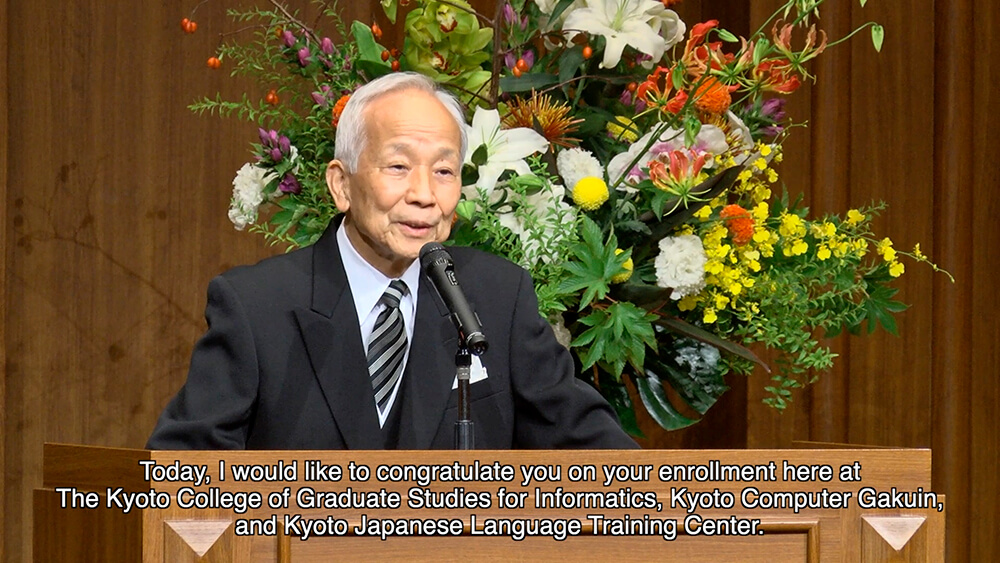 ◇ ◇ ◇
The KCG Group is relocating classes and other school operations to cyberspace as a measure against new coronavirus infection.In the spring semester of 2020, KCGI and KCG offered many courses in an e-learning format (a system that allows students to study at home via the Internet).At the same time, to ensure that there are no obstacles in taking courses or creating works, various services are available, such as the loan of laptop computers and remote access to high-spec computers on campus from outside the university.Since many of the classes at Kyoto College of Motor Vehicles (KCGM) involve practical training, we have begun face-to-face classes after taking sufficient measures to prevent infection so as not to impede the students' progress in acquiring skills.KCGI and KCG fall semester classes will be offered in person at the school and online at home.We ask students to apply in advance when coming to school and take thorough measures to prevent infection.In line with the government policy, we will take all possible measures for new and re-entering foreign students, such as PCR checks and thorough submission of documents, based on the university-wide standardized rules.
All students are urged to avoid situations where the "three densities"-close, dense, and close-combine.Information on infection prevention and consultation services in case of illness are disseminated, and if students have any concerns, they are encouraged to consult with the office of each school by e-mail or other means.In terms of various student guidance and events, such as job placement guidance, we use both face-to-face and online services while utilizing cyberspace to maintain services for students.
With a few exceptions, administrative work within the university is also conducted in cyberspace, and faculty members are teleworkers in principle.These measures will be continued in the fall semester and beyond, while keeping a close eye on the infection situation and government announcements and other trends.