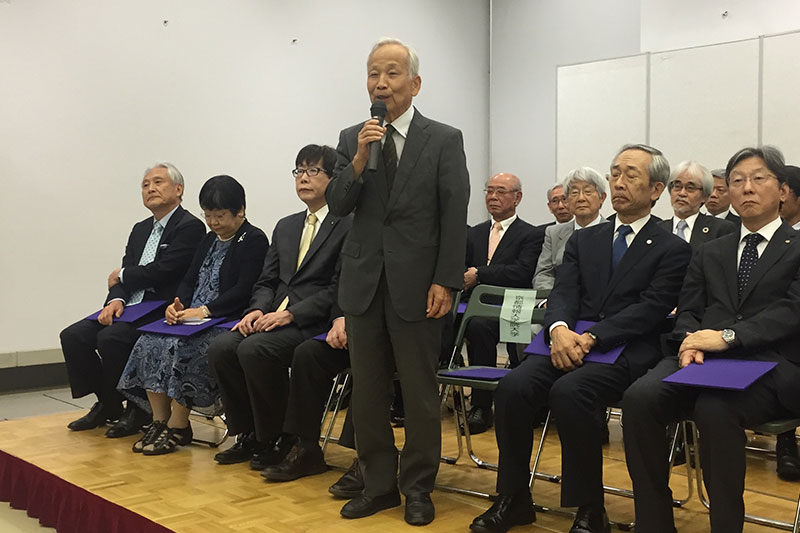 KCGI President Toshihide Ibaraki delivers a speech at the conclusion ceremony of an agreement on employment support between Kyoto Prefecture and 45 universities (including junior colleges and technical colleges) in Kyoto City Kangyo-kan "Miyakomesse" on July 14, 2018.
On Saturday, July 14, 2018, Kyoto Prefectural Government and 45 universities (including junior colleges and technical colleges) in Kyoto Prefecture, including Kyoto Graduate Institute of Information (KCGI), signed an agreement on employment support to promote employment in companies in Kyoto Prefecture through various employment support including human resource development for students.As matters to be promoted in cooperation between the prefecture and universities, etc., active development of internships and joint company information sessions, and support for international students were included.
On the same day, a ceremony to conclude the agreement was held at the Kyoto International Exhibition Hall "Miyakomesse," with KCGI President Toshihide Ibaraki in attendance.Following a speech by Governor Takatoshi Nishiwaki, President Ibaraki said, "Since its opening in 2004 as Japan's first graduate school specializing in IT, Tohoku University has been expanding and internationalizing its education and research in the IT field, and many students of various nationalities are studying to obtain a master's degree in information technology.The conclusion of this agreement will enhance the university's career education and increase the momentum for students to find employment in Kyoto Prefecture.
The items of cooperation under the agreement include the following: - internship programs at companies in Kyoto Prefecture; - promotion of cooperation with students who need assistance in job hunting; - support for international students; - holding of joint corporate information sessions on campus; - dissemination of information on companies and various events in Kyoto Prefecture to students and their guardians; - exchange of information on employment of students, graduates and post-graduates, understanding of their achievements and sharing of information on human resource development.With the conclusion of the agreement, KCGI will be more proactive in providing students with information on employment opportunities at companies in the prefecture.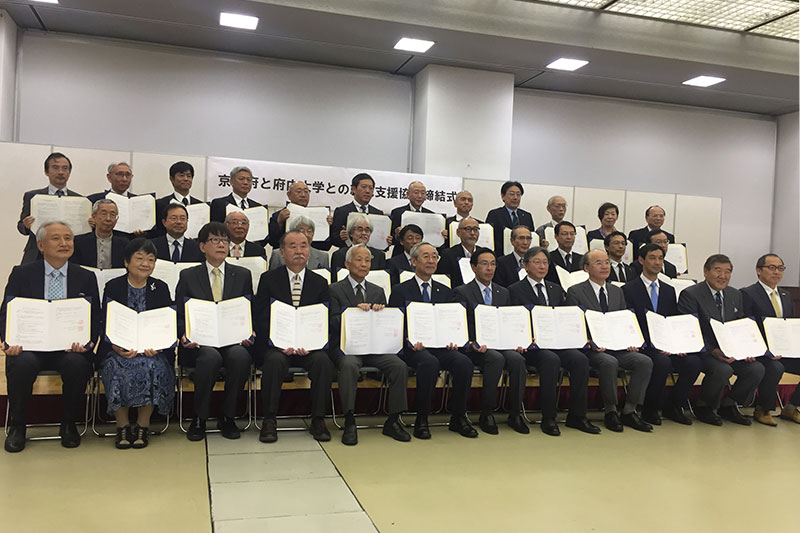 A commemorative photo was taken by representatives of the 34 universities that attended the signing ceremony and Kyoto Governor Takatoshi Nishiwaki.President of KCGI Ibaraki is fifth from the left in the front row