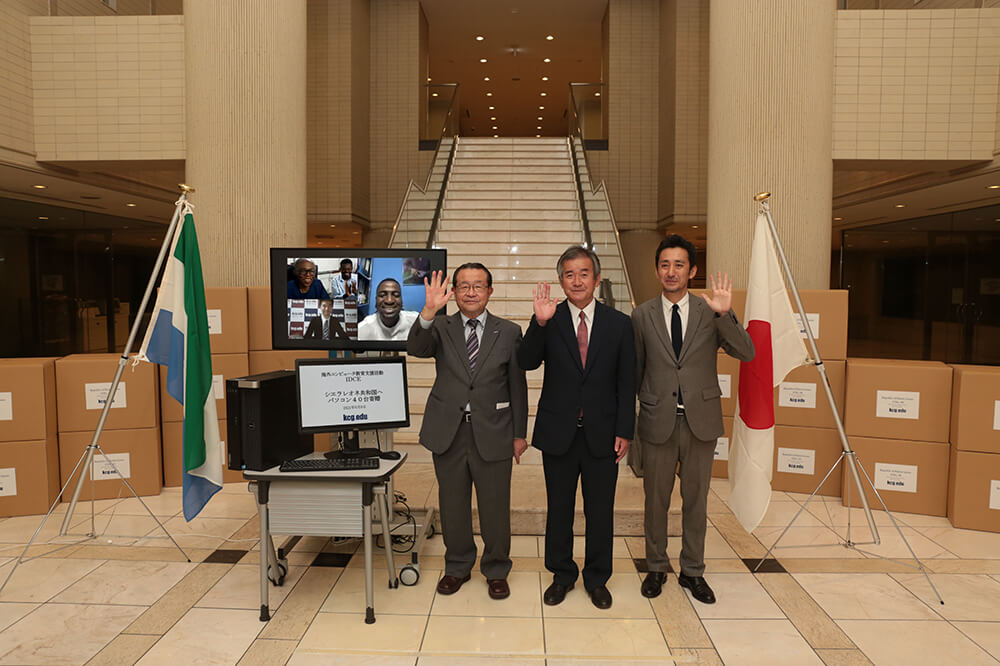 As part of its overseas computer education support activities (IDCE), Kyoto Computer Gakuin (KCG) has decided to donate 40 used PCs to the Republic of Sierra Leone in West Africa, and held an online donation ceremony on September 9, 2021, connecting KCG Kyoto Ekimae Campus and the country.For more than 30 years since 1990, IDCE has been donating PCs used in education to developing countries and providing technical guidance to local teachers.Gawger Komba, who came from Sierra Leone to study at the Kyoto College of Informatics (KCGI) and has been teaching as head of the Department of Management Information Systems, Business IT and Electronics and Telecommunications at the University of Management and Technology (UNIMTECH) there since his completion in September 2016, was instrumental in making this donation.
The ceremony was attended by Dr. Patrick Unisa Taylor, professor and dean of the College of Engineering, Dr. Aruna Bakal, director of the Finance Department, and Mr. Komba from Japan, as well as Yoichi Terashita, vice president of KCGI, and Shozo Naito, professor at the Kamogawa Campus, who had been Mr. Komba's mentor at KCGI.President Taylor and his team expressed their hope that the computer gift will be an encouragement to the country, which is suffering from the spread of the new coronavirus infection, and that it will play an important role in the development of computer science in the country, and expressed their gratitude for the opportunity to meet and thank them in person after the pandemic is over.Due to the new coronavirus, overseas shipping and other services are currently restricted, so we will deliver the PCs to the local authorities in due course, depending on the situation.
Sierra Leone is located on the Atlantic coast of western West Africa and has a population of approximately 7.81 million.Since the end of the civil war in 1991, which lasted more than 11 years, the country has been rebuilding its economy, public finances, and local communities with the support of the international community, while at the same time working to promote computer education throughout the country.The PCs donated by KCG are expected to make a significant contribution to ICT in the country.
IDCE (International Development of Computer Education) is an international computer education support program in which KCG donates PCs used in education to developing countries and Eastern European countries, and trains local teachers to provide instruction.Through IDCE, KCG promotes the creation and dissemination of computer culture on a global scale.