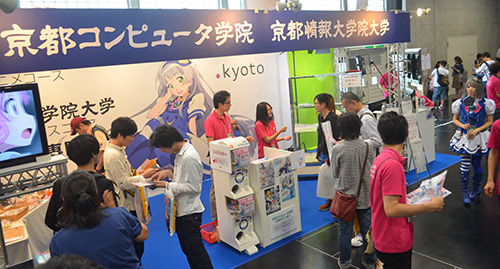 KCG booth at Kyomafu was visited by many people.
September 19 (Kyoto International Manga and Anime Fair (Kyo Mafu) 2015) (sponsored by the same executive committee and Kyoto City) co-sponsored by KCG Group (The Kyoto College of Graduate Studies for Informatics, Kyoto Computer Gakuin, Kyoto Automobile College) Saturday and 20th (Sunday), it was held mainly at the Kyoto City Kogyokan.Many people visited KCG Group's booth.In addition, in the final open screening (held on the 20th) of the related event "Seiyu Tamashii in Kyo-Mafu" (organized by Kyoto International Manga & Anime Fair Executive Committee and supported by KCG Group), the six contestants who passed the second screening showed their proud voices and performances while attracting the attention of many people, including those standing in the audience.The talk show by voice actor Shinichiro Miki was also a lot of fun.
At the booth, gacha of KCG mascot character "Kyokotan" goods will be set up.Gainax Corporation, the company that produced KCG's commercials, also participated in the event, exhibiting original drawings from their anime "Houkago no Pleiades".Clear files of Kyokotan and Houkago no Pleiades will be offered to those who registered to KCG's LINE@.The corner where you can take a picture with the characters was popular among children and anime fans.We also did PR for the geographic name top-level domain ".kyoto", which was created in cyberspace in 2015.
One of the founders of Gainax, Yasuhiro Takeda, Director and General Manager of Animation Production Division, is a professor at Kyoto Institute of Information.
"Seiyu-tama in Kyo-Mafu" is the Kyoto event of "Seiyu-tama", an all-Japan voice acting contest where junior and senior high school students who aim to become voice actors gather.Six students who passed the second screening held at Kyoto Computer Gakuin (KCG) Digital Sound Studio on September 5 participated in the event, and students of KCG Information Processing Department IT Voice Acting Course were in charge of the MC.The judges were Mr. Hideo Momota, Director of the International Association for Voice Actor Development, Mr. Shinichiro Miki, a voice actor, and Professor Akiyoshi Watanabe of Kyoto Institute of Information.The winner of the Grand Prize was given the right to participate in the 4th Seiyu Tamashii Final to be held in Tokyo on November 22.Mr. Miki, who gave a light-hearted talk along with the screening, is active in many works such as the role of Kojiro in the "Pokemon" series, the role of Toshizo Hijikata in the "Hakuoki" series, and the role of Aikuro Mikisugi in the "Kill la Kill" series.
For results and more information, please visit the "Soul of Voice Acting" page: http://seidama.jp/
Prior to KYOMAFU, "CG ANI CUP 2015 Japan × Taiwan" (organized by KCG, DOGA Corporation and KYOTO CMEX Executive Committee) was held as a pre-event at KCG on September 6.
Kyoto International Manga & Anime Fair (KyoMafu) 2015 KCG related events
http://www.kcg.ac.jp/event/kyomaf2015.html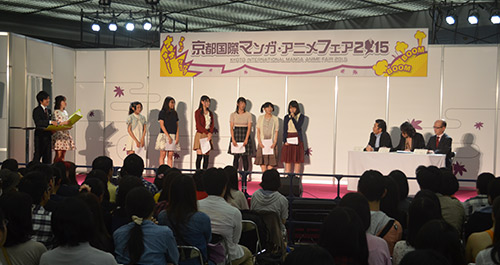 At the "Voice Actor Spirit in Kyoto Mafu", 6 people who passed the second screening showed their proud voices and performances.