On July 21 (Sun.), "Vocaloid, Yurukyara and Idol: Evolution of Expression", the fourth talk live on the theme of "Me and IT", was held at Kyoto Computer Gakuin (KCG) Kyoto Station School in commemoration of the 50th anniversary of KCG Group.The guests are: Minami Momochi, an anime song DJ; LOLI.COM, a multi-creator who performs vocals, raps, chorus, lyrics, compositions, and arrangements; and Teruhiko, an unofficial local character of Hakodate City, Hokkaido (former local mascot character Manbukun).We talked about the relationship with IT and the future of the smart society (Teruhiko-san said on Twitter).As the three members, who are popular on Nico Nico Douga and Twitter, appeared on stage, many ordinary fans visited the venue in addition to the Open Campus participants.
Momochi, the world's first animated idol, says that she had little to do with IT when she was a child, as she didn't have a computer at home.After moving to Tokyo and making his debut on Nico Nico Douga in 2009, his character spread over the Internet and is now a popular figure with fans all over the world.I used to have a complex about my voice, but when a staff member recommended me to sing, I got a lot of support from people.It's surprising how many things we can accept, even things we'd rather keep locked away.I learned to challenge rather than limit myself," he said, referring to his experience.The Internet is a tool that allows me to express my feelings freely and to upgrade myself through various discoveries.Why don't you jump in without hesitation?
On the other hand, LOLI.COM has been familiar with IT since he was a child, using a computer since he was four years old because of his father's work. He started composing music on a computer when he was in the first year of junior high school.He made his major debut in 2012, and now has many fans as a multi-creator who can not only compose music but also sing, rap, chorus, and write lyrics.He said he always wanted to incorporate rap and funky elements into his music.LOLI.COM, who says, "IT came first, and then I entered the world of music," has a message for the smart society: "I want you to use IT to dig yourself deeper and deeper," but also says, "In the open world of today's Internet society, you tend to flow in the easy direction.For example, there is a tendency to choose only easy communication, and to be poor at building the essential analog human relationships, which must be avoided.
Teruhiko is working hard to revitalize Hokkaido, including Hakodate, and is currently holding a nationwide tour called the Teruhiko Festival.His real name is Teruhiko Ohashi and his age is 9 years old.In this talk live, he gave a series of unique "inserts" on Twitter to the talks of the other three, which drew laughter from the audience.As a message to IT students, he said with a little joke, "IT is a kind of tool to make what has been hard work easy.I don't think IT is about simplifying our lives and creating ease," he said.
LOLI.COM sang an impromptu song and Momochi danced, and visitors had a good time being healed by each character.
Talk Live "Me and IT" Series Vol.4 "Vocaloids, Yurukyara and Idols: Evolutionary Systems of Expression
http://kcg.edu/50th/events/私とit桃知みなみ loricom-teruhiko/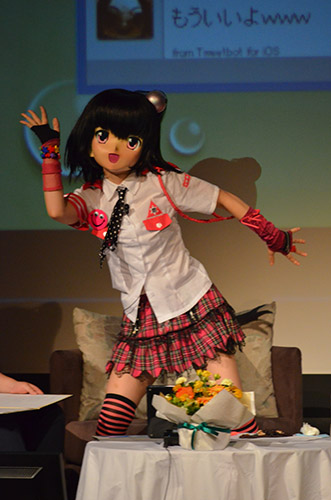 Minami Momouchi performing a dance.