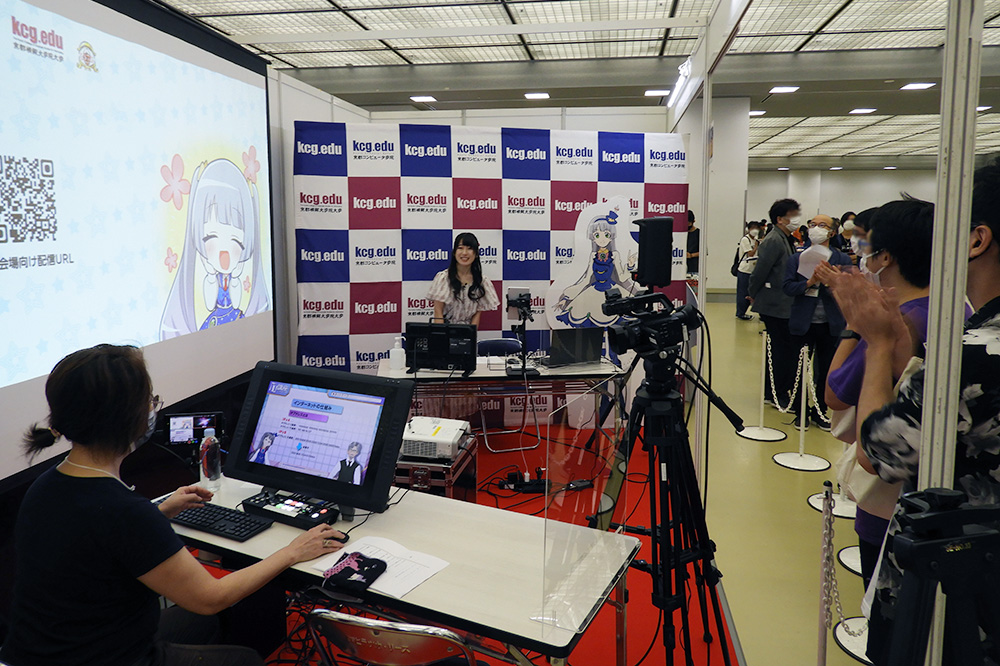 The Kyoto International Manga/Anime Fair (KIMAF) 2022, the largest manga/anime convention in western Japan, was jointly organized by Kyoto Computer Gakuin (KCG) and Kyoto College of Graphic Arts (KCGI), and was held on September 17 (Sat) and 18 (Sun), mainly at the Kyoto Municipal Industrial Exhibition Hall (Miyakomesse).At the KCG Group booth, the content was changed from the original plan, and a talk show was held with science fiction author Hiroe Suga, who teaches a "story writing" course at KCGI, and KCG's mascot character "Kyokotan" played by popular voice actor Yuki Nagano, creating a large circle at the booth.The event was also broadcast live on YouTube Live, a video sharing service, and was watched by many people.
KYOMAFU is held annually for the purpose of promoting the content industry, fostering the development of manga and anime artists, and disseminating information overseas.This year, 64 companies and organizations exhibited under the keyword "next," looking ahead to the next 10 years.Amidst the thorough prevention of the spread of the new coronavirus, the exhibition was overflowing with enthusiasm as fans came to enjoy their favorite character goods and exhibits.
The talk show at the KCG booth on the 17th featured topics such as the V-tuber system, "Kyokotan," and Ms. Nagano's life as a voice actor, and she also mentioned the IT Voice Actor Course in the Information Processing Department that KCG has established.On the 18th, Mr. Suga gave a private lesson to V-tuber "Kyokotan" on the basics and tricks of storytelling.The two talking were shown on the screen.Nagano's richly expressive performance as Kyokotan delighted the many fans, audience members, and "YouTube Live" viewers who visited the event.In addition to the four talk shows, the booth also featured a V-tuber experience, school introductions, and movie showings of commercials.
Ms. Nagano has appeared in many anime and video games, including "Ore Dake Dake Neri Okureta Kakushi Dungeon" (as Alice) and "THE IDOLM@STER CINDERELLA GIRLS GEKIJO Extra Stage" (as Rena Koseki).He also plays the role of "Kyokotan" in the contents of the "IT course" in the collaboration project between KCG and Kyoto Subaru High School, a technical college in Kyoto Prefecture.
The talk show can be viewed at the following URL
Kyoto International Manga Anime Fair 2022 | Event Information | Kyoto Computer Gakuin
https://www.kcg.ac.jp/event/kyomaf2022.html