Mr. Shigeto Okuda, a graduate of the Department of Media and Information Studies at KCGI (admitted in April 2011), passed the "Project Manager (PM) Exam," one of the difficult and advanced exams (Skill Level 4) in the April 2012 exam for information processing engineers authorized by the Ministry of Economy, Trade and Industry.Mr. Okuda said, "In addition to my experience as a working adult, I thoroughly learned how to write papers after enrolling at KCGI and repeated the writing process, which I believe led to my success.I would like to try to put it into practice in the future," he said.
Level 4 of the Information Technology Engineer Examination includes nine specialized field examinations.In contrast to the "specialist" examinations, which generally test analytical skills and knowledge, the "project manager" examination is said to be a "paper-based" examination, with questions such as how to solve a problem in a certain project in approximately 3,500 words in two hours.After entering KCGI, Ms. Okuda improved her paper writing skills by submitting papers to the NAIS Journal, a collection of papers published by the Japan Chapter of the Association for Information Systems (NAIS: an office within KCGI), and was successfully accepted at her first attempt.
After graduating from KCG, Mr. Okuda worked as a programmer for about eight and a half years.I quit my job and enrolled at KCGI because I wanted to improve my career.Mr. Okuda said, "During my working years, I participated in several projects, but I longed for the job of a manager who runs the entire business.Now that I have passed the exam and have gained confidence, I would like to take on projects related to e-books and consulting work in the future," he said.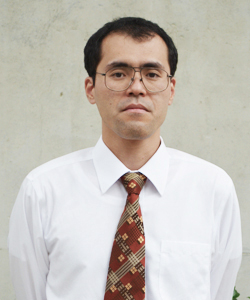 Shigeto Okuda