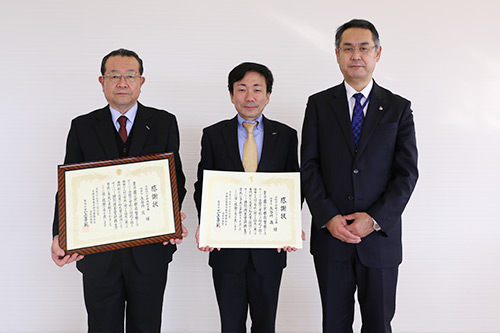 KCG Chancellor Akira Hasegawa and KCGI Vice President Yoichi Terashita receive a letter of appreciation from Yoshinori Mikami, Kyoto Prefectural Police Kyoto City Police Chief (right), on December 11, 2017 at KCG Kyoto Ekimae Campus and KCGI Kyoto Ekimae Satellite.
From the Kyoto Prefectural Police Headquarters, KCG December 11, 2017, from Kyoto Computer Gakuin (KCG) and The Kyoto College of Graduate Studies for Informatics (KCGI), which has an "Agreement on the Development of Excellent Human Resources to Respond to Cyberspace Threats" Thanks to group training, many police officers were awarded letters of thanks to KCG and KCGI for passing the Information Technology Engineer Examination Basic Information Engineer Examination.Since the agreement was signed in May 2016, professors and faculty members from the KCG Group have been visiting the Kyoto Prefectural Police to teach classes, and the effects of these visits have been remarkable.We were able to contribute to the development of human resources capable of dealing with cyber crimes, which are becoming more malicious and on the rise.
On this day, Yoshinori Mikami, Director of the Police Department of Kyoto City and Security Officer of the Kyoto Prefectural Police, handed a letter of appreciation to KCG Chancellor Akira Hasegawa and KCGI Vice President Yoichi Terashita at KCG Kyoto Ekimae School and KCGI Kyoto Ekimae Satellite.
The Kyoto Prefectural Police established a program in 2014 to train cyber special investigators to accurately deal with cyber crimes that abuse communication technology, and is now in its third term of continued training.As a result of the agreement, basic IT (ICT) classes at KCG and KCGI were incorporated into the training curriculum from the second term.He is also taking the KCG Summer Course in preparation for the Basic Information Technology Engineer Examination.The Kyoto Prefectural Police believe that by having trainees learn basic IT (ICT) knowledge and skills from an early stage, they can effectively train personnel to deal with threats in cyberspace.Since the start of the KCG Group training program, six students have passed the Basic Information Technology Engineer exam and one has passed the Network Specialist exam.
In addition, as part of mutual exchanges, KCG and KCGI students will observe and experience police work, and police officers working on the front lines are scheduled to hold classes at KCG and KCGI as lecturers.
In March 2017, Professor Shozo Naito of KCGI, who had been training cyber special agents for the Kyoto Prefectural Police, was presented with a certificate of appreciation for his contributions.In 2014, the prefectural police established the "Kyoto Cybercrime Study Group" consisting of 31 members from 22 organizations including universities, research institutes, and information and telecommunications companies, with the aim of improving cyber investigation capabilities and establishing a cyber special agent system.