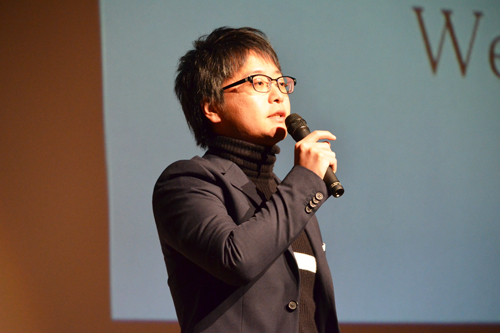 Michio Saku speaks about regional development through video
On January 14, the Kyoto Information Industry Association, chaired by Wataru Hasegawa, president of The Kyoto College of Graduate Studies for Informatics (KCGI) and Kyoto Computer Gakuin (KCG), held a New Year seminar at the Kyoto Station Satellite Hall of Kyoto Institute of Information Science.Sakumichi is a native of Osaka Prefecture. After graduating from Kyoto University, he launched the theater company "Moon Croissant" in 2011 and produced the drama series "Nostalgia" broadcast on KBS Kyoto in 2013 as a theater company.He wrote the screenplay for "Mother Lake," a film set in Shiga Prefecture to be released this summer, and is currently working to revitalize the local community through visual images in Miyama-cho, Nantan City, Kyoto Prefecture.
In his lecture, Mr. Sakumichi talked about how local creation and regional revitalization can be achieved mainly through the utilization of images, while the opportunities for both access to images and for producing and transmitting images are dramatically increasing due to the spread of the Internet and the low prices of image-related equipment, using his own experiences.The first film we featured was "Mother Lake," which depicts the adventures of a group of children during one summer, beginning with the sighting of a mysterious creature in Lake Biwa.Sakumichi said he sees the film as a "local revitalization film," and hopes to raise the profile of Shiga Prefecture and encourage tourists to visit the area by auditioning actors and filming all locations in Shiga Prefecture, with funding from local businesses, and by submitting the film to film festivals around the world.Mother Lake" will be shown in Shiga Prefecture in the summer of 2016.
He then discussed the theme of how a region with no famous tourist attractions or products can create local development through video, and introduced an attempt in Miyama Town, Nantan City, which has a population of approximately 4,500 people.The method that Mr. Sakumichi implements there is to have local people take a camera and introduce their favorite places on film, with the keyword of "live" in the community.Because the videos are shot by local people who are not professional filmmakers, they are produced without artifice, and the affection for the region is expressed honestly.
The boundary between professional and non-professional video expression is narrowing as the barriers to video production are becoming lower, and the general public can more easily transmit video through the Internet.Mr. Sakumichi concluded his lecture by urging local people to take advantage of this opportunity brought about by the spread of information technology to proactively communicate the charms of their community through video images.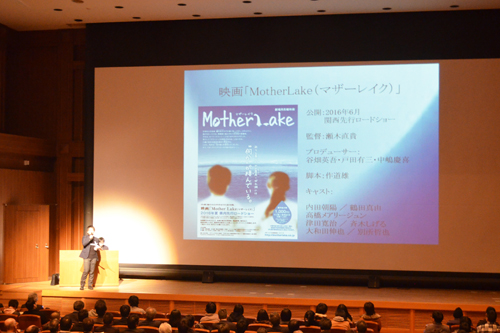 Introduction of the film "Mother Lake" written by Sakumichi