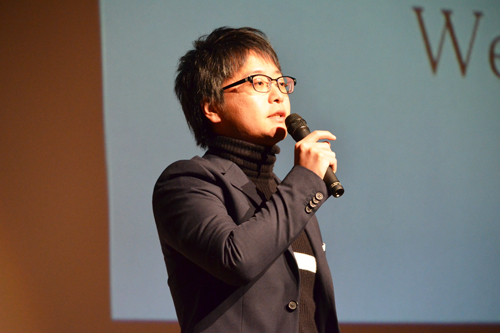 Mr. Sakudo talking about regional revitalization through video
Kyoto University of Information Science (KCGI) and Kyoto Computer Gakuin (KCG) Chairman Wataru Hasegawa, Chairman of the Board, Chairman of the Kyoto Information Industry Association, January 14 Opened in the hall, Yutaka Sakudo, the director / director / producer of Creative Studio Gettsukuro Co., Ltd., entitled "21st Century Video: With the Spread of IT" Lectures were given and many KCG students and ordinary people attended.Mr. Sakudo was born in Osaka Prefecture. After graduating from Kyoto University, he raised the theater company "Moon Croissant" in 2011, and in 2013, produced the drama "Nostalgia" broadcast in KBS Kyoto.I am in charge of the script for the movie "Mother Lake" set in Shiga Prefecture, which will be released this summer, and I am currently working on regional revitalization with images in Miyama-cho, Nantan-shi, Kyoto.
In the lecture, Mr. Sakudo mainly made use of the video as the opportunity to touch the video and the opportunity to produce and transmit the video increased dramatically due to the spread of the Internet and the reduction in the price of video related equipment. I talked about how local revitalization and regional activation can be done with my own experiences.The first movie I took up was "Mother Lake", which depicts a children's summer adventure, starting with witnessing a mysterious creature on Lake Biwa.Mr. Sakudo regards this work as a "regional revitalization movie" and is based on the investment of local companies. He said that he wanted tourists to visit the area."Mother Lake" will be released sequentially in the summer of 2016 with a pre-road show in Shiga Prefecture.
Next, the theme of how to create a regional revitalization through video footage of prominent tourist spots and local specialties is taken up, and an attempt at Miyama-cho, Nantan City, with a population of about 4,500 people Introduced.The method that Mr. Saku is practicing there is to have a local person bring a camera and introduce his / her favorite place on the video, using the local "live feeling" as a keyword.Because it is a video taken by local people who are not video professionals, there is a production that is not artificial, and the attachment to the area comes out straight. ,It aims to increase the number of migrants.
The threshold for video production is now low, and the boundaries of video expression between professionals and non-professionals are narrowing, and it is an era in which ordinary people can transmit video more easily through the Internet. An example of this is the increased opportunities for local broadcasters to create programs through crowdfunding.Using this opportunity brought about by the spread of IT, Mr. Sakudo gave a lecture, saying that people in the region would like to proactively transmit the charm of the region through video.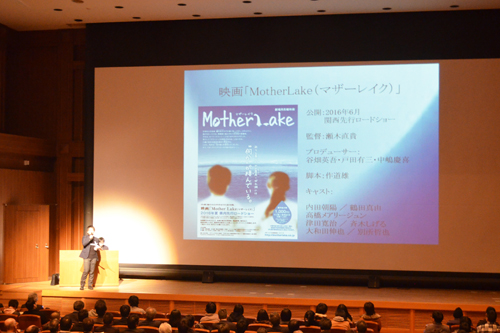 Introduction of the movie `` Mother Lake '' in which Mr. Sakudo was in charge of the script