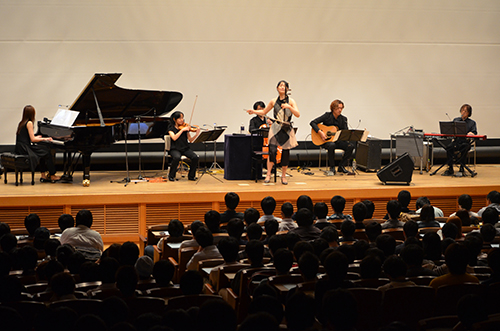 An erhu concert by Kanae Nozawa with a fantastic and delicate sound
KCG Group (The Kyoto College of Graduate Studies for Informatics, Kyoto Computer Gakuin, Kyoto Automobile College, etc.) May 21 (Thursday) 2015, Eriko concert "Sounds and reflections" performed by Kanae Nozawa Held in the concert hall.Japan's leading erhu player Nozawa is from Ms. Mirage Furugaki (piano), Tomoyoshi Watanabe (guitar), Ms. Tsuji (violin), Mio Shinozaki (cello), and Tamaya Terashima (keyboard). Along with the performance, the songs of the album "PLANET" released last year were presented, and the fantastic and delicate tone of erhu resonated deeply in the hearts of students and many general people who visited.
Erhu is one of the representatives of Chinese folk instruments, and it has rapidly spread in Japan over the past decade.Mr. Nozawa made his first major debut as a Japanese erhu player in January 2007 and continues to perform in Japan and overseas.On October 10, 2014, I was in charge of erhu and vocal at the 50th anniversary concert "MUΣA" held at Kyoto Computer Gakuin.
On this day, he played 6 songs including Nozawa-san's "shizuku" and Terashima-san's "Ged Senki ~ Journey".On the way, there was a mini-lecture "About video and music" by Terashima.It seemed that students and the general public were intrigued that the image of the anime changed dramatically with the song.Mr. Nozawa called out, "I'm glad that we can have an opportunity to collaborate with students on video and music like this time."
Kanae Nozawa Erhu Concert "Playing Sounds / Scenery"
http://www.kcg.ac.jp/event/concert20150521.html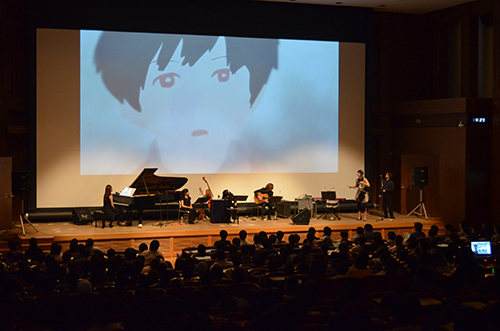 In the mini-lecture "About Video and Music" by Tamaya Terashima, Terashima performed various songs on the animation made by KCG graduates.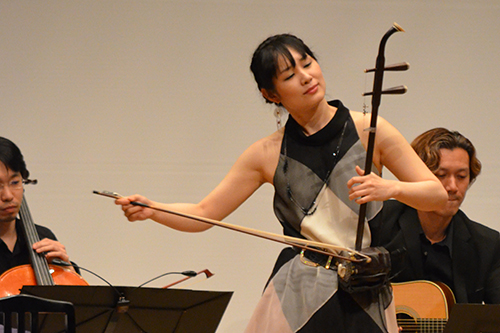 Nozawa is one of Japan's leading erhu players.We invited KCG students to collaborate on video and music