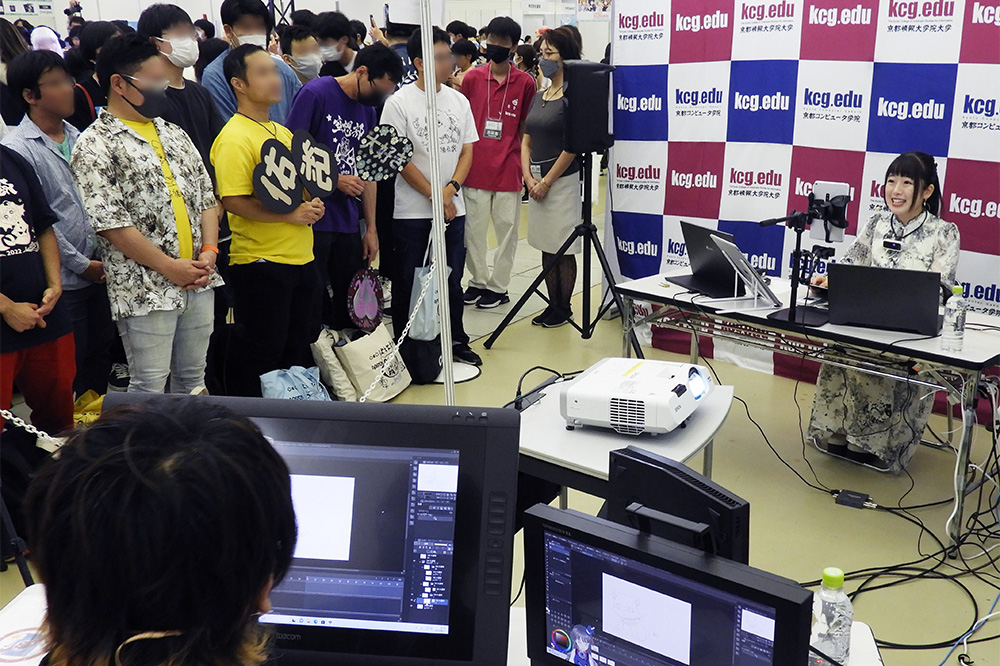 The Kyoto International Manga/Anime Fair (KYOMAF) 2023, one of the largest manga/anime-related events in western Japan, was jointly organized by Kyoto Computer Gakuin (KCG) and Kyoto College of Graphic Arts (KCGI), and was held on Saturday, September 16 and Sunday, September 17, mainly at the Kyoto Municipal Industrial Promotion Hall (Miyakomesse).At the KCG Group booth, Akihiko Ota, a leading professional animator, performed a live drawing session hosted and facilitated by Yuki Nagano, a popular voice actor, which was also broadcast on YouTube Live.The booth was filled with many fans.
KYOMAFU is held every year for the purpose of promoting the contents industry, fostering leaders in the manga and anime industries, and disseminating information overseas.This year, a record number of 74 companies and organizations exhibited, and the venue was filled with excitement as fans came to enjoy their favorite character goods and exhibits.
At the KCG booth, Mr. Ota demonstrated digital drawing using an LCD tablet with explanations.Ms. Nagano, dressed as V-tuber Kyokotan, the mascot character of the KCG Group, entertained the large number of visitors and YouTube Live viewers with her rich and cheerful expressions.There was also a rock-paper-scissors-paper tournament over an illustrated autograph prepared by Mr. Nagano.
On the 17th, "Talk by Yukari Fukui, Mitsuo Iwata, Yuko Miyamura and Yuki Nagano & Reading by Hiroe Suga "Sobakasu no figurine"" by GAINAX Kyoto Corporation, of which Professor Yasuhiro Takeda is the president, was held on the Miyakomesse stage, supported by KCG Group.After the stage, the voice actors who appeared on stage visited the KCG booth.
Mr. Ota, an animator, is the representative of "Shiroani, Studio PaTHoS." Based on his experience in animation production, including video inspection, original picture, and direction, he provides his know-how to those who are interested in making animation.Ms. Nagano, a voice actress, has appeared in many anime and video games, including "Ore no Dake Dareru Kakushi Dungeon" (as Alice) and "THE IDOLM@STER CINDERELLA GIRLS GEKIJO Extra Stage" (as Rena Koseki).He also plays the role of "Kyokotan" in the contents of the "IT course" in the collaboration project between KCG and Kyoto Subaru High School, a technical college in Kyoto Prefecture.
The animation lecture can be viewed below.
https://www.kcg.ac.jp/event/kyomaf2023.html
KYOMAFU official website
https://kyomaf.kyoto/