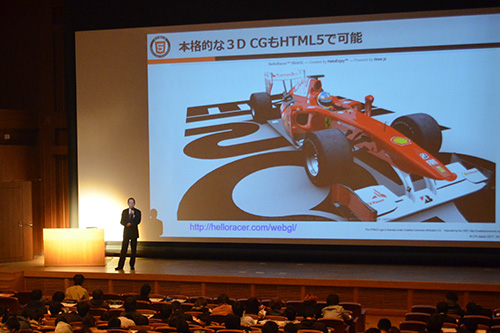 Director of the NPO LPI Japan, who gives a lecture entitled "New World Created by HTML5", Chairman Genji Narui = December 1, 2017, Kyoto University Graduate School Kyoto Ekimae Satellite Hall
On December 1, 2017, a special lecture to learn in detail about HTML5, which is the mainstream in the language used for Web technology, and a culture culture class were held at the Kyoto Information University (KCGI) Kyoto Ekimae Satellite Grand Hall. KCG 's title is "New World Created by HTML5" by Dr. Gen Narui, LPI Japan (Minato-ku, Tokyo, LPI-Japan), a non-profit organization that conducts the HTML5 Professional Certification Exam. I talked to the students."In contrast to Java and other languages, HTML5 is a language that can realize functions not found in conventional browsers, from graphics to communication.The IT industry is now looking for people with creative skills as well as technology.Learning and qualifying HTML5 will not only help you get a job, but it will also help you in the future. "
KCGI and KCG were highly evaluated for their outstanding achievements in IT and Web professional education. In November 2016, the first LPI-Japan HTML5 Academic Accredited School in Kansai. have become.For the next year or so, we provide high-quality education to students aiming to acquire the HTML5 Professional Certification, and actively develop activities that contribute to the development of Web professionals and the expansion of the HTML5 business. .From March 6th to March 10th, 2017, an intensive course "Practical HTML5 Application Development" was opened for general public.
In the lecture, Mr. Narii explained that Steve Jobs of Apple Inc. in the US has succeeded in adopting HTML5 early in 2010, and that many companies have recently migrated in-house core systems to HTML5. "The creative market such as IT plus video and music is huge.HTML5 is a language that can realize them.Please challenge yourself to acquire qualifications. "