Mr. Takao Yajima, Group Manager, Information Planning Group, Matsushita Electric Industrial Co., Ltd. was invited to give a special lecture at NAIS on June 12 at The Kyoto College of Graduate Studies for Informatics, Hyakumanben Campus.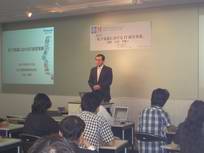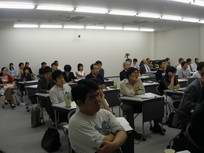 About 70 people, including NAIS members and students from Kyoto University of Information Science and Technology and Kyoto Computer Gakuin, attended the lecture and listened to how Matsushita recovered from an operating deficit in 2001 to a 460 billion yen profit in 2006 through management reform using IT.Under the strong leadership of then new President Nakamura, the Matsushita Group had been slow and heavy due to competition and the dispersion of management resources.
What was particularly interesting to those of us who study IT and management was the fact that the top management itself promoted IT innovation, saying, "There is no management reform without IT innovation," and achieved the above management reform.This was based on the management experience of then President Nakamura at Matsushita in the U.S., which was the basis for the creation of a management control system that should be used by Japanese global companies.
Harufumi Ueda