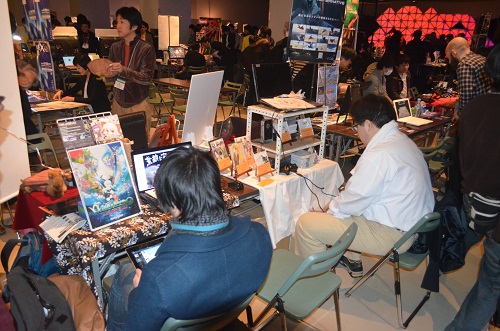 BitSummit 2014 - Kyoto Indie Game Festival -", where 117 indie game developers, the largest number in Japan, exhibited.
"BitSummit 2014 -Kyoto Indie Game Festival-", which is the largest in Japan with 117 indie game development companies (persons) exhibiting, was held at "Miyako Messe" in Okazaki, Sakyo-ku, Kyoto, on March 8th and 9th. , The Kyoto College of Graduate Studies for Informatics (KCGI) and Kyoto Computer Gakuin (KCG) participated as members of the organizer BITSUMMIT executive committee.The KCG booth, which introduced original games, attracted a large number of game fans.
The opening ceremony was held on the 7th, which was open only to the media. As a member of the organizers, KCGI/KCG President Wataru Hasegawa joined Vice Governor Akimasa Yamashita of Kyoto Prefecture and Shigeru Saito, President of Tose Corporation, on stage to pledge the success of the event.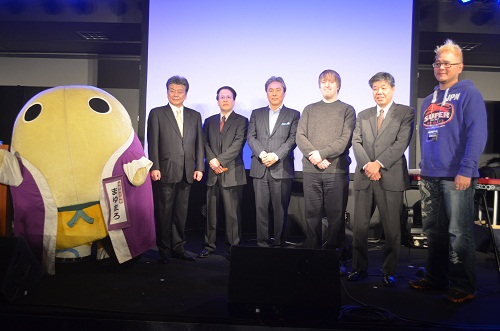 Wataru Hasegawa, President of KCGI and KCG General Director (to the right of "Mayumaro," Kyoto Prefectural Public Relations Officer), speaks at the opening ceremony.
The event featured a wide variety of advanced indie games in genres ranging from role-playing, adventure, action, shooting, puzzle, AR, GPS, and more, and fans were able to experience them at each booth.The stage events, featuring a wide variety of guests, were also a great success, creating a cool and stylish world where indie games are hidden.From the KCG Group, many students and faculty members, mainly from the digital game (D) department, participated as staff members and played a role in the success of the event.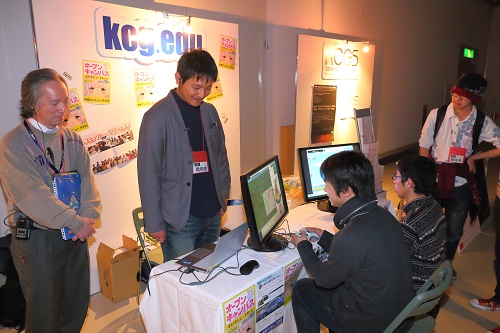 The KCG booth attracted a large number of game fans.