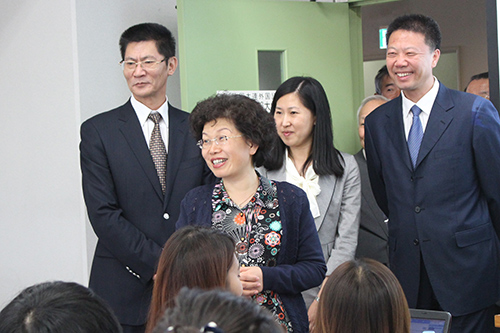 Vice Mayor Zhu and others from Dalian, China, visit KCG Kyoto Ekimae School, October 7, 2015.
Five members of the city hall, including Deputy Mayor Zhu Deqing, Dalian, China, visited The Kyoto College of Graduate Studies for Informatics (KCGI) Kyoto Station Satellite = Kyoto Computer Academy (KCG) Kyoto Station School = October 7, 2015. Mr. Toshihide Ibaraki, Vice President Yoichi Terashita, and Akira Hasegawa, President of KCG, confirmed that they will continue to work together to develop IT human resources.
In Dalian, there are 10 schools affiliated with the KCG Group, including Dalian University of Foreign Languages, Dalian University, and Dalian Maritime University, with which we have long had a close relationship.At that time, KCGI was offering a short-term training program for students from the Soft Case Institute of Dalian University of Foreign Languages.
Deputy Mayor Zhu and his colleagues visited the Kyoto Station School, including the KCG Resource Center where valuable computers of the past are preserved and exhibited, training rooms and classrooms, the Kyoto Station Satellite Main Hall of the The Kyoto College of Graduate Studies for Informatics, and the KCG Automotive Control Department Training Room.After that, they watched a DVD of KCGI and learned more about our university.During the meeting, KCG reported on the status of its partnerships with schools in Dalian and promised to continue to actively promote personnel exchanges while strengthening relations.In addition, we have decided to engage in joint research and business development related to .kyoto, the top-level geographic name domain for which the Cyber Kyoto Institute of Kyoto University serves as the registry.