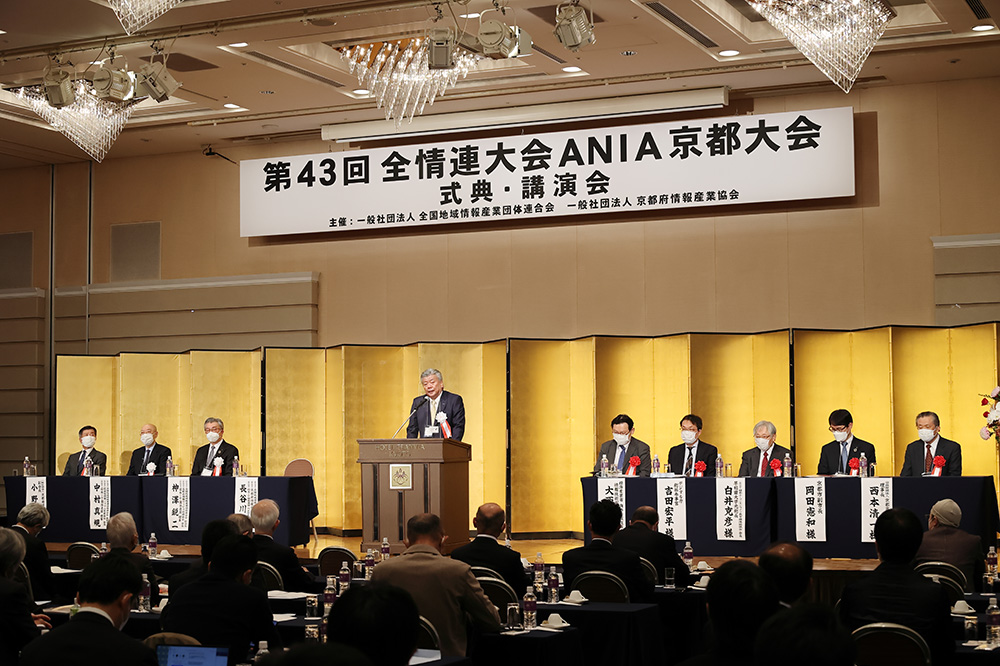 The All Nippon Association of Regional Information Industry Associations (ANIA), which has its secretariat within the KCG Group, including Kyoto Computer Gakuin and Kyoto Computer Guraduate School of Information Sciences, and is chaired by KCG Group President Wataru Hasegawa, held its 43rd ANIA Kyoto Congress on November 17, 2022, at Hotel Granvia Kyoto in Kyoto City.A large number of members and related persons gathered from all over Japan to study and interact with each other, and to pledge that the ICT (Information and Communication Technology) industry will contribute to Japan's economic development while disseminating information from Kyoto to the world and into the future.The conference was cancelled the year before last due to the new coronavirus infection, and last year the lectures were held online. This year, the conference was held in a face-to-face format for the first time in three years, with sufficient infection control measures in place.The Kyoto Information Industry Association (KIA), approved by Kyoto Prefecture (Chairman: Wataru Hasegawa), served as host.
At the beginning of the meeting, Chairman Hasegawa stated, "I am convinced that the active use of ICT will surely lead to solutions to various problems in the current severe social and economic climate.ANIA and the IT Alliance (Association of Japanese IT Associations: approximately 5,000 member companies with 4 million employees) are committed to cooperate as much as possible toward the realization of a digital society through active exchange of information and opinions among our members," he said in his opening remarks.Guests of honor included Mr. Keiji Ohnishi, Director, Information Technology Utilization Promotion Division, Commerce and Information Policy Bureau, Ministry of Economy, Trade and Industry; Mr. Kohei Yoshida, Chief Counselor, Digital Agency; Mr. Katsuhiko Shirai, Chairman, Japan Open Online Education Promotion Council (former President, Waseda University); Mr. Daisaku Kadokawa, Mayor of Kyoto City (Mr. Norikazu Okada, Deputy Mayor of Kyoto City); and Mr. Kiyokazu Nishimoto, President, Kyoto Institute of Advanced Technology Foundation, who offered congratulatory remarks.There were also awards for ANIA's outstanding officials.
After this, Mr. Yoichiro Miyake, General Manager of AI Department, Square Enix Corporation, gave a keynote speech titled "Game AI and Smart City = Metaverse".He introduced the state-of-the-art IT situation and the attendees listened to him attentively.Students of Kyoto Computer Gakuin Digital Game Studies also participated.Then, Ms. Karen Makishima, former Minister of Digital and a member of the House of Representatives, gave a special video lecture titled "Japan's Digital Policy: A Review of My 10 Months as Minister of Digital," in which she stated emphatically that she would continue to promote digitalization to make people's lives more convenient and to keep the digital environment fun and fair.A reception was held afterwards, and Mr. Norihiko Mino, Director of the Information Integration Division, RIKEN, and Chairman of the IT Consortium Kyoto, gave a congratulatory speech at the beginning of the reception.Participants enjoyed a friendly atmosphere of fellowship.