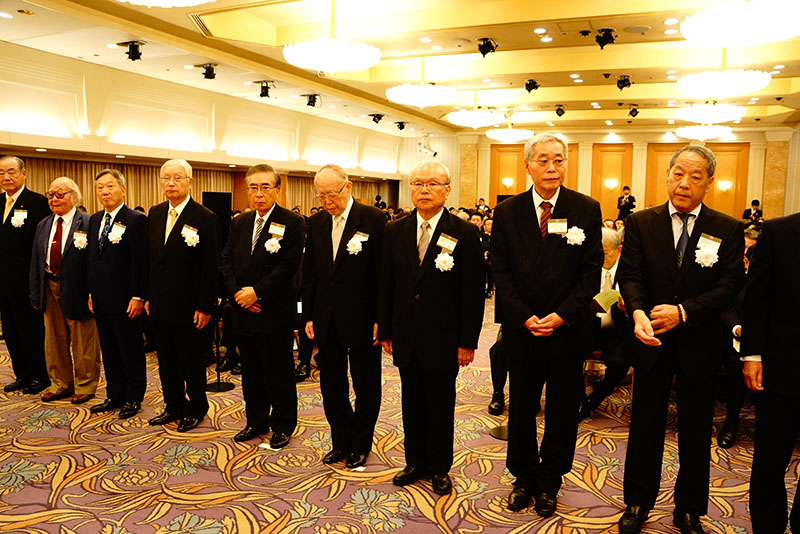 Prof. Toshio Okamoto KCGI (second from right) selected for the Invention Encouragement Achievement Award of the Invention Association.June 2018, Hotel Okura Tokyo)
Prof. Toshio Okamoto of Kyoto University of Information Studies (KCGI) recently announced the National Invention Awards of the Invention Association of Japan (President: Masahito Hitachimiya) (Ministry of Education, Culture, Sports, Science and Technology, Ministry of Economy, Trade and Industry, Patent Office, Japan Economic Association) , Japan Chamber of Commerce and Industry, Japan Patent Attorneys Association, sponsored by Asahi Shimbun)Congratulations Dr. Okamoto.
The Invention Association for the purpose of contributing to the improvement of Japan's science and technology and the promotion of industry by awarding those who have completed excellent inventions and those who have contributed to the guidance, encouragement and development of inventions. The award set by Dr. Okamoto's daily research results was highly appreciated.Prof. Okamoto attended the award ceremony recently held at Hotel Okura Tokyo (Minato-ku) and received the award.
Prof. Okamoto has served as a member of the Jury Committee for All-Japan Students' Inventions organized by the Invention Association, and is an emeritus professor at the University of Electro-Communications.