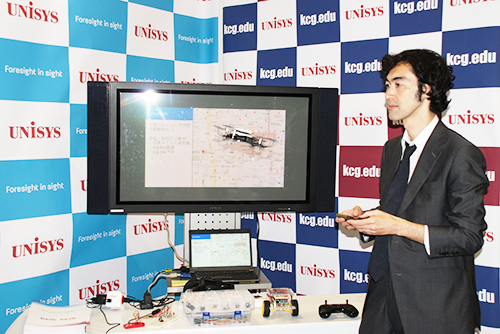 The "Future Environment Lab" exhibited for the first time at the Chushin Business Fair held on October 17 and 18, 2018.
The "Future Environment Laboratory" established by Kyoto Computer Gakuin (KCG) and Kyoto College of Information Institute (KCGI) in collaboration with the General Technology Research Institute of Nihon Unisys, a major IT service provider, exhibited for the first time at the "Chushin Business Fair" held on October 17 (Wed.) and 18 (Thu.), 2018.At the fair, there was a lot of interest in the latest IT, and many visitors stopped by the Future Environment Lab corner and asked many questions to the staff.
The fair is sponsored by the Kyoto Chuo Shinkin Bank and supported by the Kansai Bureau of Economy, Trade and Industry, Kyoto Prefectural Government, Kyoto City Government and others.The corner of the Future Environment Lab was set up in a corner of the Nihon Unisys booth in the main exhibition hall of the Kyoto Prefectural Trade Fair Hall (Kyoto Pulse Plaza) in Fushimi Ward, Kyoto City.The catchphrase of the project was "Imagining the future and prototyping the future with current technology".
At the corner, the daily activities of the Future Environment Lab are introduced with slides and movies.Nihon Unisys researchers and KCG faculty members gave explanations to the visitors.In addition to videos introducing the lab's activities, such as hackathons and technology exchange meetings, and research and development activities, such as a DIY automated driving kit based on object recognition technology, we also displayed equipment currently in use at the lab, including mini-drones and electronic construction kits.A demonstration flight of a mini-drone was also held, attracting the interest of many visitors.
In February 2017, the KCG Group established the "Future Environment Laboratory" on campus as a creative project in collaboration with Nihon Unisys' General Technology Research Institute to foster the next generation of IT human resources through industry-university cooperation.Students who will play active roles in the IT industry of the future are making full use of their flexible ideas and creativity, and are engaged in a variety of research and academic collaborations with researchers from IT companies.