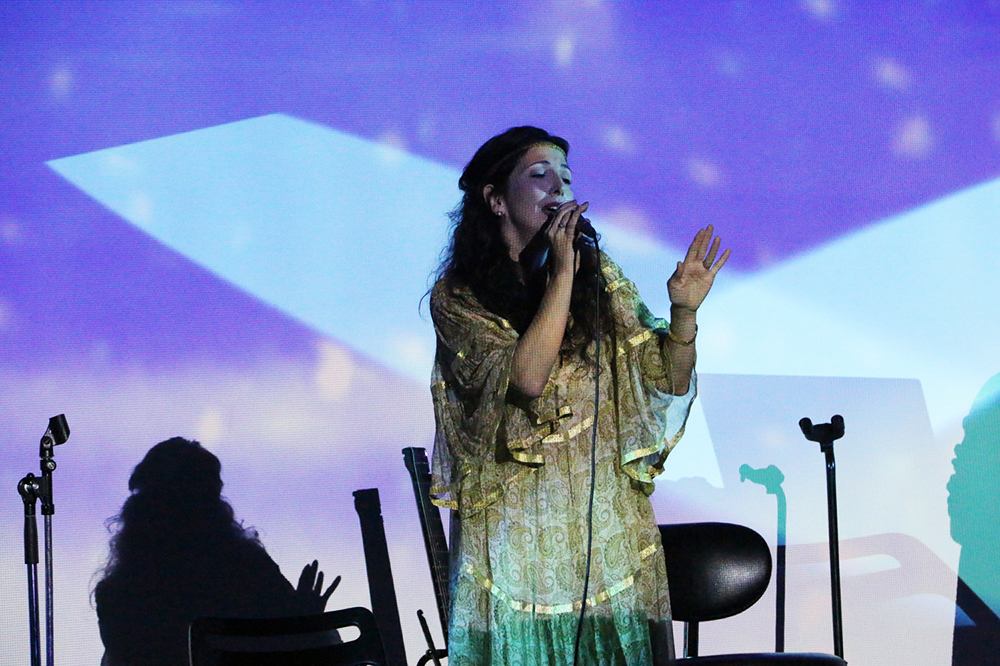 The MUΣA Live Show, created by Nitza Melas, a professor at The Kyoto College of Graduate Studies for Informatics (KCGI) and active as the main vocalist of the international entertainment group "Cirque du Soleil," together with KCGI students, 2019 On October 29, Kyoto Computer Gakuin Kyoto Station / The Kyoto College of Graduate Studies for Informatics Kyoto Station Front 6th floor hall was held at the large hall on the 6th floor.Nizza's brother, musician John Melas, participated in the performance, accompanied by computer-constructed and controlled music.Nizza and others performed their new songs under the real-time interactive stage direction of 3DCG images using the latest ICT, created by Kirill Kosik, a visual artist who has worked on VFX for many Hollywood movies and an associate professor at KCGI.
The highlight of the show is the collaboration of on-stage performances and CG images.In addition to the screen at the front of the hall, three projectors projected images onto the white cloth-covered walls on either side, creating a three-dimensional visual space surrounding the audience.Against a background of CG images of underwater, outer space, and temples created by Kirill using AI to learn the students' body movements, Nizza and his team put on a spectacular show as CG eagles synchronized with the students' body movements and CG butterflies linked to the movements of smartphones held by several audience members via a special app flew around on the screen.
This show, a cultural and educational event, was planned as the culmination of the "Performing Arts and IT" intensive course offered at KCGI this year.It is a part of music concerts and concerts by top artists and traditional performing arts appreciation events held with the aim of cultivating the intelligence and sensitivity of students.The students were exposed to the latest computer music equipment through the class, and worked on the preparation and staging of the show.The students had many rehearsals under the guidance of Mr. Nizza, and were also responsible for the set-up of the hall.
The intensive course, "Performing Arts and IT," is a practical class that trains students to become proficient in IT-based stage direction under the guidance of Ms. Nizza and Mr. Kirill.Students will not only learn the individual skills that make up a show, but they will also have the opportunity to participate in the planning and staging of the "MUΣA Live Show" to gain a comprehensive learning experience in which they can apply the knowledge and skills they have learned in a hands-on environment.