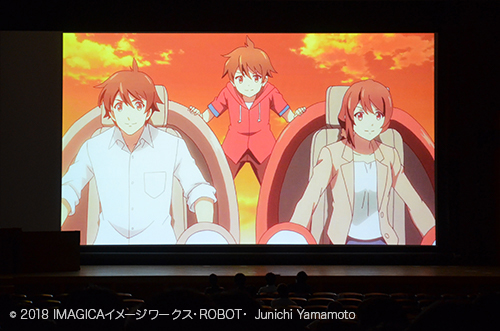 "Time Driver: The Future We Draw", directed by Junichi Yamamoto, screened at the CG Anime Contest Premium Screening = October 14, 2018, Kyoto Computer Gakuin Kyoto Station School 6th Floor Large Hall
On October 14, 2018 (Sunday), a premium screening event was held at the Kyoto Computer Gakuin (KCG) Kyoto Station Front School 6th floor large hall to commemorate the 30th anniversary of the CG animation contest and the 10th anniversary of KYOTO CMEX.CG animation contest that served as the draft and director of "TIME DRIVER Our Future" produced by Young Cultural Animator Training Program "Animate Tamago 2018" produced by the Agency for Cultural Affairs. There was also a lecture by the prizewinner, Junichi Yamamoto, and the anime fans and KCG students visited there.
The CG animation contest is the most traditional contest in Japan for self-produced CG animation works. Since 1989, operated by Doga Co., Ltd. (Head Office 2-5-11 Nihonbashi Nishi, Naniwa-ku, Osaka, Japan) Held every year, and since 2009 KYOTO CMEX (an organization planned by Kyoto City, the birthplace of Japan's leading entertainment culture, such as anime, manga, and games) It continues as an event.So far, a lot of human resources have been produced and the theater animation "Your name is."Makoto Shinkai, director Idori Tatsuki, director of TV animation" Kemono Friends ", and Ryo Inoue, who is in charge of animation for the NHK program" Biju Tune, "have been selected for the contest.
In the premium screening, starting with the "Sekai Sekai Theory" (Mr. Yumi Yamamoto), who was selected in the 2009 contest, some of the selected works for each year were screened, and the creators had the opportunity to explain the work on the stage. did.
After that, Mr. Yamamoto gave a lecture after the screening of "TIME DRIVER, the future we drew".Mr. Yamamoto worked on independent animations when he was a student at Kyushu University. In the CG animation contest, he won a prize for "memory" in 2009 and "Anemone" in 2011.Recently, "Star Girl Drop" part director of "Pop Team Epic", "What is your name?"And" Ninja Batman "are young creators and directors who will be responsible for the future Japanese animation world.
Mr. Yamamoto has the advantage of self-production: "You can experience all the processes of director, screenplay, storyboard, drawing, CG, composition, editing and animation.And if you participate in a contest, your work will be evaluated objectively, you will be able to make friends and rivals, and it will often lead to confidence.I would like you to take on the challenge, "and" It seems that it will take nearly 10 years for the talent to be recognized after winning the contest.However, in the autumn 2018 cool (about 3 months), more than 60 TV animations have been made, and the popularity of directors such as Makoto Shinkai has attracted attention.Please do your best, too. "
The CG Anime Contest Premium Screening will be held at venues in Japan and overseas, such as Yokohama on November 11th and London on 17th and 18th.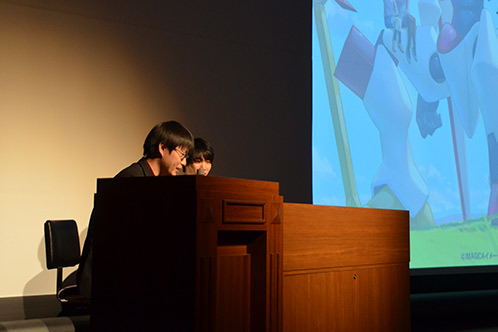 Mr. Junichi Yamamoto to students calling for independent production of animation and contest participation in the lecture