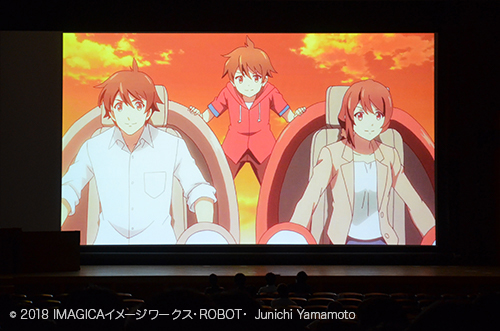 TIME DRIVER: The Future We Described", originally conceived and directed by Shunichi Yamamoto, was screened at the CG Animation Contest Premium Screening on October 14, 2018, at the 6th Floor Main Hall of Kyoto Computer Gakuin Kyoto Ekimae School.
A premium screening to commemorate the 30th anniversary of the CG Animation Contest and the 10th anniversary of KYOTO CMEX was held on Sunday, October 14, 2018, at Kyoto Computer Gakuin (KCG) Kyoto Ekimae School's 6th Floor Main Hall.In addition to the screening of selected masterpieces from the past 10 years, there was a lecture by CG animation contest winner Shunichi Yamamoto, the original idea and director of "TIME DRIVER: The Future We Created" produced under the Agency for Cultural Affairs' "Anime Tamago 2018" project to foster young animators, which delighted animation fans and KCG students who visited the exhibition.
The CG Animation Contest is the most traditional contest in Japan for independently produced CG animation works, and has been held annually since 1989 under the management of Doga Corporation (headquartered at 2-5-11 Nihonbashi-Nishi, Naniwa-ku, Osaka City; Masaru Kamata, Representative Director).The company has produced a large number of talented individuals, including the theatrical animation "Kimi no na wa.Director Makoto Shinkai, irodori Tatsuki, director of the animated TV series "Kemono Friends," and Ryo Inoue, in charge of animation for NHK's "Bijutsu Tune" program, have all won awards in this contest.
At the premium screening, starting with "Sekaikei Sekai-ron" (Aomi Yamamoto), which won a prize in the 2009 contest, some of the winning works from each year were screened, and the filmmakers had an opportunity to explain about their works on the stage.
After the screening of "TIME DRIVER: The Future We Have Created," Mr. Yamamoto gave a lecture.Yamamoto created independent animations as a student at Kyushu University, and received honorable mentions for "memory" in 2009 and "Anemone" in 2011 at the CG animation contest.Recently, he directed the "Hoshi-iro Girl Drop" part of "Poppetepic" and "Kimi no na wa.He is a young creator and director who will lead the Japanese animation industry in the future, participating in such projects as "Ninja Batman" and "Ninja Batman.
Mr. Yamamoto said that one of the advantages of doing independent productions is that "you can experience all processes of animation, including directing, scriptwriting, storyboarding, drawing, CG, compositing, and editing, which helps you develop your overall ability.And if you enter a contest, your work will be evaluated objectively, you will have friends and rivals, and you will often gain self-confidence.We encourage you to take up the challenge," he said. "It seems to take nearly 10 years from the time you win a contest to the time your talent is recognized.However, the popularity continues, with more than 60 TV animations being produced in the fall 2018 school year (about 3 months), and directors from individual artist backgrounds, including Makoto Shinkai, in particular, are attracting a lot of attention.I wish you all the best," he encouraged the visiting students.
The CG Animation Contest Premium Screenings will be held on November 11 in Yokohama, November 17 and 18 in London, and other venues in Japan and abroad.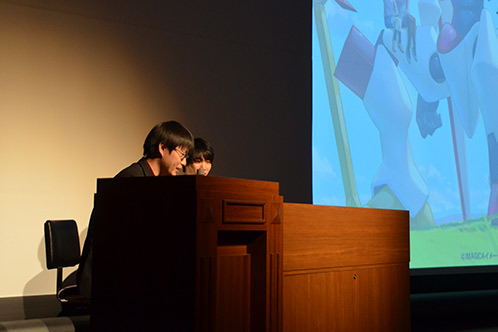 Shunichi Yamamoto calls on students to create their own animations and enter contests in his lecture.