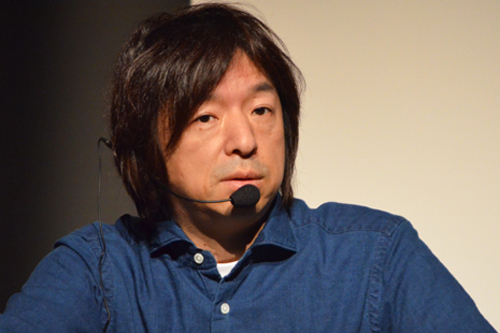 A special lecture in Kyoto by Prof. Hiroyuki Ito, president of Krypton Future Media Co., Ltd. (Head office: Sapporo City, founded: 1995) who gave birth to the vocaloid "Hatsune Miku" December 2015 On 18th, it was held in Kyoto Information University University Kyoto Station Satellite Hall.Prof. Ito looks back on the creation of various genres as "Hatsune Miku" as the "Creation Hub" and the history of being loved from all over the world. Introduced "MIKU EXPO" with video.Prof. Ito said, "Various Japanese content has been deeply appreciated from all over the world.The country should make a serious effort to foster related industries, "he said.KCGI and KCG students listened with great interest because of the lecture by Prof. Ito, the world leader.
Hatsune Miku was born in 2007 with a height of 158 cm, a weight of 42 kg, and 16 years old.The number of songs is 100,000, the number of video submissions is 2 million (YouTube), the official Facebook users exceed 2.5 million, and 3D concerts held around the world attract many fans.At "MIKU EXPO Shanghai" held in June this year, 6000 tickets were said to have been sold out in just 10 minutes after the launch.Prof. Ito said that the popularity of this was so much. "Technology of electronic music and speech synthesis itself was not new, but the technology for synthesizing singing voices was born, and by combining characters with it, it became familiar as a vocaloid. Would have been. "
Prof. Ito said that in developing "Hatsune Miku", ▽ How to release rights (copyright related) ▽ How to realize fair reuse of works was an issue. We created and published the license, and explained it in an easy-to-understand manner so that even elementary and junior high school students can understand it.In addition, when third parties use secondary creations, it seems that it would be a burden to receive permission from krypton and secondary creators one by one, and launched the content posting site "piapro" For business use only, if you thank the creator as a manner, you can use it freely."We worked to create a place where creators could actively create without shrinking."
Hatsune Miku takes the stage of secondary creation and tertiary creation, and the expression method expands not only to songs and voices but also to dance and characters themselves, as well as videos, cosplay, and figures as a "creative hub".Commercialization continued, and many collaborations such as illustration collection books, figures, tie-ups with convenience stores, racing teams, and games were realized.The creation of a mechanism that, when commercialized, gives back to creators is one of the reasons why fans around the world motivated creators and expanded their fans.
Prof. Ito touched Hatsune Miku's world tour "MIKU EXPO", which began in Jakarta in 2014, and introduced the design in Shanghai using video.From March to April 2016, it will be held in Fukuoka, Osaka, Nagoya, Sapporo and Tokyo.In addition, Hatsune Miku, along with orchestras and choirs, performed the sound of the "Ihatov Symphony" Beijing performance by composer Isao Hamada.
Mr. Ito became KCGI professor in April 2013.In recognition of international activities and technological innovations, in 2013, he received the award of indigo autumn.KCGI and KCG have mutual exchanges of classes, and there is a mechanism for listening to each other's classes.Students who learn about content such as KCGI's content business course, KCG art / design department, digital game department, computer science department, information processing department IT voice actor course, will often learn from Professor Ito's efforts. .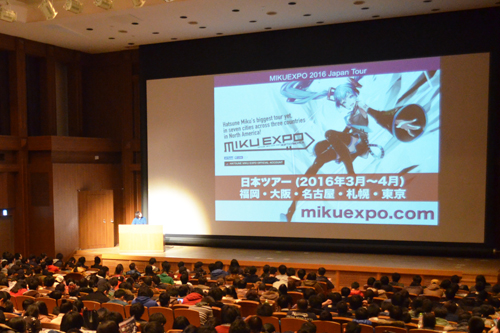 Prof. Hiroyuki Ito talks about his progress through the introduction of the Japanese live tour "MIKU EXPO" by "Hatsune Miku" (December 18, 2015, Kyoto University of Information Sciences Kyoto University Hall)