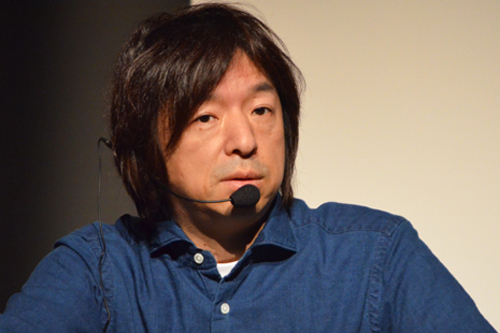 Professor Hiroyuki Ito, president of Crypton Future Media Inc. (HQ: Sapporo, founded in 1995), creator of the Vocaloid "Hatsune Miku," gave a special lecture in Kyoto on December 18, 2015, at the Kyoto Station Satellite Hall of The Kyoto College of Graduate Studies for Informatics (KCGI).Professor Ito recalled how "Hatsune Miku" has become a "hub of creativity" and has been used by creators in various genres, and how it has become loved by people all over the world.Professor Ito said, "Various types of Japanese content are deeply rooted and appreciated around the world.The government should make a serious effort to develop related industries," he said.KCGI and KCG students listened with great interest to the lecture given by world-leading Professor Ito.
Hatsune Miku" was born in 2007, standing 158 centimeters tall, weighing 42 kilograms, and 16 years old.With 100,000 songs, 2 million videos posted on YouTube, and more than 2.5 million official Facebook users, the 3D concerts held around the world attract a large number of fans.At the "MIKU EXPO Shanghai" held in June of this year, 6,000 tickets were sold out in just 10 minutes after they went on sale.Professor Ito explained that "electronic music and voice synthesis technology itself was not new, but the technology to synthesize singing voices was developed, and the fusion of characters with the technology made the Vocaloids seem more approachable.
Professor Ito said that the challenges in developing "Hatsune Miku" were: how to open up the rights (related to copyright); and how to realize fair reuse of the works.In addition, we felt that it would be burdensome for third parties to obtain permission from Krypton and the creators of derivative works every time they wanted to use them, so we launched the content submission site "piapro" to allow people to freely use derivative works as long as they express their gratitude to the creators as a matter of good manners and only for non-commercial use.We have tried to create a place where creators can actively create without feeling intimidated," he explained.
Hatsune Miku has expanded from being a "hub of creativity" to include not only songs and voice, but also dance, characters, videos, cosplay, figures, and other forms of expression.The series has been commercialized in a number of collaborations, including books of illustrations, figurines, tie-ups with convenience stores, racing teams, and games.One of the reasons for the expansion of the fan base is that the creators around the world were motivated to create, and the system was established to return profits to the creators when commercialization of their works was realized.
Professor Ito mentioned the "MIKU EXPO," Hatsune Miku's world tour that started in Jakarta in 2014, and used video footage of the Shanghai event to introduce the event.In March and April 2016, the event will be held in five cities: Fukuoka, Osaka, Nagoya, Sapporo, and Tokyo.The video of the Beijing performance of "Ihatov Symphony" by composer Isao Tomita, in which Hatsune Miku resounded with an orchestra and a chorus, was also shown.
Mr. Ito became a professor at KCGI in April 2013.In recognition of his international activities and technological innovations, he was awarded the Medal with Blue Ribbon in the fall of 2013.KCGI and KCG have mutual class exchanges and have a system for auditing each other's classes.Students studying content-related courses at KCGI, such as the Content Business Course, KCG Art and Design Course, Digital Game Course, Computer Science Course, Information Processing Course, and IT Voice Acting Course, will have much to learn from Professor Ito's efforts.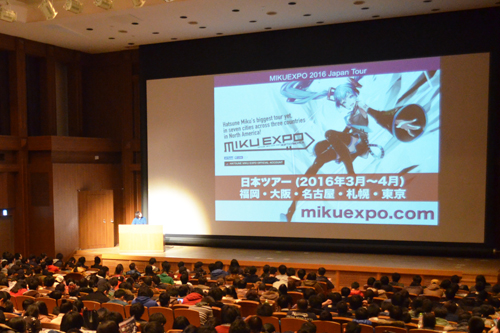 KCGI Professor Hiroyuki Ito talks about the history of "Hatsune Miku" through the introduction of the "MIKU EXPO" live tour in Japan, December 18, 2015, at the Kyoto Ekimae Satellite Hall, Kyoto Institute of Information Science.